My husband and I have been on a journey to pay off our debt for exactly two years now. So far we've paid off almost half of our debt, but we still have a little under $30,000 to go (all in student loans).
I'll be honest, I get a wee bit jealous when I read other bloggers who are paying off their debt with gazelle intensity.
Why We Chose To Abandon Gazelle Intensity
See, we tried gazelle intensity, and it wasn't good for our marriage or my health. In fact, I'm still recovering from the toll on my health, in part because I was working so hard, juggling too many things, stressing out, and not sleeping well. Of course, I wasn't a very good mom during that time, either.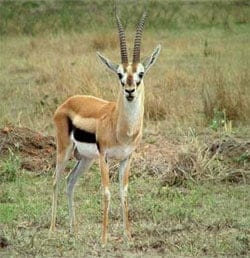 In the end, we made the decision to pay down our debt more slowly for our own physical health and for the health of our family relationships. After all, my kids will only be little once, and I didn't want to miss that precious time because I was exhausted and grumpy. I didn't want to be a mean mom.
Is Gazelle Intensity The Solution To Remaining Debt Free?
I was recently talking to a friend, I'll call her Patty, who, together with her husband, paid off roughly $30,000 in debt in less than a year. Patty was very motivated because she wanted to be a stay at home mom, and the only way they could afford it was if they were debt free.
Patty worked full-time as did her husband. In addition, Patty started a side gig that brought in more money than she had anticipated. Within a year, they were debt free, and Patty quit her full-time job to stay home with her children and work her side gig a few hours a week.
Patty was one of those bloggers that I was envious of because she made it look so easy.
Imagine my surprise when I was talking to her recently and she confessed that she and her husband were back in debt.
Why? She said gazelle intensity had been like a crash diet where you lose a lot of weight but then gain it right back because you didn't change your habits and mindset.
She said, "We lost one income when I quit, but we kept living like we had 2.5 incomes as we did when we were gazelle intense."
Just like those who go on crash diets, she and her husband hadn't changed their behavior for the long term, and when they no longer had the constraints of gazelle intensity, they slipped back into their old behaviors.
Travis at Enemy of Debt, who is paying off a significant amount of debt himself says, "People that pay off debt with gazelle intensity learn how to be very good at saying, 'No.' You don't have to pick and choose what to spend your discretionary funds on, because by the definition of gazelle intensity there is no such thing. Your money either goes to absolute necessities, or to paying off debt. Gazelle intensity focuses on always saying, 'No,' but real life is also about learning when the appropriate time is to say 'Yes.'"
Is Slowly Paying Off Debt The Solution?
I'll be honest, I don't know if our slow and steady approach is the answer, either, because we are still in the process of paying down debt. However, I do know that we are learning to budget in a way we haven't done before, and we're also learning the importance of saving while paying down debt.
I like to think our approach is more like someone who learns to change their eating habits while losing weight slowly, but I just won't know for sure until five years from now, when we've been out of debt for a few years.
What do you think? Is gazelle intensity the solution, or does it leave people vulnerable to going right back into debt?