A couple of weeks ago I wrote a review of a new(ish) wireless provider called Tello Mobile.
After writing about the service I had the chance to connect with the team over at Tello. After thanking me for the review, they offered to send out an Apple iPhone 6 for me to try out the service for a month or two. I decided to give it a whirl.
While I'm happy with my current wireless provider, after writing my review of Tello I knew they would be another solid option to consider, especially if someone wants to use an iPhone as their phone of choice.
After receiving my new Apple iPhone 6 in the mail from Tello, I decided to open it up and give it a quick run through.
Finally, Affordable Cell Service With An Apple Iphone!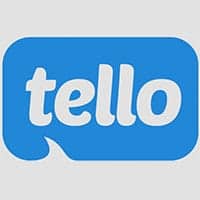 I know a lot of people who are huge fans of Apple products, and would never use an Android phone unless they absolutely had to. My current provider has great rates, and is a Sprint MVNO just like Tello. They only have Android phones available on their service, however. Tello, on the other hand will allow just about any "made for Sprint" phone on their service. Thankfully for Apple devotees, they also offer the iPhone as one of their available handsets.
Apple fans have typically been known to have to pay through the nose for cell service. According to Cowen and Co.:
The average customer of one of the Big Four cellular providers (AT&T, Sprint, T-Mobile, and Verizon Wireless) spends more than $90 per month for individual service—and the figure is $111 for iPhone owners.
So on average iPhone owners with the big 4 cell networks end up paying about $21 more per month according to this one study.
With Tello that doesn't have to be the case any longer.
Unboxing The Apple Iphone 6 From Tello Mobile
Tello currently offers a pretty good range of phones on their website, from Android to iOS – smartphones to flip phones. Last time I checked I counted 18 available new and remanufactured phones available on their store.
I ordered a remanufactured Apple iPhone 6 from the site. At the time I purchased the phone it came in at $425 for the phone. Buying it was easy. You just choose the phone, choose your plan, and pay for the device. Then you just wait a few days for it to arrive.
The iPhone 6 is one of the most popular phones available over the past couple of years, including receiving phone of the year honors via several outlets. It's not hard to see why. When the phone arrived a couple days after I ordered it, it came in an unassuming white box. Once I took it out of the packaging it was clear to see why so many praise it's sleek lines, thin frame and beautiful design. Let's take a look:
In the box that I received from Tello was the iPhone 6 I had ordered, shrink wrapped in plastic to avoid scratches or dings. The phone looked brand new and I wouldn't have been able to tell the difference between this phone and a brand new one. Also in the box was a phone charger and USB cable, and nothing else. There was no quick start guide, manual or anything else. Throughout this process that was one of the few negatives I found with the Tello signup process. If someone wasn't familiar with what to do next they might get a bit confused with no manual or guides included in the box.
Setting up the phone was extremely easy. To do that I just got the phone's serial number from the iPhone settings, went onto the Tello website where I had already setup an account, and then clicked on the link in my dashboard to activate the phone. After entering the serial number it activated the phone and I was ready to use it in short order.
After activating the phone my next step was to download the Tello app from the iTunes store.
The Tello app allows you to do things like view recent calls, search your contacts, make a WiFi phone call and check your "My Account" dashboard.
In your "My Account" area you can view your calling, text and data activity, update your information, or even change your calling plan.
Apple iPhone 6 Features And Specs
The iPhone 6 is no longer the newest iPhone, but it does have a larger display than it's predecessor, a faster processor, upgraded cameras as well as NFC support for Apple Pay. Even though it's a couple of years old, it still has some pretty decent specs:
Operating System: iOS 10.2.1 (on my phone)
Screen: 4.7″
Technology: CDMA 3G & 4G LTE
Processor: Apple A8, Dual-core 1.4 GHz Typhoon
Internal Memory: 16GB, 1 GB RAM
Screen resolution: 750 x 1334 pixels
Back camera: 8 MP, f/2.2, 29mm, phase detection autofocus, dual-LED (dual tone) flash
Front camera: 1.2 MP, f/2.2, 31mm, 720p@30fps, face detection
Battery: Non-removable Li-Po 1810 mAh
Talk time: Up to 14 h
Standby time: Up to 250 h
LTE Sim Card: Nano SIM
Card slot: No
While it may not be the newest and the best, this phone is beautiful, and will do the job for years to come. I've been happy with it overall, the battery life has been great, and the phone calls are crystal clear. The photos it takes are pretty good for a phone as well.
Here are a few photos I took as I was unboxing the iPhone.
iPhone Calling Plans With Tello – As Low As $5 Month
Here's where the rubber meets the road. The calling plans for the iPhone at most providers tends to be pretty high, as mentioned above with the big 4 networks it comes in at around $111/month for the average user.
With Tello they have an easy to use "Build Your Own Plan" tool that allows you to pay for as little or as much voice, text and data as you need.
The minimum you can pay for a plan is only $5/month, and that would get you either 100 voice minutes, unlimited texts and no data.
Most people are probably going to need more than that, and at least some data, but you can customize your plan based on how much you need. Change your plan as often as you want. To make the change you just go onto the website or in the app on the phone, and use the tool below to choose your plan.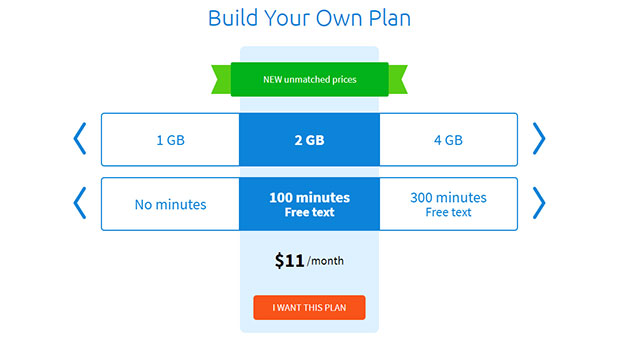 I went through and looked at my average usage with my other provider and ended up with a $7/month plan for 100 minutes of talk, unlimited texts and 1GB of mobile data. Here are some more possible plans that they have available.
$10/month unlimited talk, unlimited texts, 1GB of data
$14/month unlimited talk, unlimited texts, 2GB of data
$19/month unlimited talk, unlimited texts, 4GB of data
$39/month unlimited talk, unlimited texts, 12GB of data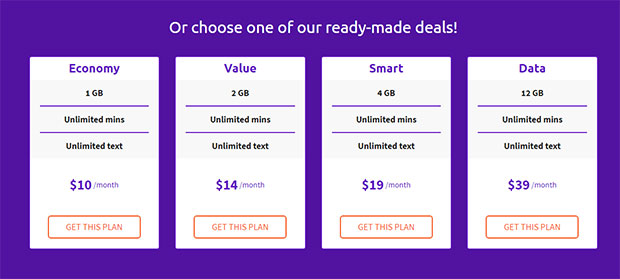 As you can see they are one of the more affordable wireless providers available, and when it comes to providers that have the iPhone, they're among the very cheapest as far as I can tell.
Tello Mobile & iPhone Are A Frugal Mobile Alternative
I've been using the Tello iPhone 6 for a few weeks now, and thus far it has been everything I could have hoped for. The phone is essentially the same phone you'd use with one of the higher cost providers, but with a much lower monthly bill. It makes calls via the Sprint network (which is great in our area), it texts, it allows you to surf the web with mobile data. You can even do a Facetime video chat with your family!
Where I would likely paying $50-100 for an iPhone with this plan with another of the big 4 providers, with Tello mobile I am able to tailor my calling plan to exactly what I need, and pay less than $10/month. That's quite a deal!
While you will have to pay the cost for the iPhone 6 (or whatever phone you choose) up front, the savings you'll get will pay for the phone in short order. Not only that, but if you already have an unlocked phone you can likely bring it to the service without the need to buy a new phone!
If you're looking for a low cost mobile phone provider, and you want to use an iPhone, I'd definitely recommend you put Tello Mobile at the top of your list.
Find out more about the service and sign up via the link below.
Get More Details About Tello Mobile
Have you tried Tello Mobile? What were your thoughts on the service, and how much are you saving?
| Moble Virtual Network Operator (MVNO) | Mobile Network | Minimum Plan Price | Free Tethering | Review |
| --- | --- | --- | --- | --- |
| Gen Mobile | Sprint | $5 (Unlimited Text - No Talk, No Data) $10 (300 Min Talk & Unlimited Text - 1GB Data) Discounts if prepaid for 3 months. | Yes | Review |
| Tello | Sprint | $5 (100 Min Talk & Unlimited Text - No Data) | Yes | Review |
| Twigby | Sprint, Verizon Wireless | $9 (300 Min Talk & Unlimited Text - No Data) | Yes | Review |
| Ting | Sprint, T-Mobile | $9 (100 Min Talk & No Text - No Data) | Yes | Review |
| Red Pocket Mobile | Verizon Wireless, AT&T, T-Mobile US, Sprint | $10 (500 Min Talk & 500 Text - 500 MB Data) | Yes | |
| Republic Wireless | Sprint, T-Mobile | $15 (Unlimited Talk & Text - No Data) | Yes | Review |
| Mint Mobile | T-Mobile | $15 (Unlimited Talk & Text - 3GB Data) If prepaid for 1 year. Prepay in 3,6, 12 month increments. Buy 3 Months, Get 3 Free) | Yes | Review |
| Unreal Mobile | AT&T | $15 (Unlimited Talk & Text - 3GB Data). Prepay in 3,6, 12 month increments. | Yes | Review |
| TracFone | Verizon Wireless, AT&T, T-Mobile US, Sprint, U.S. Cellular | $15 (200 Min Talk & 500 Text - 500 MB Data) If put on auto-renew save 5%. | No | |
| Google FI | T-Mobile, Sprint, U.S. Cellular | $20 (Unlimited Talk & Text - No Data) | Yes | |
| Total Wireless | Verizon Wireless | $23.70 (Unlimited Talk & Text - No Data) $25 without auto-pay. | Yes | |
| Cricket Wireless | AT&T | $25 (Unlimited Talk & Text - No Data) | No | |
| Boost | Sprint | $35 (Unlimited Talk & Text - 3GB Data) | No | |
| Straight Talk Wireless | AT&T, T-Mobile, Sprint, Verizon | $35 (Unlimited Talk & Text - 2GB Data) | No | |
| Visible | Verizon | $40 (Unlimited Talk & Text - Unlimited Data) | Yes | Review |
Disclosure: links on this page are affiliate links and we may receive a referral fee if you purchase through our links.