Over a year ago I first heard about a revolutionary new service called FreedomPop that offered free mobile internet to their customers, with no strings attached. I was sure it was too good to be true.
At the time I was paying $35/month for a mobile hotspot from Virgin Mobile, so i was more than willing to dump that hotspot in favor of a free alternative, if it worked as advertised.
I quickly learned that it worked just as good as the paid hotspot I was using, and in fact it was actually the exact same hotspot as I had with Virgin Mobile – on the same network (They're both Sprint MVNOs). I ended up saving $35/month by switching to FreedomPop and had the exact same service.
Free Mobile Internet, Then Free Cell Service
Fast forward a year or so and FreedomPop announced that they were expanding their offerings to offer a free cell phone service alternative. Since I had been using their hotspot for over a year with no problems, I decided to give them a try.
I bought one of the only phones that they had available at the time, the HTC EVO 4G. The phone is a few years old now, and is on an older version of Android, but it has a decent size screen and works for most of what I want it to do.
I was one of the early adopters on the service, and at first I wasn't overly impressed. I had hiccups in voice quality, experienced dropped calls and had other various issues. After a couple of app updates, however, the service seemed to start working as advertised. I've now been using FreedomPop cell service for a few months with no major problems.
iPhone 5 Now Available With Free Cell Service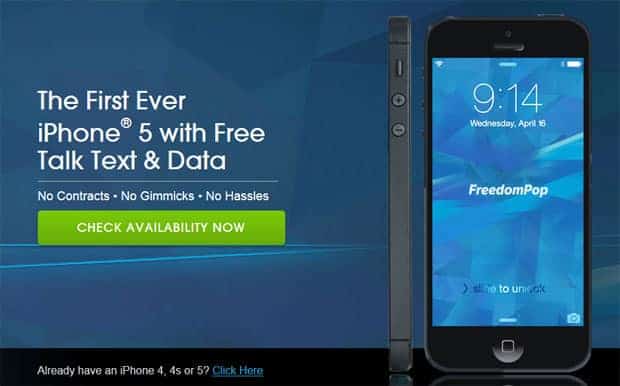 One of the things about FreedomPop that I didn't like from the beginning was the limited cell phone options. The best option they had available at the time was a 3-4 year old phone, that was no longer cutting edge. It was slow, had an older operating system and couldn't run all the newest apps.
This week, however, FreedomPop made a big announcement. They are now selling the LTE capable iPhone 5 for their FreedomPop cell service. So they now have one of the most sought after phones, available for $349 + shipping. This will be the first LTE capable phone available from FreedomPop.
One article mentioned that they hope to have a couple of upgraded Android phones available within a couple of months as well, including the Samsung Galaxy SIII and S4. As an Android user, I'm looking forward to that and will probably jump on board for one of those phones.
Current Iphone Users Can Bring Their Own Device
If you've already got a Sprint compatible iPhone 4, 4s or 5, you can activate your phone on the service as well. When you get to the site just click on the link to activate your own device, and you'll be able to activate your phone by following the prompts. There may be an activation fee in the range of $19.99 or so when using your own device.
Once you're activated you'll be able to choose a local phone number and you're set to go. In addition to 200 free voice minutes you'll also get 500MB of free data, and 500 free texts every month.
FreedomPop App On iOS Devices To Save On Voice/Text
Not only can you now use the iPhone 5 (either your own or one purchased from FreedomPop), you can also now download the FreedomPop app via Itunes, and get free voice, texting and voicemail using an iPhone on any cell provider. (though data charges for your provider would still apply.)
So if you're tied into a specific provider for some reason and can't cancel, you can still use the FreedomPop app and downgrade your text and voice packages, saving you money.
Plans Available For Iphone Users
There are several phone plans available when you sign up and buy the iPhone. There is the basic plan that gives you 200 free voice minutes, 500 texts and 500MB of data for free every month. Voicemail is $2.49 extra.
The unlimited annual plan gives you unlimited talk and text and 500MB data/month for $79.99/year, billed once (about $6.67/month). If you prefer to pay monthly it will cost about $10/month.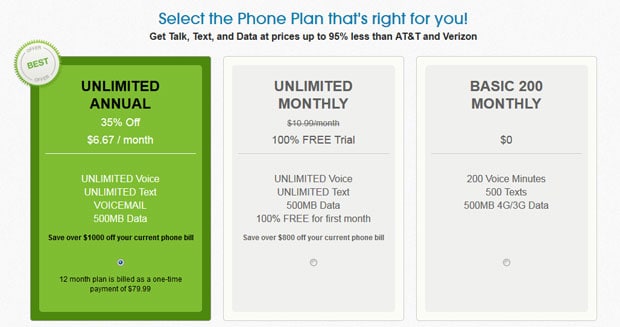 Better Phone Options, Improving Service
I've been using the FreedomPop cell service since the end of 2013, right around the time it was launched. The first few weeks I saw quite a few bugs in the service, most of which were fixed through app updates early in the year. The last few months I have had pretty rock solid service to the point where I'm considering dropping my other pre-paid cell service altogether. FreedomPop has essentially replaced it already anyway.
With better phone options becoming available, like the iPhone 5, it is becoming an even more attractive option for just about everyone. From those who just want to supplement their current provider so they can downgrade packages, to folks who just want to replace their cell service with something more affordable.
Check out the iPhone 5 at FreedomPop
| Moble Virtual Network Operator (MVNO) | Mobile Network | Minimum Plan Price | Free Tethering | Review |
| --- | --- | --- | --- | --- |
| Gen Mobile | Sprint | $5 (Unlimited Text - No Talk, No Data) $10 (300 Min Talk & Unlimited Text - 1GB Data) Discounts if prepaid for 3 months. | Yes | Review |
| Tello | Sprint | $5 (100 Min Talk & Unlimited Text - No Data) | Yes | Review |
| Twigby | Sprint, Verizon Wireless | $9 (300 Min Talk & Unlimited Text - No Data) | Yes | Review |
| Ting | Sprint, T-Mobile | $9 (100 Min Talk & No Text - No Data) | Yes | Review |
| Red Pocket Mobile | Verizon Wireless, AT&T, T-Mobile US, Sprint | $10 (500 Min Talk & 500 Text - 500 MB Data) | Yes | |
| Republic Wireless | Sprint, T-Mobile | $15 (Unlimited Talk & Text - No Data) | Yes | Review |
| Mint Mobile | T-Mobile | $15 (Unlimited Talk & Text - 3GB Data) If prepaid for 1 year. Prepay in 3,6, 12 month increments. Buy 3 Months, Get 3 Free) | Yes | Review |
| Unreal Mobile | AT&T | $15 (Unlimited Talk & Text - 3GB Data). Prepay in 3,6, 12 month increments. | Yes | Review |
| TracFone | Verizon Wireless, AT&T, T-Mobile US, Sprint, U.S. Cellular | $15 (200 Min Talk & 500 Text - 500 MB Data) If put on auto-renew save 5%. | No | |
| Google FI | T-Mobile, Sprint, U.S. Cellular | $20 (Unlimited Talk & Text - No Data) | Yes | |
| Total Wireless | Verizon Wireless | $23.70 (Unlimited Talk & Text - No Data) $25 without auto-pay. | Yes | |
| Cricket Wireless | AT&T | $25 (Unlimited Talk & Text - No Data) | No | |
| Boost | Sprint | $35 (Unlimited Talk & Text - 3GB Data) | No | |
| Straight Talk Wireless | AT&T, T-Mobile, Sprint, Verizon | $35 (Unlimited Talk & Text - 2GB Data) | No | |
| Visible | Verizon | $40 (Unlimited Talk & Text - Unlimited Data) | Yes | Review |