Just over a year ago I first discovered and started using the free mobile internet from a service called FreedomPop. That's right – FREE mobile internet.
So how does their service work and what's the catch? You buy a mobile hotspot from FreedomPop's site, and from then on you get anywhere from 500MB to 1GB of free mobile 4G data every month. It's as simple as that.
If you want more mobile data than the free plan, they have extremely affordable data plans that are much cheaper than what you'd find elsewhere. You can also purchase other add-ons to your plan. The catch? There really isn't one that I can find so far. I've been using it for well over a year now and it just works great!

So far I've bought three separate FreedomPop mobile data devices.
Two of the devices are mobile hotspots, while one is a USB device you plug into your laptop. All three have worked quite well for me, although my go-to device is the Overdrive Pro these days.
When I heard that FreedomPop was going to be releasing a new service, a free cell phone service, I was excited and knew I would have to give it a try. Who knows, maybe it would be good enough for a low voice and data user like me to cancel my pre-paid cell phone and cut one more cost out of my family budget!
Free Phone Service Launched – In Beta
In October 2013 the free FreedomPop cell phone service launched in beta with a limited number of phones released. Most or all of the phones are refurbished Sprint phones, since FreedomPop is a MVNO on the Sprint network.
The basics of the service are this. You buy a phone from FreedomPop, and select a plan for your phone. The basic level of service is free and includes 200 minutes of talk time, 500 texts and 500MB of mobile data.
So how is FreedomPop able to offer free cell phone service? Their service doesn't route phone calls through the cell phone networks like most traditional carriers. Instead, voice calls are routed through mobile data networks, which is cheaper for FreedomPop. In theory the end user shouldn't really notice the difference.
Available Phones
When I first looked into the service, the only phone FreedomPop had available was the HTC EVO Design 4G. Those phones quickly sold out and it was no longer available.
They then launched another phone for the service, the HTC EVO 4G, which is the one that I ended up buying in November. Here is a look at the phone that I bought:
CPU Speed: 1 GHz Qualcomm Snapdragon S1 QSD8650
Memory ROM: 440 MB internal storage, plus 8 GB card included
Camera: 8+ megapixel auto-focus, LED flash, brightness control, face detection, spot metering
Connectivity: Bluetooth® v2.1 with A2DP, WiFi 802.11 b/g, WiMAX plus EVDO Rev. A, MicroUSB v2
Battery: Li-Ion 1500 mAh battery
The phones have had limited availability, and you can never be sure if they'll have any in stock, so check their site here if you're interested.
After waiting about a month to receive the phone after shipping, kitting and firmware update delays, I finally received it a week or so ago. Here's a quick look at the unboxing of the HTC EVO 4G that I received in the mail.
Check out a full gallery of the HTC EVO 4G that i received in the mail here: HTC EVO 4G Gallery
You can also bring your own device to the service if you already have one of the approved phones. Just go to the homepage and then click on the "Bring Your Own Phone" link to check if your phone's MEID is eligible. If it is, you can then activate your phone for free cell service!
Activating your existing phone could be a cheaper way of getting service without buying a phone from FreedomPop. Currently supported phones as far as I can tell seem to be the HTC EVO 4G, HTC EVO 3D and possibly Samsung Galaxy S II. That could change as time goes on, however.
Phone Plans
So what are the plans that are currently available on the FreedomPop service? It starts with the free service and goes up from there.
100% FREE Plan: With the basic plan you get 200 voice minutes, 500 texts and 500MB of 4G data for no monthly cost.
$10.99/month: This plan gives you unlimited talk and texts, as well as 500MB of data.
$19.99/month: This plan gives you unlimited talk and texts, as well as 1GB of data.
$24.99/month: This plan gives you unlimited talk and texts, as well as 2GB of data.
$29.99/month: This plan gives you unlimited talk and texts, as well as 3GB of data.
$34.99/month: This plan gives you unlimited talk and texts, as well as 4GB of data.
$29.99/month: This plan gives you unlimited talk and texts, as well as unlimited data, although at reduced speeds after 2GB.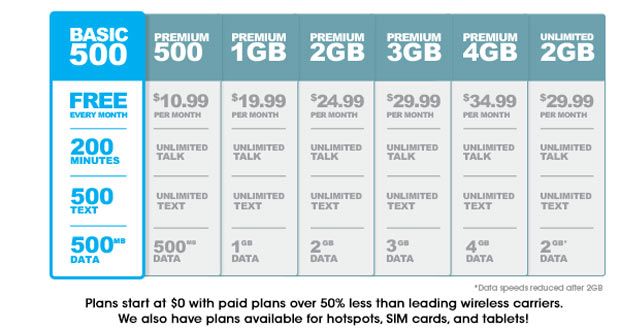 There are also other add-ons to service that you can purchase as well. Among them are voicemail ($2.49/month), data rollover ($3.99), usage alerts ($1.99).
My Experience With FreedomPop Cell Service… So Far
I've only had the FreedomPop cell phone service using my new HTC EVO 4G for about a week and a half now. So far my experience has been decidedly mixed.
In talking with some folks at FreedomPop I was reminded that this was still a beta service, working out some of the kinks. I found that to be the case when I got my phone. Not only did it take over a month to receive my phone due to supply issues, it was also delayed because the phone's software was updated a couple of times to fix bugs they had found.
When I got my phone there were still plenty of bugs, however. Activating the phone went smoothly and I was up and running in no time. Once I started making phone calls, however, the phone started having problems. The phone calls were choppy and staticky, and in my first 5-6 phone calls I didn't have a single one that was completed satisfactorily. I was also having problems with the FreedomPop messaging app which was constantly crashing and at least twice lost several text messages that I had received.
After complaining to support, I was told that they had just updated their messaging app on the Google Play store (the app on the phone that makes calls/texts possible), and after updating the app all of a sudden my phone has started working as it should.
I've completed 5-6 phone calls since then that have gone through just fine and have had good voice quality. The messaging app hasn't been crashing constantly either. So for now, the service is working as advertised.
UPDATE: I've been using the phone for several weeks now and since the app update mentioned above it has been working pretty well. I've been using this Freedom Phone as my main phone and despite a couple of hiccups here and there where the app crashed, it has otherwise been very stable and I've been making phone calls and texts with no real issues beyond a slight delay at times. As it continues to get better, I am getting closer and closer to considering dropping my other pre-paid mobile phone in favor of this free option.
Conclusion
The FreedomPop cell phone service definitely promises to be a great way for folks to save money on their wireless cell phone bills. I was excited to try the service, and after a few hiccups it seems to be working relatively well for me.
While the phone service is still in beta, I'm not 100% ready to cancel my old pre-paid cell phone, but I'm willing to give FreedomPop cell service a try. As the product goes through iterations and updates, I'm sure it will become more stable, and even more of an alternative to traditional (expensive) cell phone service.
Sign Up For FreedomPop Free Cell Phone Service Here
Have you tried out FreedomPop cell service? Have questions about how it works? Tell us about it in the comments!
| Moble Virtual Network Operator (MVNO) | Mobile Network | Minimum Plan Price | Free Tethering | Review |
| --- | --- | --- | --- | --- |
| Gen Mobile | Sprint | $5 (Unlimited Text - No Talk, No Data) $10 (300 Min Talk & Unlimited Text - 1GB Data) Discounts if prepaid for 3 months. | Yes | Review |
| Tello | Sprint | $5 (100 Min Talk & Unlimited Text - No Data) | Yes | Review |
| Twigby | Sprint, Verizon Wireless | $9 (300 Min Talk & Unlimited Text - No Data) | Yes | Review |
| Ting | Sprint, T-Mobile | $9 (100 Min Talk & No Text - No Data) | Yes | Review |
| Red Pocket Mobile | Verizon Wireless, AT&T, T-Mobile US, Sprint | $10 (500 Min Talk & 500 Text - 500 MB Data) | Yes | |
| Republic Wireless | Sprint, T-Mobile | $15 (Unlimited Talk & Text - No Data) | Yes | Review |
| Mint Mobile | T-Mobile | $15 (Unlimited Talk & Text - 3GB Data) If prepaid for 1 year. Prepay in 3,6, 12 month increments. Buy 3 Months, Get 3 Free) | Yes | Review |
| Unreal Mobile | AT&T | $15 (Unlimited Talk & Text - 3GB Data). Prepay in 3,6, 12 month increments. | Yes | Review |
| TracFone | Verizon Wireless, AT&T, T-Mobile US, Sprint, U.S. Cellular | $15 (200 Min Talk & 500 Text - 500 MB Data) If put on auto-renew save 5%. | No | |
| Google FI | T-Mobile, Sprint, U.S. Cellular | $20 (Unlimited Talk & Text - No Data) | Yes | |
| Total Wireless | Verizon Wireless | $23.70 (Unlimited Talk & Text - No Data) $25 without auto-pay. | Yes | |
| Cricket Wireless | AT&T | $25 (Unlimited Talk & Text - No Data) | No | |
| Boost | Sprint | $35 (Unlimited Talk & Text - 3GB Data) | No | |
| Straight Talk Wireless | AT&T, T-Mobile, Sprint, Verizon | $35 (Unlimited Talk & Text - 2GB Data) | No | |
| Visible | Verizon | $40 (Unlimited Talk & Text - Unlimited Data) | Yes | Review |