You can't get your mobile internet for free, right? Wrong!
I first wrote about the free mobile internet access service FreedomPop at the end of last year around the time that they first launched.
I wrote about how it was an intriguing idea – offering a free internet hotspot, with the service making money from it's premium upgrades like extra data, 3G fallback and data rollover among other things.
I have now used the service for close to a year, and for a low user of mobile data like me, it's a great plan to be on. It has saved me hundreds of dollars!
I paid about $40 for my current hotspot, and my monthly 4G data is free after I purchased the device.
With the launch of their wireless cell phone service, which uses data networks instead of cell networks to make phone calls, they now have another offering that promises to save money for a lot of folks.
I have yet to buy one of their phones as they're in high demand and are currently sold out, but after talking with the folks at FreedomPop they were kind enough to send me another mobile device to test out and compare to my current Freedom Spot Overdrive Pro hotspot and my old Freedom Spot Photon.
Today I am going to do a review of the Freedom Stick Bolt USB wireless device, and see how it stacks up to my other FreedomPop hotspots.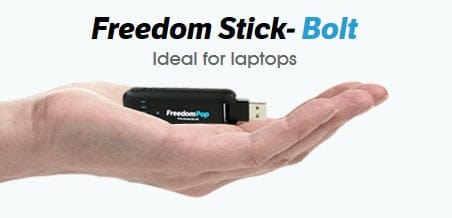 Un-boxing The Freedom Stick Bolt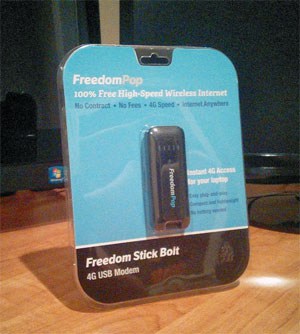 I received the box for the Freedom Stick Bolt in the mail, and it's just your standard blister-pack plastic packaging, with a small wireless modem that looks like your standard USB flash drive. Small enough to slip into your laptop bag, and big enough that you're going to notice it sticking out the side of your laptop.
The device comes with little else than the device itself and some minimal quick start directions.
To get started you just plug the device in to an available USB port and wait while it connects. It has several LED lights on the unit. When it's searching for a connection the main circular light will be orange, and then turn to a green light when it connects. Some blue LED lights that look like cell phone bars on the unit will tell you how strong the connection is.
Here's a quick un-boxing video and comparison of the Freedom Stick Bolt versus my other FreedomPop device, the Freedom Spot Overdrive Pro.
Freedom Stick Bolt Details
So what are some of the key details of the Freedom Stick Bolt?
No cables or charging required. Just plug it in to your USB port and go.
Easy to use – plug, play and get online fast. Once it's activated you just plug it in, wait a short while and you're online!
Compact – fits in your pocket or bag so you can easily take it anywhere you go.
4G only: This device is 4G only, so you'd better make sure you're in a good coverage area. Fortunately for me, I am.
The downside to the device? It's dedicated to one device at a time, so you can't connect other devices besides your laptop. For example, the Overdrive Pro hotspot will allow you to connect up to 8 devices at a time which comes in handy if you're like our family and you have two laptops and two tablets going at a time.
Using The Freedom Stick Bolt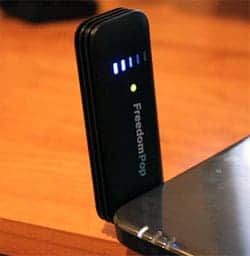 Using the device was extremely easy. I just opened the package, plugged it into my laptop and I was online within 30 seconds. Granted the device that I received from FreedomPop was already activated, so you may have an extra step or two the first time you setup the device. Still, you should be up and running within 5 minutes.
Typically, you would have two easy steps to using the device.
Plug it in.
Go online.
Easy.
Freedom Stick Bolt Vs. Overdrive Pro Vs. Photon
To take the USB modem for a spin I thought I'd compare it to the Overdrive Pro and Photon devices that also come from FreedomPop. Here's what I found.
Speed
When I did my limited test on the edge of a 4G area at my house, I found that the Freedom Stick had better download and upload speeds than the Overdrive Pro. I'm pretty sure it was because it was able to get a better connection for some reason.
I re-tested them both at a better 4G location, and got much better results for both. I'm also putting in the speed I got for the Photon in a previous test, although it's not an Apples to Apples comparison since it was from a different place and time:
Freedom Stick Bolt: 4.37 Mbps download speed, 0.42 Mbps upload speed using speedtest.net (7.35Mbps download speed, 1.61 Mbps upload in a better 4G area)
Freedom Spot Overdrive Pro: 1.07 Mbps download speed, 0.12 Mbps upload speed using speedtest.net. (7.79 Mbps download speed, 1.59 Mbps upload in a better 4G area)
Freedom Spot Photon: 6.90 Mbps download speed, 1.63 Mbps upload speed using speedtest.net (In a good 4G area, although at a different time and place)
When the 4G connection is good, all 3 devices, including the Freedom Stick, seem to do pretty well. At one point the Freedom stick even had a download speed of 12.19 Mbps on speedtest.net, although the standard download speed in the area seemed to be closer to around 7.5 Mbps.
Functionality
When it comes to functionality of the Freedom Stick, it does what it is advertised as, it gives a good mobile internet connection to your laptop or other compatible USB device. What it does not do is give you a wireless internet connection like their hotspot devices will do. The Photon and Overdrive Pro devices will both allow you to connect up to 8 devices at a time. That works well if you want to use the hotspot at things like the blogger meetups that I sometimes host. You can give everyone there the password and they can get online while at your meetup. So it's a definite downside to the Freedom Stick Bolt that it only works for one device at a time.
The Overdrive Pro also has the 3G backup in case you're in a bad 4G area, which is a definite plus for the Overdrive Pro.
Size
All three devices are relatively small. The Bolt is about the size of your average USB thumb drive, while the hotspots are both pretty small, smaller than your average hockey puck size. The Photon is smaller than the Overdrive Pro and fits nicely in your pocket, but it lacks a screen and 3G connectivity.
Battery Life
Since the Freedom Stick is always plugged into the USB port and gets it's power from there, it doesn't need to be charged or plugged in. Just plug it in and go.
With the Overdrive Pro and Photon you have a rechargeable battery for both units, and the battery life seems be pretty good. I've had them both turned on for 5-6 hours at least before needing a recharge. So all three devices do pretty well in this area.
Cost
As far as cost goes, all three devices are very affordable, and even more so if you can find them on sale. FreedomPop constantly has small sales, so my suggestion is to go check out their site, enter your email address and you'll get emails from them announcing promotions and sales. Prices at the time of this writing for the devices are:
Freedom Stick Bolt: $39,
Freedom Spot Overdrive Pro: $49.99 (refurbished)
Freedom Spot Photon: $89
All three devices are very affordable, and all have the same access to free data from FreedomPop.
How Does The Freedom Stick Bolt Stack Up?
For me the Freedom Stick has it's place. It is small and can easily be thrown into a laptop bag to use as a free internet connection while you're working at a coffee shop or elsewhere on the go. You get the standard 500MB of monthly free data, so it's a great option for low users of mobile data. Doing some streaming? You may want to upgrade your package.
As long as you realize it's limitations, including the fact that it isn't a wireless hotspot, and it is 4G only – you should be happy with the device.
If you're looking for something that will connect multiple devices, and that has 3G fallback, I'd recommend looking for the Overdrive Pro, or the MiFi device (which I haven't had a chance to try yet). If you are in a good 4G area, and you want a really small hotspot, the Photon may be the ticket.
Have you tried FreedomPop's services and devices? What were your thoughts – how did they work for you?
Get your FreedomPop device and cut your internet costs here!
| Moble Virtual Network Operator (MVNO) | Mobile Network | Minimum Plan Price | Free Tethering | Review |
| --- | --- | --- | --- | --- |
| Gen Mobile | Sprint | $5 (Unlimited Text - No Talk, No Data) $10 (300 Min Talk & Unlimited Text - 1GB Data) Discounts if prepaid for 3 months. | Yes | Review |
| Tello | Sprint | $5 (100 Min Talk & Unlimited Text - No Data) | Yes | Review |
| Twigby | Sprint, Verizon Wireless | $9 (300 Min Talk & Unlimited Text - No Data) | Yes | Review |
| Ting | Sprint, T-Mobile | $9 (100 Min Talk & No Text - No Data) | Yes | Review |
| Red Pocket Mobile | Verizon Wireless, AT&T, T-Mobile US, Sprint | $10 (500 Min Talk & 500 Text - 500 MB Data) | Yes | |
| Republic Wireless | Sprint, T-Mobile | $15 (Unlimited Talk & Text - No Data) | Yes | Review |
| Mint Mobile | T-Mobile | $15 (Unlimited Talk & Text - 3GB Data) If prepaid for 1 year. Prepay in 3,6, 12 month increments. Buy 3 Months, Get 3 Free) | Yes | Review |
| Unreal Mobile | AT&T | $15 (Unlimited Talk & Text - 3GB Data). Prepay in 3,6, 12 month increments. | Yes | Review |
| TracFone | Verizon Wireless, AT&T, T-Mobile US, Sprint, U.S. Cellular | $15 (200 Min Talk & 500 Text - 500 MB Data) If put on auto-renew save 5%. | No | |
| Google FI | T-Mobile, Sprint, U.S. Cellular | $20 (Unlimited Talk & Text - No Data) | Yes | |
| Total Wireless | Verizon Wireless | $23.70 (Unlimited Talk & Text - No Data) $25 without auto-pay. | Yes | |
| Cricket Wireless | AT&T | $25 (Unlimited Talk & Text - No Data) | No | |
| Boost | Sprint | $35 (Unlimited Talk & Text - 3GB Data) | No | |
| Straight Talk Wireless | AT&T, T-Mobile, Sprint, Verizon | $35 (Unlimited Talk & Text - 2GB Data) | No | |
| Visible | Verizon | $40 (Unlimited Talk & Text - Unlimited Data) | Yes | Review |