I am often asked by Christians if it's wrong or immoral to declare bankruptcy. After all, the Bible says we should pay our debts.
This is what I tell them:
First, I automatically tell them that bankruptcy is not a sin, and they are not going to go to Hell for filing bankruptcy. It's not a salvation issue.
Once that has been established, I think it's important to address some of the reasons why bankruptcy is rarely a good idea.
Thoughts Can Easily Turn to Bankruptcy
Most households in America have at least a little debt. However, some have so much debt they believe that it's impossible to overcome their situation. When hopelessness sets in, it's easy to start seriously considering bankruptcy.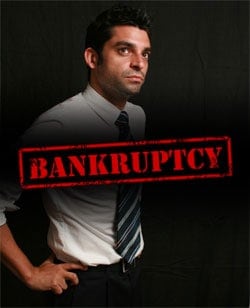 Whether you got into debt from huge medical bills from an illness or injury, or you just took your eyes off the ball and spent more than you made for years on end, when you believe you're in a desperate financial situation, bankruptcy can seem like a simple solution to a difficult problem.
It becomes easy to seek advice from bankruptcy attorneys and other professionals that have a vested interest in you using their services, and may not have your best interests at heart.
Before you seriously consider bankruptcy, let's take a close look at a few things you should consider before going down that road.
Bankruptcy- What Does The Bible Say?
The Bible doesn't directly address bankruptcy specifically. However, it does talk about failing to pay back debt.
Two examples are Psalms 37:21:
"The wicked borrows and doesn't pay back, the righteous is gracious and gives"
and Ecclesiastes 5:5:
"Better you should not vow, than vow and not pay."
There are several other verses that reflect those same thoughts as well.
So to put it plainly, God isn't too thrilled with the situation when you don't pay off your debts. If you're a Christian, obviously you would want to be in good standing with God (Life is MUCH easier when you are).
Pray About It
So if you've found yourself in a severe financial bind, start lifting that situation up to God. Pray for His direction and favor over your situation. That doesn't mean He's going to drop a million dollars out of the sky to pay off your debt, but He can start showing you ways of dealing with it that you may not have thought of or believed possible.
Give it up to Him and let Him lead the way.
When you trust Him to guide you through your situation it will catch His attention. Doing things your way and living in desperation may be part of how you got deep into debt in the first place. Giving it over to Him will definitely bring favor where there was none before.
He can make a way for you where there is no way, and He will always bless you for doing the right thing.
Get Educated About Debt
Study what the Bible has to say about debt and how to handle your finances (I've listed a few verses at the bottom of the post to get you started).
You should also read books and even take courses about how to get out of debt and use money wisely. I recommend "Financial Peace" and "The Total Money Makeover" by Dave Ramsey, among others. The more educated you become about your money, the smarter decisions you tend to make.
Seek Out Wise Advice About Your Debt
Notice I wrote "people".
In a multitude of counselors there is wisdom.
Getting financial advice from someone who has a vested interest in profiting from your situation is not always wise. They tend to look at your situation through the lens of what they do for a living, and usually recommend ways to use their services instead of what may be best for you.
Find people you know that handle their money well, preferably someone who's out of debt, and ask their advice. Many churches, especially larger ones, sometimes have financial counselors available on staff that can help lead you in the right direction.
Bankruptcy May Not Solve The Real Problem
Working your way out of a tough financial situation takes time, effort, patience, and most of all, changes in behavior.
When you declare bankruptcy, there is nothing in that process that changes the habits that got you there in the first place. However, when you learn to budget, find ways to create extra income, and do everything you possibly can to overcome your debt, it causes you to learn new patterns of behavior that will move you forward and ensure that you NEVER dig that hole again.
Bankruptcy Is a Last Resort
Bankruptcy can be an extremely emotional process. Studies have shown that it can be equivalent to going through a divorce or the death of a loved one. It's truly a last resort financially.
In my opinion, bankruptcy is necessary only a very small percentage of the time. But if you are a believer and you do decide to go down that road, remember to trust your creator. Remember that He is a loving and forgiving God no matter what you do.
He will see you through any situation no matter how bleak, giving you a hope and a future as long as you put your trust and belief in Him.
Recommended verses: Proverbs 21:12, Proverbs 22:7, Proverbs27:23, Psalm 20:4, Proverbs 22:26-27