I've got an at-home business that pays the bills for my family. It's a business that works to provide for my family, even though many people think of freelance writing as something you do on the side.
Being self-employed comes with a number of perks, and many people are turning toward self-employment in the face of a still-difficult economy and with the help of better technology.
Even if you don't quit your day job, there are definite benefits to starting a side hustle. Here are 3 advantages that come with having a side business: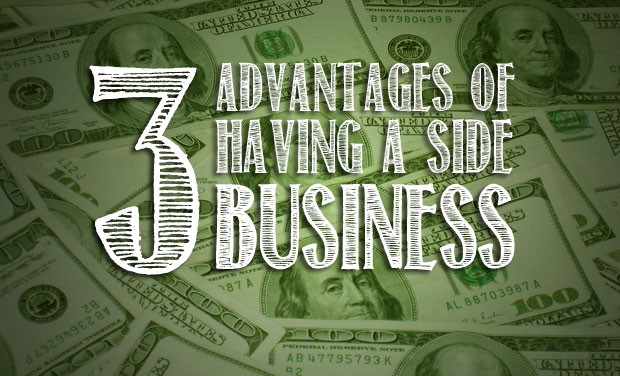 1. Less Reliant on Others for Your Income
One of the harsh lessons of the most recent recession is that your day job doesn't translate to financial security. Gone are the days when companies were loyal to their employees. These days, you can find your hours cut, or be the subject of a layoff without a lot of notice — or sympathy.
If you start a side business, though, you can rely less on your day job for financial security. With a side business, you have another source of income. While it won't make up for the loss of a lucrative day job, it can go a long way toward helping you as you look for another job. Plus, you can use the extra income to build up your emergency fund for just these situations.
With a side business, you have a little more peace of mind, and a bit of income diversity to fall back on when you need it.
2. Unlimited Earning Potential
Your side business means unlimited earning potential. With a "regular" job, you are limited by the constraints of the situation. You can only receive so many raises — and those are often capped. Additionally, your earning potential might depend on others in your team, on the whims of a boss, or on a company's financial situation.
When you have a side business, your earning potential is unlimited. You can always make more money over time. You can grow your business in a way that isn't limited by the realities attached to working for someone else. It's better than cutting your budget as well. You have more flexibility to pay down debt, build wealth, and even spend on things that you want to do when you have a business that provides you the chance to keep earning more.
3. Possibility of True Self-Employment
Not everyone wants to quit the day job and turn to full-time self-employment. However, for those who think that maybe a little more freedom is desirable, the possibility of true self-employment is a definite advantage of a side business. With effort, it might be possible to grow the side business to a point that it becomes the primary income source. While self-employment does come with some disadvantages, by and large it's possible to get to the point where you can set your own schedule, and have a little more freedom with how you use your time, and when and where you work.
You don't have to turn your side business into your main income source, but having a little side income can be a good way to improve your financial situation.