While jewelers, chocolatiers, and florists would like us to think that the best way to celebrate Mother's Day is by giving mom expensive, stereotypical presents, it doesn't have to be this way.
Many moms just want to feel appreciated on Mother's Day. Luckily, there are plenty of other ways to show your appreciation for mom outside the stereotypes.
Here are some inexpensive ways to show mom how much she means to you: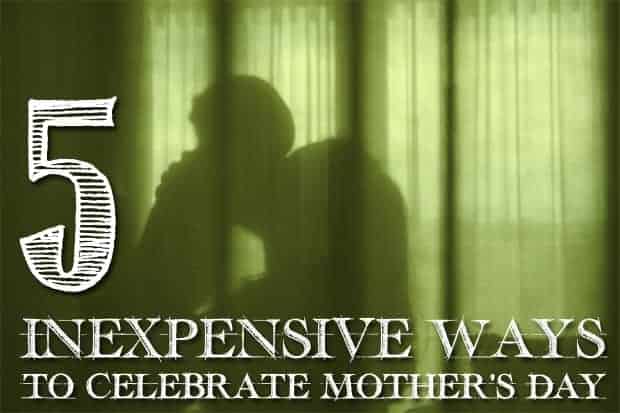 1. Make her a meal (and clean up afterward!)
In many homes, mom makes the majority of the meals. This Mother's Day, why not give her the entire day off from cooking and cleaning up the dishes and kitchen.
To make it more special, consider making some of her favorite meals, especially if they are more time consuming recipes. She can enjoy the final product without having to put in all the time to create the meal.
2. Do a task she doesn't like doing but likes to have done
My mom is a neat freak, but she hates cleaning the high shelves in her kitchen that are decorated with tins. One great gift for my mom would be to clean these shelves and the tins. (Of course, that wouldn't be the only gift I give her!)
If mom has to mow but doesn't like to do it, why not do it for her or pay the neighborhood kid to come mow for the next 6 months? Mom will appreciate this every time she doesn't have to do the job.
3. Compile a special moments book
We kids think that mom knows how much we love her, and she probably does. Still, telling her overtly once in a while doesn't hurt. Consider creating a booklet for her that shares the top five or ten greatest memories you have with her.Make sure to tell the story in detail and to explain why that time meant so much to you. If you have pictures to accompany the story, all the better. Both of you will enjoy the walk down memory lane.
4. Treat mom to something she enjoys
If mom likes to garden, consider buying her some flowers and spending time with her in the garden helping her to plant. If she loves to shop, take the afternoon off and go shopping with her.
Once we're older and have our own families, spending time with mom one-on-one happens less often and becomes harder to do. Clearing your schedule to spend some time alone with mom shows her how much you love her and that she's a priority in your life.
5. Give her a day to herself
Moms of children under five, especially if they have multiple children under 5, rarely have a moment to themselves. They are busy doing, doing, doing for the little ones. A perfect gift for mom might be the gift of quiet. Give her time to go read a book, or take a long bubble bath, or paint her fingernails. Let her have time to herself.
Sure, we imagine Mother's Day as a time for mom to be surrounded by her family, but during some seasons in life, mom might just appreciate some time to rest, relax, and enjoy the peace and quiet.
Moms play a vital role in our lives. While costly presents are a nice (and easy) way to show your love, sometimes moms would appreciate a gift with more thought. Luckily, these five gifts are inexpensive. The only cost is your time, which mom likely will appreciate.
What is your favorite low-cost gift to give mom on Mother's Day? Does your mom appreciate thoughtful, low cost presents, or does she like to get the traditional Mother's Day gifts?