Every Black Friday, we hear stories about overzealous shoppers who rush the store doors when they open or get in fights with other shoppers over some item they want that is only available in limited quantities.
A few years ago a pregnant woman was trampled when people rushed the door, and during Black Friday 2011 a woman pepper sprayed other shoppers. A reader of mine told me her children saw a person punch a lady for $1.88 towels on sale at Wal-Mart. The woman who was punched went to get her glasses that had fallen to the floor, and then the other shoppers stole her towels. Black Friday seems to bring out the worst in people, and it can be a poor example for our children.
Every year the Christmas season seems to fuel a frenzy of consumerism rather than a chance to celebrate the birth of Christ. Decorations and other Christmas items are put on display before Halloween is even over, and even the Black Friday sales started earlier this year. Vigilance is required to combat against this and to continue to demonstrate to children the real reason we celebrate. Here are some things we do to help remind our children to keep the birth of Christ the forefront of the holiday.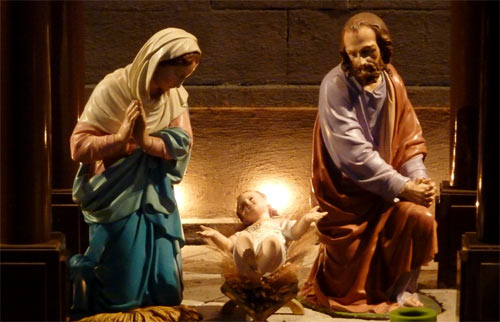 Bake A Birthday Cake For Jesus.
Every Christmas Eve, we make a cake to celebrate the birth of Jesus, and we enjoy it after our Christmas dinner. This helps our young children remember that the real reason for Christmas is to celebrate Jesus' birth.
Shop For A Needy Child.
My son is seven, so a few years ago, when he was four, we started the tradition of choosing a tag off the Christmas tree at our local post office. We go shopping for the child we don't know whose parents don't have money to buy her a gift. My son picks out the item, and we go home and wrap it together and drop it off at the post office. During this time, we talk about being thankful for what we have and helping others who are less fortunate than we are.
Clear Out Your Shelves.
Almost all of us have too much "stuff"—too much food in our pantry and too many clothes in our closets. Now is a good time to cull down the extra and just keep the essentials. Local food pantries would welcome your unexpired canned goods and dry goods; shops like Goodwill would welcome your gently used clothing. Children often have too many toys; now would be a good time to explain how much we have to be thankful for and how nice it is too share the excess with others by donating a toy or two.
Give A Gift Of Time.
Volunteer to help a local agency such as a food bank or to deliver food baskets to the needy in your own church. Likewise, nursing homes are usually glad to have visitors; call the nursing home ahead of time and see if you can bring a treat such as cookies or bread and spend time visiting with the residences. Children will learn that not only is it good to give of themselves through spending time with others who may be lonely, but that family is one of the most important things to be thankful for.
Read Them Stories About Selfless Giving.
One of my favorite stories is O'Henry's The Gift of the Magi where a couple each sacrificed to give gifts to one another. The woman sold her long, beautiful hair to buy her husband a watch chain, and unbeknownst to her, her husband sold his watch to buy her a hair clip. Both were willing to give up the item they most loved to give to the other. We also enjoy reading some of the Little House on the Prairie books. One Christmas, Laura and Mary received a tin cup to share and a piece of candy, and they were delighted by their gifts. The focus was not on the presents they received but on spending time with family and giving thanks for all of their blessings. Seeing the simplicity of the holidays back then helps my son see how commercialized Christmas is now.
While American businesses delight on the frenzy that is Black Friday, we don't have to fall into the commercial trap of Christmas. We can take steps to remind our children each Christmas what the holiday is really about—celebrating the birth of Jesus, not how many presents we can receive.