This time of year is an exciting time for me. The Financial Blogger Conference takes place during the fall, and the New Media Expo (formerly BlogWorld) is usually happens around the first of the year in Las Vegas.
I enjoy attending conferences because I learn things that help my business, and I have the chance to improve my relationships with clients and with other bloggers. It's always a lot of fun, mixed with business.
One of the best things you can do at any conference is network. Networking not only allows you to strengthen the relationships you already have, but it also provides you with the chance to establish new relationships and even find new business and new business partners.
If you are headed to a business conference, here are some tips that will help you network more effectively:
Be Genuine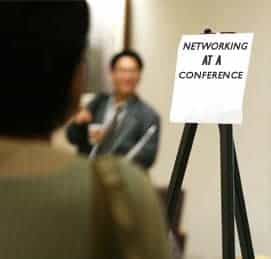 The most important thing is to be yourself when you network. I enjoy being around my friends, and I like networking well enough, but it is a little hard for me. I have to bring out a side of my personality that is a little hidden to some people. I am somewhat introverted and I have mild ADD. This makes me a little socially awkward. That comes through in my in-person interactions, but most people can tell that I'm trying.
Don't try to be someone you're not, though. You might need to up your game a bit at the conference, but don't be fake. Others will sense that you are genuine, and will respond to that.
Bring Business Cards
Have business cards ready for conferences. These help those you make connections with remember who you are. You can bring hard copy business cards, or create a digital card that can be exchanged via cell phone or other mobile device. I still use hard copy business cards, since the vCards haven't really caught on yet.
Collect others' business cards as well. If you had a particularly good conversation, or if there is something you want to pursue, note it down on the back of the card, or keep notes elsewhere. Make sure you can match up the conversation with the person you met.
Know What You Do
One of the most important things you can do is concisely express what it is you do. When I go to a blogging conference, there really isn't a lot to explain. I'm a blogger, and since I'm with other bloggers, they understand what I do. That's a different story at other conferences. I usually say something like, "I provide web content for businesses" or "I write for news web sites."
Be able to quickly and understandably tell others whet you do so that they can see your value.
Listen
Don't forget to listen. Yes, you need to show that you can offer value. But others are likely to think that you've had a good conversation if you're a good listener. Not only that, but you will be more likely to find others who are a good fit for you and your business if you are willing to listen.
What are your best tips for networking at a business conference?
Related Links