No matter your career path, there's likely a professional conference for you. Bloggers, who used to toil seemingly alone only a decade ago, can now find oodles of conferences to attend. If you're a financial blogger, you're likely looking forward to the Financial Blogger Conference in October. If you're a food blogger, you probably want to snag a ticket to BlogHer Food. Mommy blogger? There are so many to choose from–BlogHer, Blissdom, Relevant, this list goes on.
For a blogger, who often works all alone, going to a conference and meeting friends you've met online as well as other bloggers whose blogs you read every day, is a chance of a lifetime. Then, there is all the information you can glean from the sessions. Don't forget the socialization.
But if you don't have the necessary cash, or if coming up with the necessary cash will be difficult, should you still go?
Make The Conference Worth Your While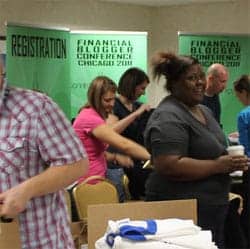 If you're shy, and you just plan to dutifully attend the sessions and then quietly slip back to your room, then yes, it's probably best to wait to attend a conference until you can financially afford it. I'm shy by nature, and my first few conferences, this is exactly what I did. I learned some information from the speakers, but honestly, I didn't get much out of the conferences. I saw people whose blogs I enjoyed, but I just watch them from afar. I didn't SAY anything to them. I didn't connect in anyway. I'll be honest, I didn't get nearly as much out of the conference as I had planned.
If paying for a conference is going to be a financial strain, you need to make it worth your while. If you strategically plan, you can even find freelance jobs or extra ways to make money at the conference. The key is to connect with people. Let others know you have freelance services (in a non-spammy way, of course). Connect with affiliates.
If just approaching someone is difficult for you, why not connect with them through e-mail first? You'll have already broken the ice, so it'll be easier to introduce yourself at the conference.
Ways To Help Ease The Financial Strain When Attending A Conference
Conferences aren't cheap. Depending on the conference and how far you need to travel and what city it's in, you could spend anywhere from a few hundred dollars to a thousand or more.
However, there are ways to save money when attending a blog conference. Follow just a few of these strategies like becoming a conference affiliate and sharing a room with someone, and you'll easily knock a few hundred dollars off your final out of pocket expense.
Don't forget that you can also claim many conference expenses as business expenses, which can also help to limit your costs.
If, after these budget saving strategies, you still think you'll have trouble paying for the conference, you could always pursue conference sponsorship from a company. Sponsorship is a wonderful way to be able to go to a conference that you otherwise couldn't afford. The major downside, though, is that you'll spend most of your time promoting the brand rather than yourself.
Sponsorship might be a good way to go to your first conference so you can see what the conference experience is all about, but after that, if you're looking to grow your own brand or find more jobs as a freelancer, it's best to focus on promoting yourself and making connections.
If you can find the money, attending at least one conference a year in your field is worthwhile.