My family is in the midst of selling our current house, planning a move and building a new house. It's a stressful time filled with lots of things to do, and lots of expenses when it comes to commissions, fees, closing costs, house upgrades and more.
Money is at a premium right now and we don't want to spend a lot on our move (which is only about a 5-6 mile move). Typically you can spend a lot of money on moving on anything from a moving van, to movers, boxes, bubble wrap and tape.
We're trying to have a more frugal move, and as such we're trying to find as much as we can for free. So where can you find free moving supplies?
Places To Find Free Boxes
One of the biggest things we're going to need for the move that we don't already have is moving boxes. You can buy moving boxes at your local home improvement stores like Home Depot or Lowe's, but buying them that way can start to get pricey, especially if you need a lot of them.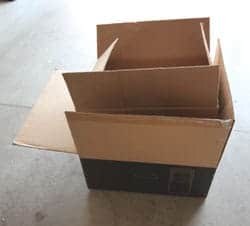 Packing up all our precious possessions is going to require a lot more boxes than we first realized, and while we've got a few laying around the house, we'll be needing a lot more. So where can you get boxes for free?
Ask friends who have recently moved for theirs: Our friends from church just recently moved into a house near our new one, and they had a ton of boxes that they just gave to us, along with some non-disposable ones that we could borrow. We did this same thing last time we moved, getting boxes from one of Maria's co-workers. Ask your friends on Facebook or Twitter if they have boxes you can have!
Free boxes on Craigslist: Search in the free section of Craigslist for free boxes that others are just trying to get rid of after their own moves – or after purging possessions.
Free boxes on FreeCycle.org: You can try searching FreeCycle.org for free boxes other other supplies.
Your local liquor or grocery store: Your local grocery and liquor store get a lot of deliveries in strong sturdy boxes, and they may be willing to save some of them for you. Ask for ones with lids if they have them.
Costco or Sam's Club: Ask the manager at your local big box store to save you some boxes instead of crushing them all like they usually do.
Exchange with other U-Haul customers: U-Haul has a community board called U-Haul Customer Connect where you can search your area to find free boxes, or boxes for sale (usually at a lower price than you can buy them new).
McDonald's fry boxes: I've read on several different sites that people like using the McDonald's fry boxes because they're sturdy, and easy to find. Just stop by your local store and ask them to save some for you.
Bookstores: If you go by your local bookstore like Barnes & Noble they may be able to give you some sturdy boxes that the books come in. If they don't have any on hand, ask them to save some for you.
Check at your workplace: If your workplace is like mine, they use a lot of paper and other office products that come in boxes. Ask them to save some for you.
Appliance boxes: The new house we're building has all new appliances being installed. Some of those boxes we'll be saving to pack up larger items.
Drive behind your local shopping center: Drive by the back of your local shopping center and you're bound to find a bunch of good usable boxes.
Other Free Moving Supplies
Boxes aren't the only moving supplies that you'll need. You'll probably also need packing material, moving blankets and other stuff. Here are a couple of ways to cut back on those costs.
Use newspaper and magazines as packing material: Instead of buying bubble wrap or packing peanuts, use newspaper or pages from a magazine or catalog as packing material instead.
Use your own blankets: Instead of buying expensive moving blankets, just use a few blankets that you already have and don't mind getting a bit dirty.
Use garbage bags: For a lot of things you can just big heavy duty garbage bags instead of boxes. Most people already have these in their garage. If not they're pretty cheap.
Get packaging peanuts at local home stores: Local stores that sell a lot of breakable glassware and other items, like Pier One or Home Goods, will often have free packing peanuts they can save for you (instead of throwing away). Also try local vitamin stores.
Have your own sources for free boxes, packing materials or other moving supplies? Tell us what they are in the comments!