I don't know about you, but I never look forward to the process of moving into a new house. It can be stressful, get expensive, and let's not forget to mention exhausting!
We've moved three times in the last three years, so the process improves every time because we learn from each experience. But the thing that keeps surprising me is how expensive it can be to move to a new place. There are always going to be costs when moving, but you can lower these costs with a little bit of ingenuity.
These tips will also include time-savers, which can really be money savers. This is especially true if you are planning your last day of work around your moving day. If you're unorganized and need an extra day off, consider that money spent on moving.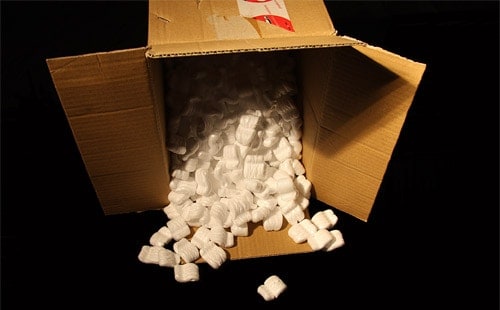 1. Create A Moving Checklist
This will save you a lot of stress. Try your best to write out a schedule for the day, including lunch and breaks. This way, the kids won't constantly nag you with questions about lunchtime or breaks. You can simply direct them to the schedule.
It also keeps you focused. There can be a lot of running around and phone calls on moving day, so write down the To Do's for that day on the checklist.
Don't forget to add these to your list: call your utilities provider, change your address with the post office and notify insurance provider.
2. Get Rid Of Junk
The less stuff you have to move, the better! You might even be able to choose a smaller moving truck by getting rid of things you don't need. If you need tips on having a successful garage sale, read how Peter and his wife managed to have one this summer.
3. Don't Pay For Boxes
We didn't pay one cent for boxes when we moved in July. My wife asked her supervisor is she could take extra boxes home after work, and we collected dozens. It was nice to have them from one place because most of them were uniform in shape and size, so they packed well.
Check with your local stores to see if they have empty boxes in the back warehouse. Most will have scrap boxes, and the managers may allow you to take them.
4. Pack Up The Fridge
Don't make the mistake of throwing out food that can last a quick trip to you new home. We saved close to $100 this last move by using Styrofoam coolers with dry ice that we bought at Walmart. When we arrived at our new place the next day, our food was still frozen and cold. We didn't need to repurchase essential condiments or freezer goods because we spent a few bucks making a mobile fridge.
5. Pack Lunches Before Packing The Cupboards
It'll be tempting just to eat out when you're moving. That's OK if you've planned for it, but if you're on a budget, do yourself a favor and pack up lunches. Sandwiches and chips don't require silverware or plates, so you won't have much of a mess to clean up either.
6. Price Shop For One Way Or Round Trip Rentals
We saved close to $200 by booking a round trip rental instead of a one-way. Since our move was only four hours away, my wife's parents volunteered to drive, which allowed us to book a round trip rental from Penske. The one way would have cost us nearly $200 more, so it was a real money saving move!
7. Borrow Tools
Unfortunately, we didn't plan ahead on this one and paid for moving tools. Learn from our mistake and try not to pay for the hand truck or moving blankets at the rental place. This can add a quick $20-$30 to the bill. Ask a neighbor or friend if they have tools first.
8. Do It Yourself
I've heard arguments for and against hiring a moving company, and it really depends on your situation. If we didn't have a good group of friends or family helping us, I'd try to find a reasonably priced moving company to pack up the boxes and furniture into the truck. But, I like the idea of paying friends with pizza much more than spending money on a moving crew.
Have you had to move recently? How much did it end up costing you? Thinking back, where could you have saved money?