Presumably, each and every one of us has to buy food and devote a certain amount of income to our food budget. And yet, even with regular experience with the process, it can be a struggle to actually create a food plan that works well within our budget and our lifestyle.
So what is it about making a food budget that's so hard anyway?
Quite simply – because it takes time, effort and a bit of discipline. And on top of that, your hard work will disappear – you eat it! As you create a plan and buy food, your budgeting work disappears with each meal. And the cycle starts again. But simply acknowledging that it's an ongoing process can be powerful as you begin formulating your food budgeting patterns and habits. Sure, it takes time, but it's also worth it in the end.
To begin securing a successful food budget, it's helpful to begin with the basics:
Plan Ahead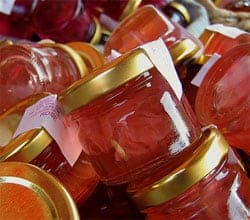 You know in school when the instructor would ask you to turn in an outline before you wrote the actual essay? And how even though you moaned and groaned, it actually kind of helped to organize your thoughts – particularly if the topic was complicated or contained multiple points?
It works for food budgeting as well. A bit of forethought can be invaluable as you shop.
A large part of success comes way before the actual shopping trip. It's not simply about buying sale items, or resisting the impulse buys. Food is a necessary component of it, of course, but the plan is where financial success lies. Planning ahead, writing lists and organizing are really, really helpful when attacking the actual shopping.
Give Each Purchase a Purpose
Quite a few budgeters will suggest that you follow the sales, and create a meal plan based on what will be cheapest that particular week. That's a great idea in theory – but can sometimes leave you with 20 hot dog buns and 10 hamburger patties. Another way to approach flexibility in your food purchases is to think about when and how you will use each item. A cart full of groceries can add up to lots of meals, or only a couple that require a lot. Value the purpose of your purchases over the savings. Assign your ingredients! Give each a game plan, know what you intend to use them for and think in terms of meals rather than stand alone snacks.
Account For Big Ticket And Small Ticket Items
A quick way to deviate from a planned budget is to forget the long term items on your list. Pantry items and other cooking essentials that might carry a high price tag, but are bought more infrequently. Oils, spices, specialty items, for example. If you budget solely on your immediate food needs for the week but forget that you need to restock, you'll potentially set yourself to go over budget, or miscalculate how much you actually spend on a regular basis.
Separate your list into big ticket/small ticket, or frequent/infrequent. Ideally, you can aim to balance each other out in the end.
Know What's Non (Or Less) Negotiable
A food budget that teeters on too high can usually be taken down a few numbers by looking at what purchases might be luxuries rather than necessities. That's not to say that you need to take out items you've budgeted for as treats. But there are the basics, and then there are the splurges. Grocery stores are constructed to encourage impulse buys – just look at the checkout aisle lined with candy bars.
Some Flexibility Is Essential
Here's the thing about planning for a food budget: it's not always going come out exact. As much as you might want it to hit a certain number each and every month to fit perfectly into your budget, it will likely fluctuate. The end goal should be a workable budget, of course, but also one that is sustainable long term and that meets your dietary needs. If you fixate on a specific number alone, you may get caught up in a single element rather than balancing all parts.
Receipts Are a Powerful Tool
Keep your receipts. Compile your receipts. Study your receipts. They really are an enormous help when structuring a food budget. From the short jaunts for a gallon of milk to the weekly shopping trips – each receipt is a marker of a purchase, and a marker of a habit. They'll help to guide you in the right direction, and help to remind you of purchases you may have left out of your expense.
Spreadsheets Are Great Too
Budgets don't have to be fancy. A great way to organize your receipts is to enter them into a simple spreadsheet. There are tools and apps that can help you, or you can simply make your own on Excel or Google Docs. Having all the numbers and information accessible can be a great motivator and an effective tracker of purchases. It also helps motivate you to know that you'll be better able to accomplish your financial goals, such as paying your mortgage, getting out of debt, and improving your credit score.
Not every food budgeting tactic will work for everyone. And not every single food budget is going to be sustainable long term. With persistence and a bit of experimentation, you'll find your ideal budget. Mix and match techniques and approaches you'll find a method to all the budgeting madness.