Last year I attended my first ever blog conference when I drove to Chicago to attend the first ever Financial Blogger Conference. One of the main reasons that I wanted to attend the conference was to meet and hang out with a group of bloggers that I had come to know over the past 4 years. Despite having never met them, I had come to consider many of them as good friends. I also thought it would be fun to get together with a big group of others who shared my love of blogging and personal finance, because quite frankly – my wife doesn't get it!
Over the 4 days that I was in Chicago I had a great time with my blogging colleagues. We got together and learned so much from a wide range of amazing speakers, and we sat around the lounge after hours sharing stories. It was amazing to be sitting around with some of my blogging idols, people whose blogs I had read on a daily basis for years before starting my own site. I was starstruck!
Despite the fact that I had such a great time at the conference, I'll be the first to admit that going isn't a cheap proposition. FINCON is by far one of the most affordable and high quality conferences that you could attend, however, it's still going to be hundreds of dollars to attend for most people. I think I spent somewhere in the range of $6-700 last year. So how do you turn a large business expense like FINCON into a money maker? Stay tuned..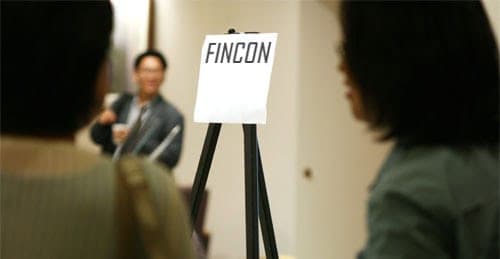 Keeping Conference Costs Down
There are ways that you can keep your costs for attending a blog conference down. The less you spend, the easier it is to recoup your investment. Here are a few tips:
Make sure to keep track and claim tax deductions: As a blogger you can deduct certain expenses on your taxes associated with attending the conference, including your hotel, travel, and conference tickets. For a full list of things to track and deduct see this post: Blog Conference Tax Deductions.
Take advantage of conference freebies: I don't think I bought more than 1 or two meals for myself over the 4 days I was in Chicago for FINCON11. The rest of my meals and drinks were either included with the conference registration, or were bought for me by companies and sponsors who offered to take me out to dinner.
Don't get a rental car, use shuttles or public transportation: I didn't need a rental car last year as I drove to the conference location, but this year I won't be as you won't really need to leave the hotel. Everything that matters happens at the conference, otherwise they're easy transportation usually to get around.
Share costs: A lot of people last year shared the cost of a hotel room, essentially cutting their lodging costs in half. You could do the same thing for gas if you drive with someone. Also make sure to take advantage of reduced conference rates.
Bring your own snacks: While FINCON was overly generous with goodies to eat and drink, at some conferences it may not be a bad idea to bring some of your own snacks. Otherwise you'll be stuck paying outrageous hotel costs for a bag of chips.
How To Save Money When Attending A Blog Conference
Turning Your Blog Conference Into A Money Maker
Now that you've done your best to keep your costs down, it's time to start turning the conference from a monetary loss into a positive money maker. So how do you do that?
Meeting With Conference Sponsors
Make sure to take advantage of the many networking opportunities at the conference, and don't shy away from meeting with conference sponsor companies.
Meeting with conference sponsors while at the conference can be a great way to get an in with affiliate companies (and sometimes get preferred rates), or to get sponsorship deals with financial companies. They're much more willing to work with you when they've got a face to go with your site.
While at FINCON11 I had quite a few quick meetings with sponsors, and got taken out to dinner by a couple of them. While it didn't take a ton of my time, the relationships I started building at the conference with those companies eventually lead to affiliate and sponsorship deals that earned me thousands of dollars last year.
Networking With Other Bloggers
Networking with other bloggers is another great way to come up with ideas for ways to make money. Bloggers can give you leads for people to talk to at affiliate companies, and help to put you in touch with financial companies who may want to work with you and your site. Other bloggers are a wealth of information, so find a few in the know and buy them a drink!
If you provide services of any kind to other bloggers (freelance writing, graphic design, carnival submission services, etc), a blog conference is a great place to pick up leads and new customers. I got quite a few new customers for my graphic design side business via FINCON, and I know quite a few freelance writers who picked up gigs there as well.
Conference Sessions Give Great Money Making Ideas
The sessions at the conference are also great places to pick up ideas for ways to make money with your blog. You'll hear plenty of tips on how to increase your traffic, engage with your readers and new ways to make money with your site and email list. If you don't come away with at least a few new ideas of things you can do to make money, you're probably not paying very close attention – or you stayed up to late at one of the sponsor parties.
Those are just a few ways you can turn your blog conference getaway into a big money maker. So book your ticket now! It could lead to thousands more in your bank account next year!
Have your own ideas for ways you can make a blog conference profitable instead of a negative expense? Tell us in the comments!
Blog Conference Expenses Are Tax Deductible. Claim Them.