I woke up this morning excited to be heading out to the Financial Blogger Conference in Schaumburg, Illinois to meet up with a ton of the bloggers I've been talking with for the past 4+ years. When PT of PTMoney.com came up with this idea a while back I thought it sounded great cause I thought I'd be meeting up with upwards of 40-50 other bloggers who write in the same niche as I do. Little did I know it would turn into something so much bigger and exciting than that. At final count Phil told me that there were 280 attendees at the conference this past weekend. The conference sold out.
Looking at the listing of bloggers is a like a who's who of the personal finance blogosphere. Folks like JD Roth of GetRichSlowly.org, Ramit Sethi of IWillTeachYouToBeRich.com, Flexo of Consumerism Commentary, and a whole host of other big and small blogs alike. I'm looking forward to meeting so many of these people as the weekend goes on.
Driving To The Conference
I left the house at around 1:30 this afternoon after playing with my son this morning, and helping out around the house a bit. I got in my car, and started off on my 7 hour drive through some nasty rain and wind. I only stopped once to re-fuel and stock up on beef jerky, then continued on to the hotel. I arrived at the conference hotel around 7:45 or so on Thursday evening.
As soon as I arrived, and throughout the weekend I shot the pictures and video, and put together the video above. I hope you enjoy!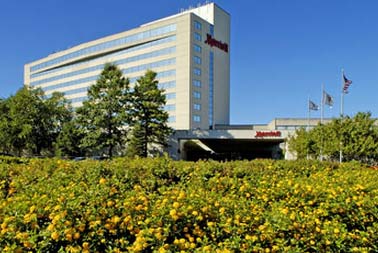 Day 1 At The Conference: Meeting New People
After checking in and dropping off my bags I called PT and was able to meet up with him and a group of other bloggers down in the lobby to chat a little bit.
Among the cool folks that I met on my first night here:
After we talked a bit in the lobby PT gave us the behind the scenes tour of the conference, showing us the room with all the signage, schwag bags and goodies all the conference attendees will be getting. Lots of cool free stuff in those bags folks!
Day 2 Of The Conference: Packing Bags, Love Drops And Speed Networking!
Day 2 we started bright and early by helping to pack up all the tote bags that everyone will be receiving when they register. We packed and stacked bags and were done by 10am, and proceeded to eat donuts.
Had lunch at a great restaurant called Seasons 52 with a great group of bloggers including MoneySmartLife.com, CashMoneyLife.com, GenXFinance.com, MoneyCrashers.com, Wisebread.com, Amateur Asset Allocator.
After lunch we did the Love Drop at 3pm. What's the Love Drop? Love Drop is a micro-giving network of people who unite as a community to help one person or family a month.We brough a good part of the personal finance blogosphere together to do a community event to benefit Schaumberg area cancer support organization Phil's Friends. They help families that are being touched by cancer, and send care packages, and encouraging letters every week while the person is hospitalized. While there we moved some heavy furniture around their warehouse, installed ceiling tiles, and some folks put together care packages. It's a great charity, and I encourage folks to check it out: Helping People With Cancer
After we did the community service project together we went back to the hotel where we met up with some folks to go out to dinner. I had dinner at Gino's East Pizzaria with the folks from Perkstreet Financial, along with ChristianPF.com and OneMoneyDesign.com. It was tons of fun meeting those guys, and I think we had a great time hanging out at Gino's.
After dinner? The dessert reception and speed networking events were extremely hectic, but fun. The only problem was that we all ended up almost losing our voices and barely being able to hear each other.
Day 3 Of The Conference: Speakers Galore, Learning And More
Day three of the conference was a ton of fun as well. The day started off with JD Roth giving a talk about the power of story, helping people through giving them helpful advice and about building community. He also had a startling moment where Benny Lewis from FluentInThreeMonths.com jumped out of the crowd screaming in Klingon and waving a Klingon b'ahtleth – sword of honor. I'm not sure anyone knew what was going on at first, but it ended up being pretty hilarious. (For a look at Benny's Klingon speech – check out the video on his Klingon home tour)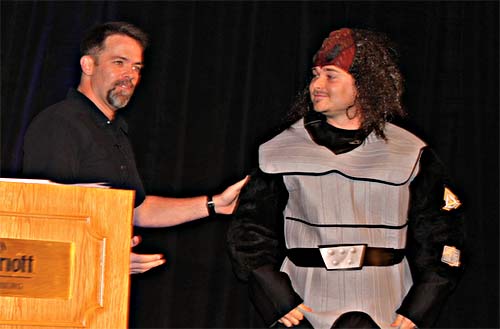 After JD spoke Will Chen from Wise Bread gave a talk about building your site's traffic to a million page views and how Wise Bread did it. Download his other Wise Bread presentations here: FINCON11 Presentations.
Then Ramit Sethi gave the keynote speech, talking about a variety of things, but boiling it down to this: "Be different. Focus on the problems people actually have. Drive true behavioral change."
After a variety of other great sessions during the afternoon, we headed over to the reception area again for the Ally Bank happy hour. During that time The Plutus Awards were presented by Flexo of Consumerism Commentary and Tom Drake of MapleMoney.com. There were a lot of big winners, with GetRichSlowly.org and BudgetsAreSexy.com winning multiple awards each.
Most bloggers were still at the after party given by Ramit, but I was hanging out in the hotel lobby with some great bloggers including Jeff Rose of GoodFinancialCents.com, Tim Fraticelli of FaithandFinance.org, Bob Lotich of ChristianPF.com, Kevin Mulligan and of course JD Roth of GetRichSlowly.org. To me times like this were the best parts of the conference for me -sitting around with other bloggers talking shop, talking random clothing and fitness blogging, travel and a thousand other things. As soon as people started returning from the party, the group started getting bigger and bigger, but the great conversation continued. Thanks guys for the fun time talking.
Day 4 Of The Conference: ManVsDebt, Pat Flynn, Saying Goodbyes
On the final day of the conference they saved some of the best presentations for last. Adam Baker of ManVsDebt.com gave a talk on creating and launching your own product. There was a ton of great material in there for all the folks trying to come up with their own products – so I'd recommend finding the presentation if you can.
Later Pat Flynn of SmartPassiveIncome.com came up and gave a motivational talk exploring how he's been able to create his mini-empire. A lot of it comes down to creating relationships, and doing your best to help your readers. The money will come from the trust you build with your readers, they'll end up buying the things you use because they trust you and your judgement.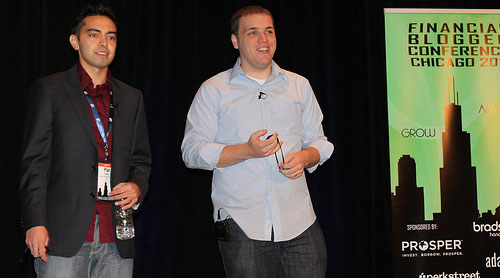 When the conference came to it's conclusion it was a little bit bittersweet, kind of like the feeling you get when you go home from summer camp as a child. You're happy to be going home, but it stinks that you probably won't be seeing a lot of these new friends for at least another year.
I got home on Sunday evening and my little boy was so happy to see me – I never get tired of that. I'm glad to be home – but I look forward to next year to re-kindle new friendships and for meeting even more new ones.
Conference Reactions and Takeaways
A lot of bloggers wrote about the conference when they got back. here are a few of the links. Want your conference post to be added? Leave a comment! (hat tip to Glen at FreeFromBroke.com for the links)