Are you dating? Are you engaged? Are you married? Whatever the case may be, chances are you're always on the lookout for some cheap date ideas. As I'm newly engaged, it's more important than ever for me to pick some frugal date ideas because of other expenses that come with wedding planning. We all worry about expenses on dates, but what if I told you there are plenty of opportunities out there that you probably haven't heard of?
Summer is winding down and life will get busy again. Don't slack on your relationship and quit the dates because of money or time constraints.
Frugal Date Ideas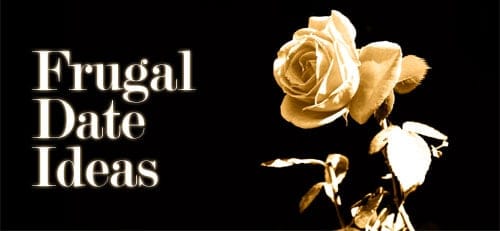 Hopefully these ideas will get you out with your special someone and keep that spark alive on the cheap:
Hit up the zoo for free
Most major zoos have a "free day" every month. Take advantage of these days! Feel free to spread out parts of the zoo each month. Make the free day a designated day to explore a new section of the zoo.
Local farm picking
I loved doing this as a kid and is also a great outdoors type of date. It costs a couple bucks and you go home with some fresh fruits or vegetables. Check this website out for a quick search of local farms near you.
Horseback riding
Horseback riding is probably the most expensive out of these frugal dates. Always be on the lookout for a Groupon for a discount at a local horse ranch.
Romantic dinner at home
How easy is it to cook a romantic dinner at home? Whip out some candles, cook a nice meal, and you're good to go. Throw a rose on the plate for a nice touch. Some of my favorite dates have been simple and meaningful. It's the little things that matter.
Hit the trails!
Did you know your taxes go toward National parks as well as your local parks? Well go take advantage of this! Go for a hike or go for a jog around the watershed. Not only is this a good bonding time but it's great exercise as well.
Go for a picnic
This truly is a free date is you have some extra food laying around your house. Pack a picnic and go pick up your date. Roll out the quilt and enjoy some food together as you people watch. I can't wait to go on my first picnic!
Free concerts
Tons of local bands put on free shows. These are usually advertised in the local newspaper. Grab some snack, a blanket and you're ready to roll! Another great place to check is a nearby college. I remember going to these all the time during my four years in school. You can't beat free when it's music and sun!
Row boating
When I've done this, it's a cool ten bucks. How much fun does rowing a boat sound? And talk about romantic! Hide some flowers and surprise your little "hunny."
Explore a new city nearby
Drive to a smaller city nearby and start exploring. Act like a tourist and talk to the locals. See what's hopping and where the night life is. You could even grab a walking map and explore by foot. It's fun to park and get outside, but you can just drive around too!
Outdoor movies
This is one that is easy on the wallet and exciting. Who doesn't want to watch some movies outside? This is on my list for my fiancee. I can;t wait to enjoy this frugal date.
I hope this list has given you some ideas for your next frugal date. Maybe it's sparked some other ideas as well. Whatever the case may be, get out and enjoy these dates for little to no money at all!