Most people, even if they don't consider themselves frugal, have some things that they do to save money and avoid waste.
They do things like tipping the condiment bottle upside down in the refrigerator to get the last few drops or adding a little water to the bottom of the shampoo bottle to get one more wash before throwing the bottle away.
I consider myself relatively frugal. I routinely tip the condiment bottle upside down and I add a little water to most bottles whether they be shampoo, dish detergent, laundry detergent, etc., to get the last little drops out. I also do a host of other activities from cooking from scratch, to hanging up laundry, to keeping my air conditioning at 81 degrees in the summer, to name a few.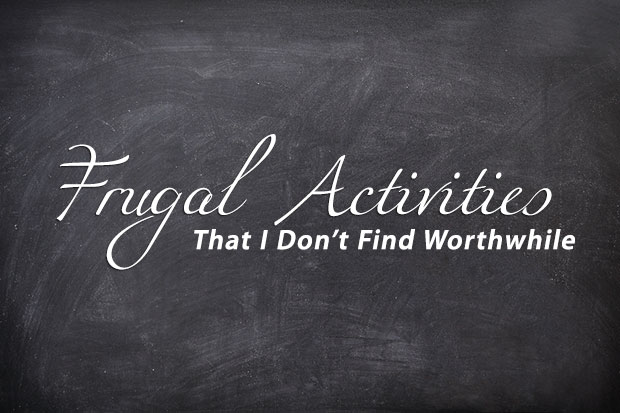 Over the years, however, I've found some frugal activities to not be worth my time.
Using Bar Soap
Bar soap is cheaper than buying liquid soap, especially if you have young children who pump several squirts of soap on their hands each time they wash. However, my youngest has the habit of poking her fingers into the wet soap and squeezing the soap, which makes it fall apart in little pieces quickly. These little pieces fall into the sink and get stuck all over the built-in soap tray in our sink. NOT worth the hassle. Hopefully, in a few years we can go back to bar soap.
Roasting A Whole Chicken
I get seriously grossed out by roasting a whole chicken and then taking all of the meat off the bone.
Luckily, my husband doesn't mind doing it, so we frequently have roasted chicken and then use the bones to make homemade chicken broth that is so tasty! This is healthy and a real money saver, so thankfully my husband likes to do this.
Paying With Cash
I know, I know. Using the envelope system and paying with cash can save money. I just always forget to bring the cash, and I find it a hassle to keep the money in the envelopes straight. So, I use my credit card and pay it off each month. I also enjoy cash back, so hopefully that makes up for the savings I'm losing by not using cash.
Using Cloth Diapers
When my first child was little, we used cloth diapers almost exclusively. Then, my youngest two came just 17 months apart, and I didn't have time to keep up with cloth diapering.
I did buy the disposable diapers with coupons and on sale, but I'm sure that I spent more than if I had used cloth diapers.
Shopping Multiple Grocery Stores
I know that shopping the loss leaders each week from each different store will result in the greatest savings, but with the grocery stores here being at least 15 to 30 minutes from our house, depending on the store, I find this strategy not worth my while.
Instead, I focus on purchasing the loss leaders at Sprout's and rounding out our groceries with items I can buy from Azure Standard, Costco, and meat from a local farmer.
Buying Items Years Before I Need Them
I used to be a big bargain shopper. I loved clothing my kids in Gymboree, so I'd hit up the end of season sales complete with a coupon, and I'd buy my kids clothes for the next year or sometimes two or three years. When I could get shirts for $3 and pants for $5, I bought a lot.
Now that we've moved and have less storage, I find that I don't like the extra clutter. Instead, I buy fewer clothes when the kids need them at the kids' second hand shop near our house. The clothes aren't brand new, but I don't have to store them for years while I wait for my kids to grow into them.
Are there any frugal activities you feel that you should be doing but don't because you don't like them or you find them to be too much of a hassle?