Too often, too many families are busy running from one activity to another. Often times, people are so busy they don't even have time to eat a meal together unless it's eating fast food in the car. But it doesn't have to be that way.
Family night can be a low cost way to bring your kids and spouse together and have fun. Spending time with one another in an enjoyable way can be great for family bonds and for your children. Even better, it doesn't cost a lot of money as a night at the movies, dinner out, or a miniature golf outing might.
The key is to start family night when your kids are young so that it's something that they grow up with. Starting family night with teenagers may or may not be successful, so start early.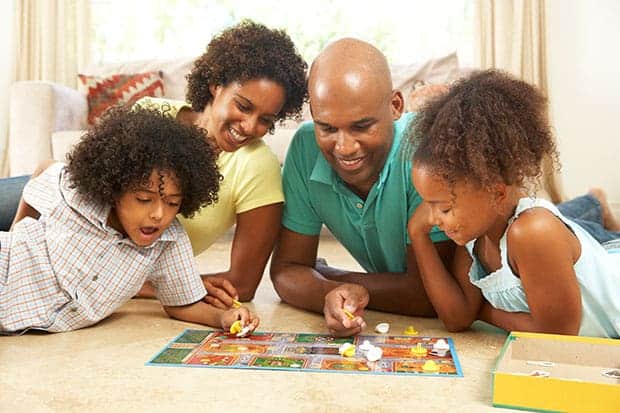 Secondly, make it a rule that all electronics are off during family night.
Here are some activities that will make for a fun family night:
Play Board Games
Board games have come a long way from when we were young. They go far beyond Monopoly and Life. For older kids, you might try one of the many board games revolving around wars. For the Civil War, for instance, there are many that focus on the war in general or specific battles in the war.
The geography buff will love playing a game like 10 Days in Europe, or another of the 10 Days series. We play this game when grandma is in town and have a great time.
No matter your interest or your children's, rest assured that there are games available. Investing in several games will be worthwhile.
In addition to the fun you'll have, family game night has real benefits for your children. Robin Hicks, a mom of three says, "Good sportsmanship, following rules, and taking turns are important social skills" that can be reinforced "through playing board games" (CBC Parents).
Cook Together
oung children love to cook with parents, and tweens and teens can benefit from the experience as they get ready to leave the nest.
Don't spend money eating out, which can easily cost a family of five $70 or more. Instead, make a fancy dinner at home—steak, potato, and vegetable or homemade sushi—whatever your family enjoys most. Younger kids may also enjoy working as "servers" and serving the family the food. Make the night fancy with candles and a nice table cloth.
Watch A Favorite Movie
There's nothing better than snuggling up together on the couch with a big bowl of popcorn and watching a movie. Choose a theme—classic movies, kids' movies, comedies, etc.
Tell Stories
There are so many ways to do this. You could take turns creating stories. Another option is to have each person say a sentence of a story spontaneously, and then the next person adds another sentence, etc. A crazy, funny story is guaranteed.
Another option is to tell family stories in the oral tradition. Show old pictures and tell your kids about when they were little or about when you were little.
Act Together
Put on a play for one another, or create a screenplay for everyone in the family and film it to make your own movie. You'll treasure the memory as your children grow older.
Star Gaze
If you have nature lovers and a clear sky, go outside and find the constellations and watch for shooting stars. You can buy small charts that show the various constellations and when you should see them to make the experience more enjoyable.
Exercise Together
Take a family bike ride or a hike. Just have fun being together and being healthy.
Family night can be a great way to bond. Contrary to what many think, spend time together as a family does not require a trip to an expensive location or activity. You can have fun at home for very little money.
What are your favorite, low-cost family night activities?