If you've been watching televised sports over the past 5 years you've probably heard of a variety of "Daily Fantasy Sports" (DFS) websites that have popped up.
Sites like Draft Kings and Fan Duel have become household names to sports fans due to the hundreds of millions in advertising that they are buying, and because of the millions of people who are trying their hand at winning in daily fantasy sports.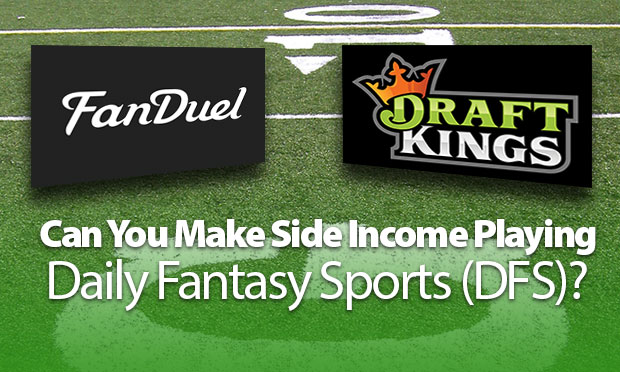 I'm always looking for ways to make money on the side – or to at least find hobbies that pay for themselves. I was reading an article this week about people who have taken the plunge and made playing Daily Fantasy Sports their full time job.
While I don't think that's a realistic goal for most people, I wanted to figure out if it is possible to make a decent side income from playing Daily Fantasy Sports.
What Is Daily Fantasy Sports (DFS)?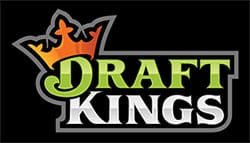 Fantasy sports, where you draft actual professional athletes for a virtual team and earn points on their real world performance, have been around for years now.
The first fantasy football league started in Oakland back in the early 1960s. Fantasy sports really took off in the late 1990s, however, with the advent of the Internet. In 1997 CBS launched the first publicly available free fantasy football website. Within 3 years all major sports media websites launched competing fantasy football websites. Today over 19 million people compete in season long public or private leagues online.
Daily Fantasy Sports have only been around since about 2007. The two main Daily Fantasy Sports sites, Fan Duel and Draft Kings, launched in 2009 and 2012 respectively. They do about 95% of the Daily Fantasy Sports business in the United States, and cover all the major sports.
Daily Fantasy Sports are currently undergoing some legal scrutiny as some Attorney Generals of states like New York (as of today 11/10/15) are categorizing DFS sites as gambling sites, instead of sites that have games of skill. Currently you cannot play the major DFS sites in Arizona, Iowa, Louisiana, Montana, Nevada, and Washington State. If New York's legal challenge goes through it would be illegal in New York as well (which would be a huge blow).
How Does DFS Work?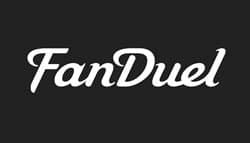 Traditional fantasy sports leagues continue for an entire season after you draft your team, but with Daily Fantasy Sports you can draft a team for a single day or week of play, and pick a new team every week. So if you do bad one week, you can draft a whole new team the following week. Your team's real world performance determines whether you win or not based on scoring models put in place by the respective sites.
How do the daily fantasy sports sites work? In general you enter contests where you can win money based on the performances of the athletes that you pick for your fantasy team. Entry fees for contests can range from free to hundreds or thousands of dollars. Once you enter a contest you choose a team based on an allocated salary cap ($50,000 on Draft Kings), where each player has a dollar value assigned to them. If the team that you pick performs better than other users in the contest, you can win money.
While the types of contests and payouts vary from site to site, the idea is to do your research and know which players are the best performers, what their potential for a big game is based on opponents ranks, find value players no one else is onto, and more.
My Experience Playing DFS On Draft Kings (And Winning!)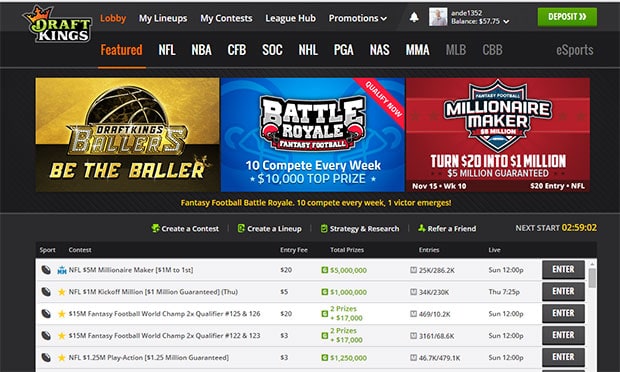 I've been playing fantasy football league since 2008 or 2009 with a big group of personal finance bloggers, so I was reasonably familiar with how a regular fantasy league works, and how to do research and find the best players for your team.
After reading about how you could make money on the DFS sites for a year or more now, and after getting referred by my brother, I decided to give Draft Kings a try.
I liked the idea of being able to pick a new team every week, and not having to worry about the players I pick go down to injury, having off years or just bad luck.
When my brother referred me to Draft Kings we both got a free entry in their Millionaire Maker contest that has 6 million dollars in payouts, with first place receiving a $1 million dollar payout. Normally an entry in that particular contest would cost $20, so playing with house money seemed like a good deal.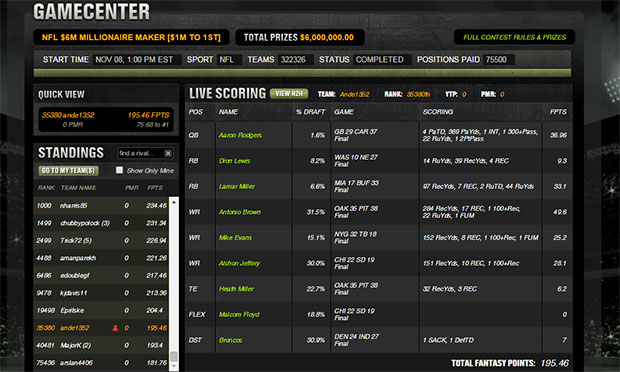 There are a million and one daily fantasy sports websites out there that will help you to pick a lineup for your team. I did some brief research on several sites to come up with the "ideal team" for the week.
The team I settled on did pretty well throughout the day Sunday. I watched as my team started slowly moving up the standings for my contest. My points total with 6 players left to play was good enough to put me in line to win $40 in the event. My Sunday night players didn't do as well, and one of my players ended up having a season ending knee injury. Not good.
By the end of the night I had dropped down the standings, but still in the money, in place to win $30.
I had two more players to go on Monday night football. In looking at the standings I could see that if my Monday night players got anywhere from 60-80 points (possible but unlikely) I would have a chance to win hundreds of dollars. The $10,000 winners were only 80-90 points away, with the million dollar winner being about 100 points away.
I allowed myself to do a bit of dreaming at that point – hoping for career days for my final two players.
In the end one of my players scored almost 30 points, while the other had an injury that ended his night before he scored any points.
In the end, my first week in daily fantasy football, with none of my own money invested, I ended up winning $35. Even though there were over 322,000 people entered into the contest, and I only came in 35,380th place, I still won $35. Not too shabby.

Now, am I going to come out ahead every time I play? Unlikely.
Things To Consider When Playing Daily Fantasy Sports
There are a few things you need to consider when you're thinking about trying Daily Fantasy Sports in order to make a bit of money on the side.
You'll need to put in time: If you're a casual Daily Fantasy Sports player, you're at a disadvantage. DFS pros and skilled amateurs are spending hours every week to come up with their lineups, coming up with strategies, and finding the best games to enter.
While there is skill involved, it is still a game of chance: DFS does have skill involved when it comes down to figuring out probabilities, player variances, calculating true player values, figuring out which players may have good or bad matchups and more. There is skill involved but it is still a game of chance where any given player can have a bad week, come up with an injury. In order to manage your risk in playing you need to be able to diversify your risk against multiple games and lineups, and strategies. You need to have a long term strategy.
You have to put money in to make money: Playing DFS is not free. You're going to need to pony up entry fees for all of the contests you enter, and in order to diversify your risk you may have to enter quite a few.
Different types of contests have different probabilities & strategies: Depending on what type of contests you're entering your likelihood of winning can vary pretty widely. Read up on the different types of contests you can enter (Featured, Tournaments/Leagues, Head to Head, 50/50s and Double Ups, Multipliers, and Satellites and Qualifiers.) and you'll have a better idea of where to put your money, and how to pick your lineups for those types of contests.
What it comes down to is making money with Daily Fantasy Sports is not easy money like many would have you believe.
You'll need to do your research, read up on strategies successful players are using, and be ready to pony up enough entry fees to spread your risk.
Can You Make Side Income Playing Daily Fantasy Sports?
So when it comes down to it, can you make some money playing Daily Fantasy Sports? I think the answer is yes, you can.
If you're willing to do a lot of work tracking down the best value players, playing multiple entries with varied lineups, doing research on which games have a higher likelihood of leading to a win and more – you can make some money.
Are you likely to be making quit your job money playing DFS? Probably not.
There is an elite few making most of the money. According to one study of the previous MLB fantasy season, the top 1% were making most of the profits:
Dan Singer, a senior partner with consulting giant McKinsey & Co.'s global sports and gaming practice, looked at a sample of bettors for the first half of the Major League Baseball season this year. The top 1 percent of players, they found, paid 40 percent of the entry fees but reaped 91 percent of the profits. Meanwhile, the "minnows" in the bottom 80 percent paid an average of $49 in entry fees and lost half that cash.
One top player played in over 600 contests on a recent Sunday, and won payouts in a bunch of them. He varied his lineups, ponied up thousands in entry fees and played hundreds of games giving him a much larger chance to win. Most players aren't going to have the resources, time or energy to do that.
When it comes down to it DFS is probably not going to be a big money maker for most people, but instead a fun diversion that makes sports a bit more interesting to watch on game day.
I'll probably continue playing from time to time, probably only while I'm still playing with house money. In the long run, however, the odds are not in your favor and I wouldn't suggest trying to make this a full time second job. Plus, if you're using this as a scheme to try and get rich quick, it's probably not a good idea.
Proverbs 28:22 "Greedy people try to get rich quick but don't realize they're headed for poverty."
Play a few games here and there, but don't try and count on this for any regular type of income.
Have Some Fun and Give DFS A Try
Want to have a bit of fun and try out Draft Kings or Fan Duel? Want to give it a go to make things interesting while watching football on Sunday?
Sign up for free through my link below and new users to Draft Kings will get a deposit matching bonus of up to $600, and a free $3 game voucher. Use promo code moneymatters. Fan Duel will give a deposit matching bonus of up to $200. Give it a try this weekend!: