A while ago I wrote on this site how having a family game night can be a great way to have some fun with the whole family, without spending a ton of money. But playing games doesn't have to just be a way to have a little fun, if you play the right games it can be educational as well.
Over the years I've played a lot of board games, and a few of them stick out for the things that you can learn while playing them. So today I thought I'd take a look at some of the best board games to play to learn about personal finance.
Game of Life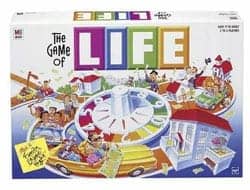 The Game of Life is one of those games that most of us have probably played at one time or another, it's an old standby of the family game closet.
So what can the Game of Life do to help teach you about personal finance? Quite a bit actually, it can really help to spur discussions around things like insurance, emergency funds, career choices, the effects of having children and more.
The idea behind the game is that you're going through the life of your player, and are presented with a series of life choices where you have to make wise decisions. The game board is a long curving path made from a series of "life event rectangles" with important lfe events on them like having a baby, or negative events like going to the hospital and having to pay a big bill. The game does a good job of enforcing that life is often not only about having good fortune, but also about making wise choices and planning ahead. Make the wrong decisions or avoid making wise financial choices (like buying insurance) and you could end up paying the consequences -and be bankrupt at the end of the game.
At the very least the game is a good opportunity to discuss important financial themes with your kids.
Settlers of Catan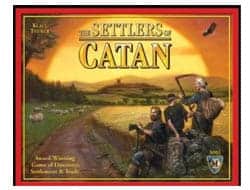 Settlers of Catan has quickly become a favorite at our house after we were introduced to the game by some friends in our church small group at a weekend retreat. The game is a lot of fun for families because even if you're not winning the game you're always involved and can have a lot of fun trying to build your little empire, or block others from doing the same.
The game surrounds the idea of trying to build cities and roads around the island of Catan, and to do that you have to become proficient in gathering the resources of the island that include wool, wheat, wood, ore and brick. The first one to get 10 points wins the game, and to get those points you have to build roads, towns and cities by collecting resources and trading with other players and the bank.
So what can the game teach about personal finance? It teaches the importance of diversifying your resources (income) to ensure you'll have the best outcome. If you don't have certain types of resources, or work with someone who does – you'll never win. It also teaches how working with and giving to others can pay dividends. Often those who are most successful are the ones that are able to help others along the way. It also teaches the importance of thinking strategically and for the long term end goal, much like how in life we're best off if we plan for our long term goals.
Monopoly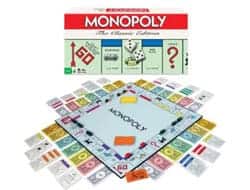 Monopoly is a classic game of real estate and investment, and just about everyone has played it at one time or another. I can remember playing this game with my cousins into the wee hours of the morning many a time.
The idea behind the game is that you're trying to buy up various real estate, railroad and other properties and investments, trying to become the player with the most money at the end of the game – avoiding bankruptcy.
So what can this game teach you about personal finance? It can teach you how certain investments can really pay off in the long run, and how some will have better returns than others. It also teaches the importance of not becoming over-leveraged and in debt, or you may risk bankruptcy to the bank or another person. Plan ahead for negative events, and don't buy up every property just because you can.
Use the game as a good teaching tool about the importance of investing, planning ahead and not leveraging yourself into the poorhouse.
As an aside, for some people Monopoly can help you to figure out just what your spending style is.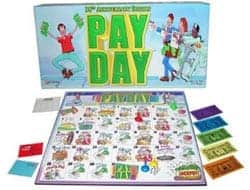 Payday is another game I've heard of from several sources as a good game to teach kids about how personal finances works.
The idea behind Payday is figuring out how to get from Payday to the end of the month. The game board looks like a calendar month, and each space (day) has a different event associated with it including buying "deals" and receiving virtual "mail" that can have things in them like bills, insurance offers and more. The object of the game is to have the most money at the end of the game, which is ended after however many months as the players want.
The game can be a great teaching tool in that it helps to show kids that the financial decisions that they make have a big impact on how successful they are. It also shows how random events can have a big negative impact if you have too much debt or haven't planned ahead with insurance or savings.
Games As A Financial Teaching Tool
The games above are all ones that we've played or have been recommended over the years. All have their good points when it comes to the lessons they teach, but some also have some ideas you need to be careful of. For example, newer versions of Monopoly are much more focused on using credit cards and debt, and could have some confusing messages if you don't explain them. It really comes down to you as the parent to make sure that you're teaching your kids the message that you want them to hear.
So do you have games that you would recommend for teaching lessons about personal finance? Tell us what they are in the comments!