Within the last four years, it has become more difficult to borrow money, and more and more people may find themselves in a tight financial position through unemployment, loss of equity in their homes and debt load. This type of environment may foster the desire for family members to help one another out with personal loans.
If you are the family member with money to lend, you may want to read some of the alternative solutions to lending money as outlined in the post, Should You Lend to Family Members? If you are the family member in need of the personal loan, consider the implications before accepting.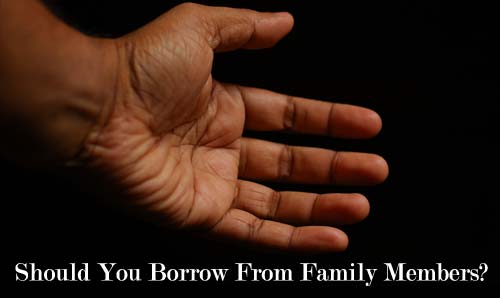 Be Willing To Answer To The Family Member, Frequently Perhaps
When I was 19, my beater car died, and I tried to apply for a car loan but was denied because I had no credit history. At the time, car loan rates were 6 to 8%. My grandfather generously offered to pay cash for a new car for me, and then we signed a contract with monthly payments spread over five years. I paid him about 5% interest, which gave me a discount off the bank interest rates, and he earned more on his investment than he could with the money sitting in the savings account. On paper, it looked like a win-win situation, and it was for the most part.
However, every time my grandfather got in the car with me, he looked over my shoulder to check the mileage and to lecture me if he thought I was putting too many miles on my car. I know he must have bit his tongue more than a few times not to say more, but I felt uncomfortable, and his looks were often enough to tell me what he was thinking. I felt like I was using his car, and not in a manner he approved of.
If you borrow from a family member, be prepared to be questioned about how you are spending your money and what financial decisions you are making now that that family member has a vested interest in your financial life.
Know That Get Togethers Will Be Different.
Proverbs 22:7 says in part that "the borrower is slave to the lender." Borrowing money from family members changes the dynamic of the relationship. When you borrow from a bank or a credit card, you don't have a personal relationship with the lending party. That is not the case when you borrow from family members. There is a power shift when you borrow from a relative; suddenly that person has power over you, even if she is lending to you with the best intentions. Even if your relative doesn't make mention of the loan, you will feel the weight of your debt more so when it is a burden your family member now carries for you.
What To Do If You Must Borrow
If you must borrow from a family member, take the following steps to make sure the transaction goes smoothly:
Write up an agreement and have it notarized. It may seem odd to write up a repayment plan, but it is essential for both parties. It shows a good faith effort, and by notarizing it, you give the lending party more protection legally. As the borrower, you demonstrate that you take this seriously and will pay back the loan.
Do NOT be late with payment. Even if you have to scramble and get another job or a side job, do not be late on payment. It is essential that your relative trust you to repay the loan as agreed upon.
Pay off the loan as quickly as possible. Family relationships are much too precious to ruin over borrowed money. Make it your mission to pay off the debt as soon as possible. Free yourself of this financial burden and restore your relationship. As Dave Ramsey says, no one wants to eat Thanksgiving dinner with their master.
If you have other options, it is in your best interest to avoid borrowing from a family member. However, if you must, know realistically that it will change the dynamic of your relationship. Also, make plans to pay the debt in a timely matter and to try to pay it off as quickly as possible to restore the natural dynamic of the relationship.