Up until the past couple of years I've always been the sort of guy to either put off home repair projects, or find someone else who was a bit more handy to complete the project for me. I've never been the sort who considered themselves handy, and if I'm completely honest I've always been a little intimidated by fixing things on my own. I'm not sure why that is except that sometimes I've been afraid I would make a problem worse or that I would kill myself in the process. In many cases I just didn't have a clue how to fix something, and didn't know where to start.
I recently decided that I really had to become at least a little more handy and figure out how to do some basic home repairs. The reason? Why should I be paying huge fees to professionals to fix things for me when the most of the problems are things even an amateur like myself can correct?
Problems Always Seem To Happen Unexpectedly
Problems always seem to crop up at the most inopportune time. You're busy at work, and the one shower in the house goes out. You're having family over for a huge dinner and the dishwasher stops working. That's just the nature of being a homeowner – your house and appliances don't care if you're busy, they'll just go out or have a problem if it's their time.
This past summer we had some unusually hot days up in Minnesota. Temperatures were hovering around 100 degrees, and we were thankful to have central air.
We started to notice, however, that it wasn't feeling quite as cool as it used to. On one of the hottest days of the year our AC just wasn't pumping out any cool air at all. It started getting hot in the house, even with the AC on high. We had no idea what the problem was. Expecting the worst case scenario we called the AC repairman. Our big mistake? We didn't try fixing it on our own before calling.
Try To Fix On Your Own Before Calling Experts
When the AC repair technician came out to our house he quickly found what the problem was. The coils on our AC unit's condenser outside of our house was really dirty. To fix the problem all he had to do was hook up our hose on that side of the house, open up the AC unit and spray down the coils. After cleaning all the dirt and gunk off of the AC coils, the unit started humming again and cool air started pumping out of the registers around our house. Problem fixed!
The problem with our AC unit was an easy one to fix, and we could have easily found the problem and fixed it ourselves if we had only done a quick Google search. The repair guy told us as such and said next time to just try that first. How much did we have to pay for the service since we didn't do this on our own first? $172.
After that problem happened, I told myself I'd always at least try to fix things first before calling in the experts.
Since then we've had a couple of problems come up, including a problem with our clothes washer. I ended up doing a search on that one, and finding a quick solution that kept us from having to make an expensive call to an appliance repairman. Money saved? At least $100. The washer still works fine months later.
Our Kitchen Faucet Started Shooting Water At Us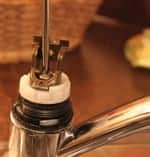 This past week we had another problem at our house. Our kitchen faucet started shooting water at us out of the base of the unit. Normally when you see problems like this water is only slowly leaking out of the base, but in our case we would turn the water on and a geyser would come shooting out, soaking us.
The faucet looked a little loose, so I thought that must be the problem. I tightened it up a little and pushed it down. It stopped leaking for me. A while later, however, my wife called me at work. It had just shot her with a stream of water while attempting to wash dishes. Time to search out a solution!
How To Find Repair Manuals, Tutorials And Guides
The great thing about trying to do DIY home repair in this day and age is that most problems have already been experienced and fixed by someone else, and in many cases someone filmed themselves fixing the problem and put it up on YouTube.com or a similar site.
Here's the process that I've used in finding repair manuals, tutorials and guides on how to fix problems with my household appliances and other items.
Track down any manuals or documentation you have for your item at home.
Write down any manufacturer and model names of the item you're looking to repair. If applicable also write down any part numbers for items that may be malfunctioning.
Search the manufacturer site for instructions on how to repair or maintain your particular item. Search for the make/model on their site.
Search Google for others having similar problems with your item.
Search YouTube.com (and other video sites) for video tutorials of others fixing similar or the same problems.
Follow along and fix your own issue!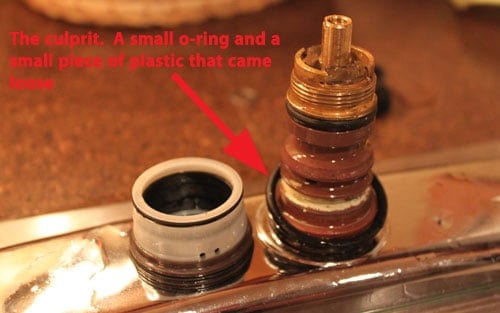 In the case of our kitchen faucet I still had some of the documentation for the faucet from when we built the house. It was built by Moen and and I had the model name as well. I went onto the manufacturer site where they had a couple of helpful pieces of information – a more detailed manual for the faucet and an exploded look at all of the parts in the faucet – and how they fit together. I also found a video tutorial showing how to replace the cartridge in the faucet, showing how to disassemble the unit.
Next I found a video on Youtube showing how to replace a cartridge in our make/model of single handle faucet. This one showed a more detailed look at the inner parts of the faucet, which is what I was looking for. I followed along and disassembled the faucet piece by piece. After getting the cover off of our unit, I quickly found what our problem was. One of the o-rings on the faucet wasn't in the correct place as shown on the diagrams and in the videos. It had slipped up the unit somewhere along the line. Another hard plastic piece had also slipped. Because of that the faucet wasn't water tight, and the water was shooting out of the gap.
I quickly adjusted the o-ring and plastic piece back into the positions where they should be according to the manufacturer diagram, and the re-assembled the faucet.
I turned the water back on and everything was back to working good as new! I just saved at least $125 for a plumber's house call!
Helpful DIY Resources For Your Project
After fixing several problems on our own I'm convinced that most home repairs have a ton of resources for you online to fix it on your own. Here's a few in addition to the ones already mentioned that we've found helpful:

Do you have your own tips for places to find good tips on doing your own home repairs? Are there any kinds of repairs that you would never take on? Tell us in the comments!