Most of us at one time or another have probably been in a situation where we were shopping for something, possibly a big ticket item, and after shopping around we found that we could buy the item online, and not have to pay the sales tax. For example, if you were looking at buying a $1000 TV at your local Best Buy store where they collect 6.5% sales tax, you would expect to pay another $65 or so in sales taxes. Buy it at Amazon.com and you could have it delivered with no sales taxes charged (as long as Amazon doesn't have a presence in your state).
The thing is, you're not really supposed to avoid paying taxes on the items you buy online as each of the states that currently have a sales tax imposes a "use tax" on items purchased out of state and brought back home. So if you buy that $1000 TV on Amazon, you're supposed to be paying a $65 use tax on that item when you file your taxes.
Use Taxes Aren't Usually Paid
The problem is that most of the time people don't bother to pay a use tax or report purchases that they've made online or in other states. From WSJ.com:
Make no mistake: Most Americans are skirting this tax. Each of the 45 states with a sales tax imposes an equal "use tax" on items bought out of state and brought back home, so as to protect their own merchants. But most taxpayers don't pay, because the retailer isn't required to collect it.

Without a way to collect, states figure they are losing more than $20 billion a year, according to estimates by Streamlined Sales Tax, a Nashville-based advocacy group.
Basically most people aren't paying the use tax because they're either ignorant that it actually exists, or they are purposefully skirting paying the tax. I'll admit that up until I started reading personal finance blogs a few years ago I didn't realize that it existed myself.
Because the use taxes aren't being paid states are estimating losses of up to $20 billion a year in tax revenue (although that figure is up for debate, some states who have enacted internet sales taxes have shown less taxes collected). That's too much money for them to ignore.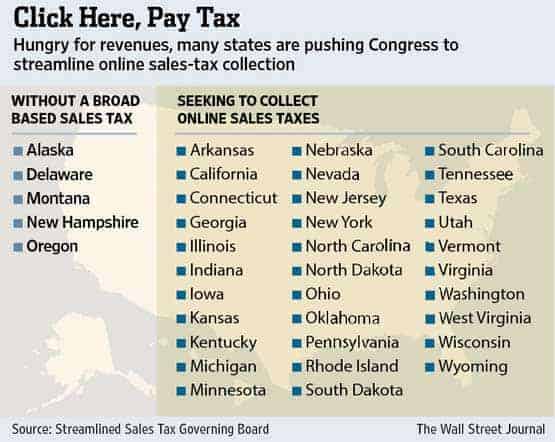 Graphic: WSJ.com
Federal Law Coming Soon To Allow Collection Of Sales Taxes?
For a while now some governors have resisted making changes to existing laws to require businesses to collect sales taxes on online sales. Now, however, many states are cash strapped and looking for ways to increase revenue. Requiring businesses to collect the sales tax would be one way to do that.
Hungry for a share of the lost dollars, some governors have dropped opposition to a federal law allowing collections, and now bills with broad bipartisan support are pending in both houses of Congress. Because they don't cost Uncle Sam much revenue, experts say the bills could move quickly.

"The sponsors hope a bill will pass this year," says Scott Peterson, director of Streamlined Sales Tax. He says almost two dozen states could have collections up and running within 90 days of a federal law change, while it might take others six months or longer.
So we've now got bills with a decent amount of support pending in both houses of Congress.
Would All Businesses Be Required To Collect Sales Tax?
One point of contention on any new law that might pass will most likely be what businesses would be required to collect sales tax on online purchases. Most are saying that there would be a threshold of sales in a state before they are required to collect sales tax. Because of that many smaller businesses would be excluded from having to collect.
Still, issues remain. The biggest: what the threshold for requiring sales-tax collection will be. The Senate versions of the bill draw the line at $500,000, while the leading House bill says $1 million—a gap likely to cause wrangling.

Whatever the threshold, it is likely to exclude thousands of smaller retailers active on platforms such as Amazon, eBay, and Etsy whose customers are ignoring current law.
Even if smaller businesses wouldn't be required to collect, some states are trying to make it mandatory for some smaller retailers to inform customers that they will owe use tax on their purchase, or face fines. While one law in Colorado to that effect has now been vacated, others are looking to try similar measures.
Those against the idea of an internet sales tax say that the cost would kill small business, and that it would be cost prohibitive for small businesses to keep up with the more than 9,600 state and local sales tax jurisdictions in the U.S., even with the software we have today. The local and state sales taxes are constantly changing, and to keep up with them would be a new compliance cost, one that larger businesses could keep up with, but one that smaller businesses might not. This is part of the reason why larger businesses are OK with the idea, less competition for them.
Online Sales Tax May Be Coming Soon
So if you were planning on buying a big ticket item online soon to save on sales tax, you should be aware of a couple of things. First, you're already supposed to be paying a use tax. Second, larger e-tailers like Amazon.com may be required to start collecting sales tax soon if a law gets passed by Congress – and most states have said they could have things up and running within 3-6 months.
What do you think about requiring businesses to collect state sales tax for online sales? Did you even know that use tax existed?