The economy is still in the doldrums, but one of the side effects has been that the rates on home mortgages are at their lowest levels ever. Last week 30 year fixed mortgages reached historic lows when they breached an average of 3.53%. Not only that, but 15 year fixed mortgages averaged only 2.83%! From the Wall Street Journal:
Plain-vanilla mortgage rates struck yet another low in the last week — we realize this is becoming a weekly headline — with the average 30-year fixed averaging 3.53%, down from 3.56% the previous week and 4.52% a year ago, according to Freddie Mac. Rates on 15-year fixed mortgages, tempting to some because of that quick payoff time, averaged 2.83%, versus 2.86% a week earlier and 3.66% a year ago. (Yes, you read that right. 2.83%.)
With mortgage rates being so low, you would think that more people would be taking advantage. The thing is, a lot of people are still having problems, or are avoiding, getting into a new loan. Here are a few reasons why you might have problems buying a new house despite the low rates.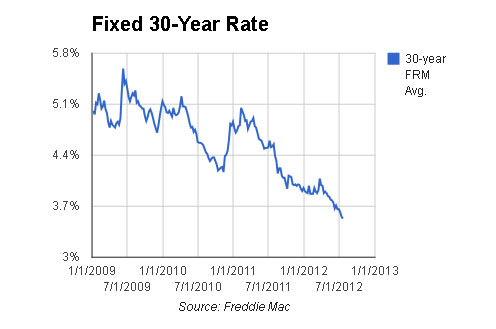 Rates Are Low, Unemployement Is High
The fact is that unemployment is still pretty high, at 8.2%. When you take into account those who are no longer a part of official statistics because they are considered "dropped out of the labor force", the unemployment numbers increase substantially to between 16-20%.
With unemployment being that high most people are either unemployed already, or know someone who is. Even if they don't, many fear becoming unemployed themselves. That fear causes people to be more cautious about getting into any big new spending, especially a purchase as big as a house. From NPR:
And the job market has weakened considerably in recent months, threatening the recovery in housing. Employers added just 80,000 jobs in June. Job gains averaged only 75,000 in the April-June quarter, after averaging 226,000 in the first three months of the year. The unemployment rate is stuck at 8.2 percent. Without more job growth, consumers may feel less secure about their financial futures and delay purchasing a new home.
More Stringent Lending Requirements
Another problem to getting into a mortgage despite low rates is that with many lenders the lending requirements are more stringent now than in the past. It's more important than ever to make sure your credit score is good as it can be when looking into buying a house or refinancing. Those with lower credit scores may find it difficult or near impossible to get a loan. From the Detroit Free Press:

If someone has a FICO score below 620, Ross said, getting a mortgage becomes more difficult. He said mortgages are basically unavailable for scores below 580.

McBride noted that people in general do not need perfect credit, though, to get very low rates. Consumers with a FICO score of 700 or better can qualify for some of the lowest rates, he said.
If you're thinking about buying or refinancing anytime soon, make sure to stay on top of your credit situation. Here's a look at how to get your credit report and scores for free when buying a house.
Higher Down Payments Required
In addition to tightening credit score requirements, many banks are now requiring higher down payments when people get a loan.
When the housing market was at it's peak the average down payment was approaching zero. Now the median down payment for a purchase is closer to 15%, with many lenders requiring 20% down to be able to get a loan, or at least the best rates. On a $200,000 loan, 20% down is $40,000, not a number a lot of first time homebuyers can save up overnight.
Many Homeowners Are Underwater
Many homeowners who bought near the height of the housing market are now finding themselves underwater in their homes, they owe more than their house is now worth. Depending on where our house were valued right now we could be in this boat as well, despite putting down a 20% down payment last time we bought.
Since their homes are underwater people are faced with the dilemma of not being able to sell their home and still get enough to pay off their original loan. They also have a hard time refinancing since their home's value has dropped so much. Many are forced to stick it out until their home value rebounds, or they can afford to make up the difference.
Hope Is Not Lost
If you're having trouble getting a loan or a refinance right now while the rates are so low, there is hope. Rates aren't expected to go up anytime soon, and in the meantime you'll have time to be able to boost your credit and save up a bigger down payment.
Others have noted that there are still lenders who are more flexible in their lending practices, and you can still find mortgage programs that will allow you to buy a house with a smaller down payment. Just do your research, shop around and as long as your credit is decent you'll have a good chance of finding something.
Check out recent mortgage rates on our mortgage rates page
Have you tried refinancing or looking for a mortgage recently? Were you able to get it done, or did you run into roadblocks?