When my wife and I bought a new house in 2006, it was an exciting time for us. We were living in a townhouse that we owned, but we just wanted a little bit more space than what we currently had.
We looked for a new home for almost 1 1/2 years, looking at both new construction and existing homes. After countless open houses, model homes, real estate agents and a lot of number crunching we finally bought a new construction house just down the road from where we lived.
Buying A New House Is Expensive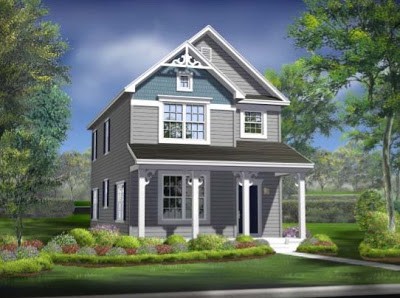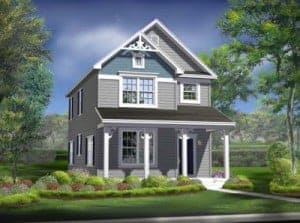 The process of buying a new house was an expensive one, and one we'll be better prepared for next time. Here are just a few of the expenses we didn't fully realize we'd have – or how expensive they would be, when we purchased our home. Hopefully this list will allow you to go in with your eyes wide open.
Expected Payments And Fees When Buying A House
Down Payments:

A lot of the time, in order to get a good interest rate you'll need to make a hefty down payment on the house, 10% or more. If you want to avoid private mortgage insurance, it will need to be in excess of 20%

Payments and Interest:

When buying a house obviously you're going to have to pay the mortgage principal, as well as any interest that may be charged. This is one of the basic charges you probably should have been aware of anyway. Make sure you're getting the best rate possible as this can mean the difference of thousands of dollars in interest paid.

Taxes:

This is one of the ones that most caught us by surprise. After enjoying a first year tax burden that was relatively small ($500), our property taxes jumped to over $2500. That's quite a jump in one year, and something that needed to be accounted for better in our budget. Our PITI payment went from $1400+ to over $1600. We knew this price jump was coming, but it still hurt when it finally arrived this past month.

Homeowner's Insurance:

This is generally required before you can take possession of your new home. The cost of homeowner's insurance can be pretty substantial, depending on where you live, the value of your home and what company you're with. We just continued our coverage with the same company we had used for our homeowner's insurance at our townhome. After paying that cost for over a year, I researched homeowner's policies earlier this year. By switching our coverage I not only saved a couple hundred dollars a year, I actually got better coverage!

Private Mortgage Insurance (PMI)

: Private Mortgage Insurance is insurance that protects the bank against non-payment should you not be able to pay your loan. The primary purpose for mortgage insurance is to protect your lender—not you. Normally you'll only have to pay this if your down payment on your house is less than 20%, so if you can swing it you may want to try and get that 20% down so you can avoid the extra $50-100 (on average) in payments every month. Its expensive and it adds up over time. If you' can't get to 20%, you can always pay the PMI, and once you get to 80 percent loan to value ratio, cancel it as soon as you can. No sense in paying PMI when you don't have to!
Miscellaneous Fees That People Often Forget When Buying A House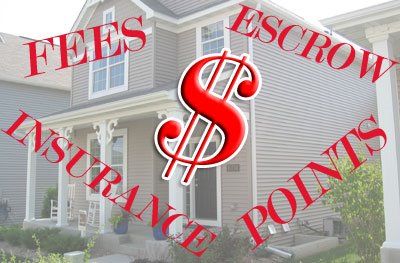 Points or origination fees:

Each point is one percent of the mortgage value, and the more points you pay, the lower the interest rate should be. Sometimes a seller might pay the points for you — ask your buyer broker or agent to look into that possibility for you. Remember to shop around and find the lowest points and origination fees you can find, but remember sometimes they'll try to wrap those fees up in the loan itself, and that can end up costing more than its worth.

Escrow fees:

Escrow is where the payment for your home will reside while you and the seller get everything settled. There are fees for this service, though. Think of them as room rates at the Escrow Hotel.

Legal fees:

Not everyone needs the services of a lawyer, but if your transaction is too complicated for boilerplate forms, you'll want an attorney preparing some paperwork.
Private mortgage insurance: This is required if your down payment will be less than 20% of the home's sale price.

Document preparation fees

: These are lender or broker fees.

Title insurance

: This covers you in the unlikely event that the person who sold you the house didn't really own it.

Appraisal fees:

This will slap a fair market value on your home — important for tax purposes and for the mortgage company to approve your loan.

Credit report fees

: A verified credit report will be required.

Tax service fees:

These are to make sure that your taxes get paid.

Survey fee

: A survey will determine the exact boundaries of your property. (If an existing survey can be used, then you won't need to pay this fee.)

Property taxes

: You may owe some property taxes immediately, if the seller has paid them covering a time period when you'll own the home.

Pest inspection fee

: New homes don't normally require this, but older homes do.

State recording fees

: These depend on state requirements.

Notary public charge

: You'll need a notary to verify your identity.
See, It's Not As Cheap As You Might Think!
So, as you can see it is a pricey proposition to buy a house. There are loan costs, closing costs, pre-paid interest and escrow funds, and more.
Before you go all in and sign the paperwork, make sure you're aware of all the fees and charges you're going to have to pay up front, as well as down the road. If you aren't aware of all these fees, it can be a nasty surprise when you come to your closing and find you don't have enough money to buy your new house!
Even if you aren't ready to buy that dream house, you may want to start saving for that day a year or two down the road where you will be ready. After all, that might be how long it takes you to save up enough to be able to afford all the points, origination fees, document fees, and all the other miscellaneous charges you never knew existed until you wanted to buy a new home.
How was your homebuying experience? Let us know about it in the comments, especially about any fees or charges that you may have forgotten!