When the real estate market took a nosedive 3 years ago people who had bought at the height of the market (including my wife and I) found themselves in a situation where their homes had dropped significantly in value. For many folks, since the drop in home value was significant (sometimes upwards of 20-30%), they found themselves in a situation where they now owed more on their home than it was currently worth.
Since so many people were buying homes without a down payment, and with sub-prime loans, a lot of people are now coming up with a huge case of buyer's remorse.
According to a report by First American Core Logic, a real-estate data firm, more than 11 million families are in "negative equity", that is, they owe more on their home than it is worth.
Strategic Default
My wife and I thankfully aren't underwater because we made a 20% down payment on our home, but I know not very many people didn't plan ahead as well as we did. So what about people who are finding themselves underwater supposed to do now? A growing group of people are saying that for most of those people it would make complete sense to just walk away from their mortgage, stop the monthly payments, and take the credit score hit of a foreclosure instead of allowing yourself to wallow in an underwater home. They call this making a "strategic default".
My question is this. Is it really ok for people to walk away from an underwater mortgage – even if they have the means to continue paying the bill? Should it be purely a mathematical and contractual equation, or are there more questions that need to be asked?
I found this graphic over at Credit Loan that takes an in depth look at the foreclosure crisis, and asks the question, is it ok to just walk away from your underwater mortgage? Click to enlarge.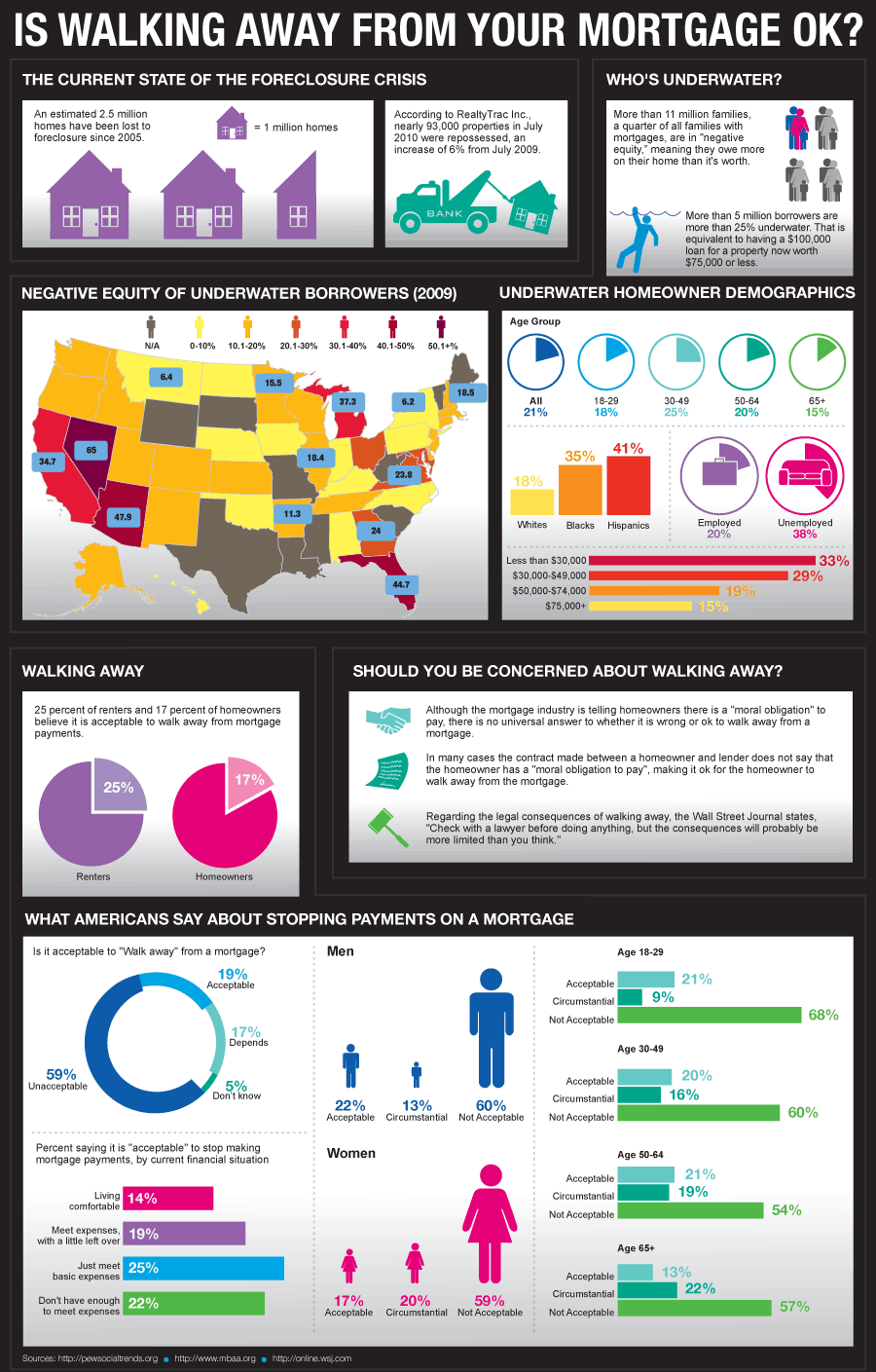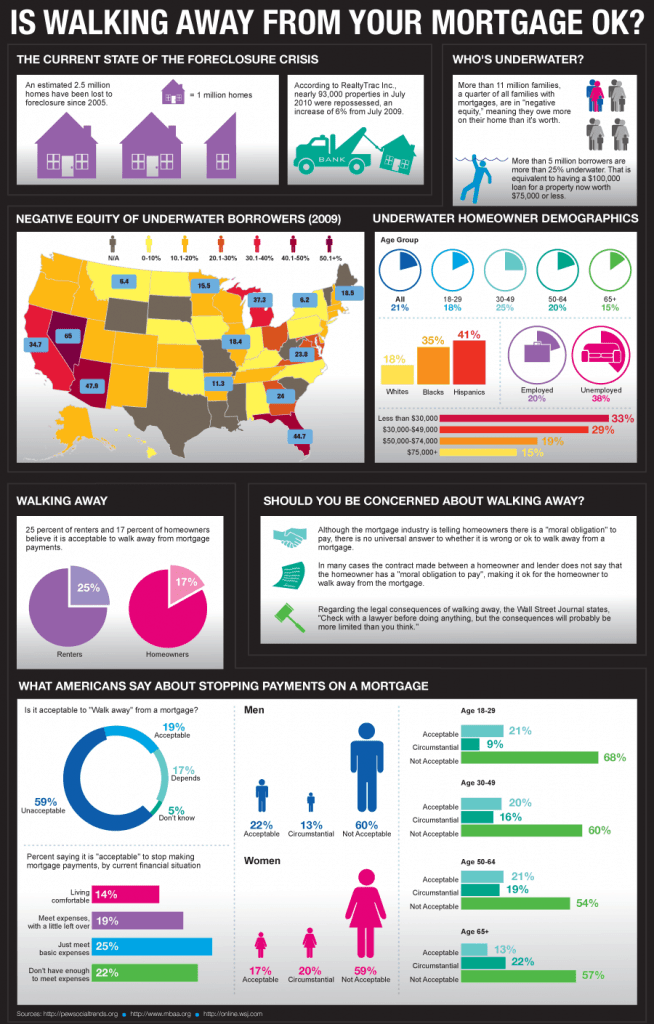 [Source: Credit Loan]
Some interesting stats from the graphic:
More than 11 million families, a quarter of all families with mortgages, are currently in "negative equity".
More than 5 million borrowers are more than 25% underwater.
Some of the hardest hit states include Nevada (65%), New Mexico (47.9%) and Florida(44.7%).
25% of renters and 17% of homeowners believe it's acceptable to walk away from mortgage payments.
59% of Amerians say it is unacceptable to walk away from a mortgage
Impact Of A Foreclosure On Credit Score
One of the things you need to consider when walking away from your home and mortgage is the impact it will have on your credit score. Now, I'm not one of those people who will tell you to constantly check your credit report or score and rely on it for everything, but the fact is that more and more people are taking credit score into account when making lending decisions, hiring decisions and more! You ignore your credit score at your own peril.

So what will a foreclosure or delinquent payment do to your credit score? Fair Isaac pulled back the curtain a bit and revealed a little bit about what kind of a credit score impact those things might have:
30 days late: 40 – 110 points
90 days late: 70 – 135 points
Foreclosure, short sale or deed-in-lieu: 85 – 160
Bankruptcy: 130 – 240
Having a late payment, a short sale, foreclosure or bankruptcy will have a pretty big impact on your credit score. Whether you like it or not you may have to work pretty hard to fix the damage you've done.
So what kind of an impact can having a lower FICO score have?
Absorbing a big credit-score hit can make many transactions more costly. It's not just paying more for credit card debt and auto loans, insurance can cost more as well.

The average savings for someone with a good versus mediocre credit score is about $115 a year for auto insurance and $60 for home, according to Loretta Sorters, of the Insurance Information Institute.

A low credit score can even make it harder to rent a home because landlords often use credit scores to weed out prospective renters.
So defaulting on your mortgage is most likely going to mean that you're going to have start paying more for other things that you buy – and it will be harder to get credit or a mortage in the future. So if you're considering walking away, remember that it will have a huge impact on your financial life.
Walking Away Has Tax Implications For Many
If you walk away from your mortgage and the bank forgives part of your loan, in many states, any part of a mortgage that the bank forgives is reported as taxable income for you.
So, for example, say that you default on a $150,000 mortgage loan. The bank sells the property for $100,000. If the bank has the right to pursue you for the remaining $50,000 in your state but doesn't, that "forgiven" amount is taxed to you. That could mean a pretty large tax bill.
For more details on if your state is one where you could potentially be taxed, check out this post: Tax Implications Of Strategically Defaulting On Your Underwater Mortgage
Question Of Ethics Or Just A Contractual Transaction?
Walking away from a mortgage will have a negative impact, and it may even mean a sizable tax bill, but for many people that isn't enough to stop them from moving forward with walking away. For many while they can currently afford to pay their underwater mortgage, they just don't want to just lose $50-100,000 in value on their home. Why take the hit when the bank would be able to take the hit for you? Defaulting seems to be the easy answer.
So that brings us to the question – is it OK for a homeowner to walk away from an underwater mortgage, even if they can still pay? Is a mortgage solely a financial and contractual question, or should there be a moral and ethical component to the question? Are you morally obligated to pay if you can?
Many would say that a strategic default is a legitimate option that is even spelled out in the mortgage contract, where specific ramifications of a foreclosure or short sale are spelled out for the homeowner. To exercise those options is just a a part of the legal transaction.
I understand that argument, but don't completely agree with it. Just because the ramifications of a default are spelled out in the contract doesn't mean it's the right thing to do. When you sign up for a mortgage, you should understand what you're getting into, and not be buying a home that you can't afford. Home values don't always go up (despite the conventional wisdom), and you shouldn't be counting on it as a source of income in the future – it's just a place to live. I just think that if you sign a deal and a contract, you should live up to your end of the deal.
What do you think? Are there things I'm not considering? Do you feel I'm far off base? When do you think it would be ok to strategically default – or is it ever ok? Tell us what you think in the comments!