My wife and happy where we're living, but we've always said that if we found the right house at the right price, we might consider moving. As such we're always on the lookout for our "dream house". What things would our dream house have? For one we'd like to have a large fenced in yard where our son and our dog can both play – without us worrying about them getting run over or going AWOL. We'd also like a home with a dedicated home office on the main level, along with at least 3 bedrooms on the upper level – as we're planning on having more kids some day.
When we get one of our local newspapers, we always browse the local real estate section to see if there are any amazing deals on either homes, or on good lots to build a home. (My in-laws are home builders, and could build us a home if we asked). As time goes on it seems like there are more and more good deals to be found as more homes get foreclosed on, and prices in our area get depressed a bit.
While it's tough to try and predict a bottom to the market so as to get the best deal, we're feeling like it's possible that we could end up moving within the next couple of years. Because of that I'm starting to look around again at mortgage companies, and trying to find somewhere where we can find not only a good rate, but a company you can rely on for good customer service. Today I want to look at one company that has been popping up on my radar lately, CapWest Mortgage.
CapWest Mortgage Background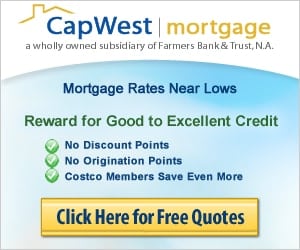 CapWest Mortgage is a subsidiary of Farmers Bank & Trust, N.A., of Great Bend, Kansas. Farmers Bank & Trust was founded in 1907 as a small local bank in a central Kansas town, lending mainly to farmers in the area. It has grown to having a presence in major metropolitan areas in the Midwest, and now across the U.S. via the Internet. From their site:
CapWest philosophies are paralleled with that of its parent, Farmers Bank & Trust, N.A., of Great Bend, Kansas; quality, honesty, integrity and ethics. A progressive national banking organization, Farmers Bank & Trust has strengthened customer confidence for over 97 years.

Since 1971, this family owned community bank has grown in assets from $4 million to more than $520 Million and maintains branch banking locations throughout the Central Kansas Region.

CapWest Mortgage is committed to offering financial solutions that help our clients manage their money and meet their financial goals. Through innovative thinking, strategic planning, professional dedication, and our unique expertise and experience as lenders, CapWest Mortgage seeks to earn the trust and exceed the expectations of every one of its clients.
Our values arise from our heritage as a family-owned lender from the heartland with a century of tradition. Our values are made strong and secure by our status as a nationally-chartered bank with over a half a billion dollars in assets. CapWest Mortgage is real people helping real people, building business relationships that last a lifetime.
They've been around for quite some time, although it seems that they've only been expanding their reach via the internet in the last decade.
Good Customer Service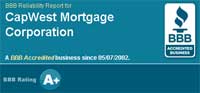 While it's good to see a bank that has a solid financial history, it's also important to find one with good customer focused service. To check up on CapWest I went over to the Better Business Bureau's website and found that while CapWest did have some complaints, most of them were in fact resolved.
Based on BBB files, CapWest Mortgage has a BBB Rating of A+ on a scale from A+ to F.
CapWest Mortgage Rates
I wanted to try and figure out what some hypothetical rates I could expect to see if I were to use CapWest Mortgage, so I ran my potential situation through their rate calculator.
I ran it through as a $250,000 mortgage on a home purchase price of $300,000 for my city here in Shakopee, MN.
30 Year Fixed Rate Mortgage: 4.875% Rate – 5.018% APR – $1389.69/month
20 Year Fixed Rate Mortgage: 4.625% Rate – 4.723% APR – $1638.12/month
15 Year Fixed Rate Mortgage: 4.125% Rate – 4.229% APR – $1904.50/month
10 Year Fixed Rate Mortgage: 3.625% Rate – 3.754% APR – $2526.39/month
Their rates were either in line with or lower than other quotes that I ran today through my mortgage rates page.
These hypothetical rates are up to date as of March 2011, but to get a more up to date rate, please head on over to their site to get your own easy quote!
Click Here For Up To Date CapWest Mortgage Rates

Mortgage Discounts For Costco Customers
One thing that really caught my eye about CapWest was the fact that they advertise that they offer discounts on their mortgage products for Costco customers. I guess this is just one more reason why we should become members, our friends are always telling us how much they love Costco!
While I wasn't able to find exactly what the Costco discounts are, on the Costco site they refer to their approved lenders as having capped lenders fees, and lower rates than might otherwise be available.
Lender Fees have been capped at $600 for an Executive members and $750 for all other members. In addition, the borrower will pay for what is typically called 3rd party fees, such as appraisal, title, and credit report. These fees vary based on the details of your loan. All out of pocket expenses, lender fees and closing costs will be discussed with you at the time of application.
So that could certainly save you some decent money, depending on what the lender normally charges for a loan.
Conclusion
If you have good credit (find out if you do) and are planning on buying a home or refinancing, CapWest Mortgage is definitely worth checking out. They have great rates, and can originate loans in all 50 states, so unless you're in Canada, you should definitely keep them on your radar.
Add to all this the fact that they do have Costco discounts available, it should mean that they rise near the top of your list.
To find out more about CapWest or their mortgage discounts you can go to their site through the link below.