This week my wife and I are starting the process of applying for mortgages for the new home that we're building. My wife's parents are home builders, and they're giving us a great deal on the home they're building for us, but nonetheless we're still going to need to get a mortgage to pay for the home when it's complete.
With rates bound to start going up soon, we have started applying for mortgages at a few different places after doing some research on where we could find the best rates, customer service, etc.
One thing we're learning through this process is that it isn't as easy as it used to be to get a home loan, even if you have good credit. Banks are now requiring a bit more paperwork and doing a bit more due diligence when approving you for a mortgage.
So what paperwork will you need when applying for a home mortgage?
Paperwork You'll Need When Applying For A Home Mortgage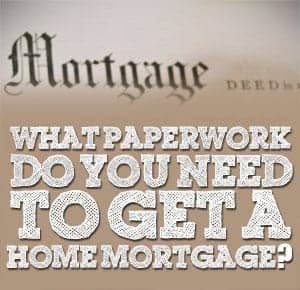 So what is some of the paperwork you'll be needing when you apply for your mortgage? It will likely vary from lender to lender, but here's a quick list of things that you may need to have on hand.
Document where you've lived: If you're a renter you may need to provide proof of where you've lived for the past couple years. In some cases you may need to provide 12 months of cancelled rent checks to prove you paid rent and/or provide contact information for your landlord. If you're a homeowner your mortgage information will come up on a credit check.
Verify your income: When applying for a loan the banks are going to want you to verify your income. To do that they'll typically ask for your pay stubs for the past 1-2 months, and your W-2 tax documents past 1-2 years. In some cases they may want a copy of your entire return for the past 2 years, especially if you're self employed. In many instances you must also must sign a copy of IRS Form 4506-T, which will give the lender permission to get a transcript of your tax returns from the IRS.
Prove your assets: You'll also need to provide proof of any assets you have. You'll typically be asked to provide 30 days of bank, investment and other financial account statements, although on bigger loans they may ask for 2-3 months of statements for all assets. Some banks may also require the names and addresses for where your accounts are held.
Document any debts: If you've got existing debts like student loans, credit card debt and so on, you'll need to provide documentation of those loans.
Original purchase agreement with builder or seller: A sales contract with the seller of the home you're purchasing will give them proof of the home's purchase price, who the funds are going to, etc.
Documentation Needed In Other Special Situations
In some situations if there are special considerations you may need to provide other documentation.
Gift letter or proof of down payment: If you're received a cash gift or have already made a down payment, you may be required to provide documentation and a letter from the giftor that the money is a gift and not a loan. A copy of the giftor's bank account statement showing the gifted funds, a canceled check and the borrower's statement showing the funds may be required.
Income from child support or alimony: If you have income from child support or alimony you may need to supply documentation to that effect. Be sure to ask for what the lender needs first.
Divorce settlement papers: If you've been divorced, you'll want to have copies of your settlement papers.
Self employment or commission income: If you have self employment income you'll typically be required to provide more income documentation from pay schedules on your tax returns, profit and loss statements, and more. Requirements will vary from lender to lender.
Bankruptcy documentation: If you've had a bankruptcy in your past you'll most likely need to bring copies of your court paperwork, and prove that you've had improved credit since your filing. You also may need to write a letter explaining your bankruptcy, or any negative marks on your credit report.
Provide Documents As Early As Possible
One thing that mortgage professionals say is that you'll want to make sure that you provide all of your documentation as early in the process as possible to speed things up. If the bank is waiting on you for paperwork, it'll slow things down.
Also make sure to provide complete and unaltered copies of paperwork. Never provide copies with missing pages, or with information whited out – as they can't be used. You'll most likely be asked to provide an unaltered copy.
Finally, if the process of finding a home takes longer than 60 days, you'll likely have to provide updated documents as the ones you provided will have expired. So you may need to provide new pay stubs, bank statements, etc.
What other documents have you been asked to provide – or did we forget on this list? Tell us in the comments!