In case you've been living under a rock and haven't heard, personal finance bloggers will now have their own blog conference to attend. It's called The Financial Blogger Conference, or FinBlogCon for short. It will be held in Chicago this year on October 1st-2nd.
Check out the video below where I give a quick rundown of the event (and hopefully persuade you to come!)
Who's Coming?
There's a lot of big personal finance bloggers already signed up to attend. Here are a few you may have read before:
JD Roth | GetRichSlowly.org
Flexo | ConsumerismCommentary.com
Phil Taylor | PTMoney.com
Adam Baker | ManVsDebt.com
J. Money | BudgetsAreSexy.com
Ryan Guina | CashMoneyLife.com
Bob Lotich | ChristianPF.com
Jeff Rose | Goodfinancialcents.com
Mike Piper |ObliviousInvestor.com
Andrew/Gyutae | Moneycrashers.com
Matthew Jabs | DebtFreeAdventure.com
Jeremy Vohwinkle | GenXFinance.com
and of course me… and hopefully you'll be there too!
Who Is The Conference For?
So, the list of bloggers that are coming to the event is growing, and you don't want to miss out! So who is the conference for?
Bloggers
Freelance writers
Financial professionals
Social media enthusiasts
PF groupies
If you're in one of the groups above, you don't want to miss out on this event!
What Will Be Happening At The Conference?
There will be a variety of sessions at the conference, and the final details are still being hashed out. But it currently looks like there will be a social/mixer on Friday night for everyone to get together and meet. Personally I'm looking forward to this because I've been talking with a lot of these folks for over 3 years, but never met in person.
Then on Saturday and Sunday there will be tons of sessions with a couple of keynote speakers, sessions with experienced personal finance bloggers and industry professionals, expert panels with Q&A time, and breakout sessions where a variety of topics will be covered.
So Why Should You Go To The Financial Blogger Conference?
So if you're not already convinced to attend, here are a few more reasons why you should be going to FinBlogCon.
You love personal finance and blogging.
You want to meet like minded bloggers because your spouse is tired of listening to you talk about your blog – and financial topics in general
You want to learn about new products and services in the financial industry.
You want to learn how to build a better blog in terms of traffic, engagement, monetization
Like me, you want to meet blogging friends face to face and network. Blogging is all about relationships and working together!
So you can say you were there at the first annual FinBlogCon!
Buy Through My Link First – Get A T-Shirt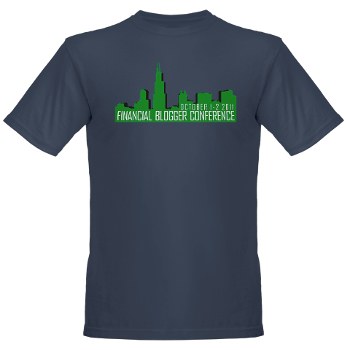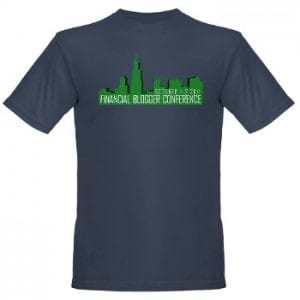 If those reasons aren't enough, if you register today and buy your ticket through my link below – I'll also be giving away one custom made extra large Financial Blogger Conference T-shirt (see photo). I was honored to do the design for this year's conference website and promo materials through my design site logosforwebsites.com. After doing the design I made myself a couple of custom conference t-shirts, one to keep and one to give away.
To win the shirt just be the first person to buy your ticket through my link and email me with your payment confirmation. Once I confirm that a purchase was made through my link, I'll get your name and address and send out your t-shirt!
Sign Up For The Financial Blogger Conference Here