One thing that always amazes me is how people waste so much money every year, just through lack of caring or wanting to make the slightest effort in order to save.
They leave the low hanging fruit, for no other reason than they just don't care, or they just aren't aware of how easy it is to save.
If you do some due diligence before you buy something, you can save a ton of money.
In today's post I thought I'd take a look at some extremely easy ways to find the best deals, and then to find additional savings on the things you buy.
Search For The Lowest Price On Things You're Buying
When buying products, tickets or other items it's important to do some research to make sure you're getting the best deal. Here are some easy ways to do just that.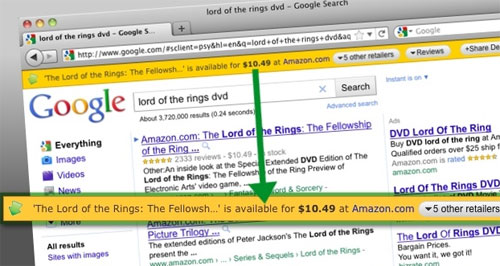 These are only a few of the useful sites you can use to find the best price on an item that you're buying. At the very least I'd suggest installing the browser add-on tool because it really makes saving money a no-brainer.
Search Google For Discounts On The Things You're Buying
Once you've found the best possible deal on something that you're buying, the next step is to find additional discounts if you can. How do you do that? Simple, you search for them using Google.
As mentioned in the video, finding discounts online is as easy as this process:
Go to Google.com
Search for the store name or attraction plus the words "coupon code", "discount","savings" or other words you can think of that denote additional savings.
Comb through the results to find the best possible discount or coupon. Best results aren't always on the first page.
I'd say about half to 3/4 of the time you'll find a coupon code you can use.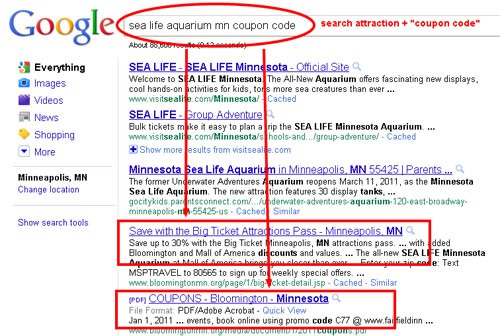 Savings In Action
The photo above shows an actual search that we used to find additional savings on our tickets to a local aquarium here in Minnesota, The Sea Life Aquarium at the Mall of America. The tickets were originally about $20 per adult, more than we wanted to pay.
A quick search on google for "sea life aquarium mn coupon code" brought up several sites with working coupon codes on the first page of the results. Those codes on the first page would have saved us about $5-6. Instead of stopping there we dug through a couple more pages of results and found a special discount code for a local trade group – that anyone could use – that ended up saving us $6 on each ticket – so $12 off. Just that extra 5 minutes saved us an additional $6.
Sites To Find Discount And Coupon Codes
If you're not finding much in the Google search you tried above, often you can just find a coupon code or discount by checking out a coupon aggregator site, or coupon forum. Here are a couple of my favorite places to find coupons.
RetailMeNot.com: This site is by far my favorite because they always just seem to have a coupon code for just about everything. I was purchasing my hosting plan a while back, and ended up finding a coupon code here that saved my 20% on the life of my hosting plan! Just go to the site, and search for the online store or retailer you're looking to purchase from, and a list of tickets will come up, in order of how effective they've been for other people.
Ebay.com: This one place you may not think of to find a coupon code, but often it's a great place to find additional discounts. For example, when I was buying a laptop a while back I bought a coupon code for a dollar or two on Ebay that ended up saving me 15% off of the price of my laptop. While sometimes you can be a bit unsure if the code will work, the return for a dollar or two can be quite a bit.
Honey: Honey is an automated coupon plugin for your browser that will find the best coupon code for your purchase and apply it automatically for you. Find out more in our review.
When No Discounts Are To Be Found? Just Wait.
Sometimes no matter how hard you try you might not be able to find a discount or a good price on an item that you want. In those cases quite often your best option is to just wait. If something isn't on sale now, it will be in a month or two. If there isn't a coupon code now, they may be running a promotion a week from now. Save up your money in an interest bearing account and eventually you'll find the deal you're looking for.
In cases where you absolutely have to buy something that day, you may be out of luck. For example, if we hadn't found a discount on our aquarium trip, we most likely would have gone anyway. The key is to just give it a shot. It hurts nothing to do a little bit of research because in the end it could end up saving you quite a bit of money.
What smart shopping tips can you give us that can help us to save on the things we buy? Tell us in the comments!
Related Article