For the last few years, it's been a great time to buy. Home prices have been low, and mortgage rates are in the realm of the ridiculously low. However, it's a good idea to remember that a home purchase is a big deal. It's one of the largest financial commitments you can make — and you want to do it right.
If you are first-time homebuyer, you might be surprised at the pitfalls that can beset you.
Here are 5 mortgage mistakes to avoid as a first-time homebuyer:
1. Neglecting Your Credit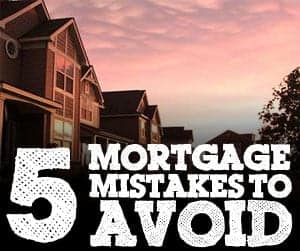 The very first thing you need to do, before you apply for a mortgage (or even begin house hunting) is to check your credit. Your credit situation will determine whether or not you are approved for a loan, and it will set your interest rate. If you have fair credit, you won't get the best interest rates available. Over time, that can lead you to paying tens of thousands of extra dollars on your loan.
Do yourself a favor and check your credit report. Fix any errors that could be costing you, and work on improving how you appear on paper. You'll get a better deal, and pay less over time.
2. Failure To Season Your Assets
Underwriters look carefully at your assets, and where the money is coming from. You need to show that you have long-term assets capable of making the down payment, paying any closing costs, and making the regular payments. Long-term assets that have been available to you for a while are known as "seasoned" assets. Make sure that your bank accounts have been built up, and that you have a history of assets in investment accounts and retirement accounts. Simply transferring money in from your parents just before you apply for the loan won't do you any favors.
3. Forgetting To Consider The Entire Cost Of Owning A Home
Many first-time homebuyers forget that there is more to the cost of owning a home than paying principal and interest. In fact, you also have to consider the cost of homeowner's insurance and property taxes. Consider these items as you evaluate a home's affordability. Also, realize that you might have other costs that you didn't have as a renter, including higher utility bills and costs related to maintenance and repairs.
4. Quitting Your Job
Now is not the time to quit your job. Along with your credit, a lender is going to want to know that you have stable and reliable income. The truth of the matter is that the lender is on the line, putting up the money. If you can't make payments, the lender is on the hook for the large amount of money paid for the home. If you have considered changing jobs, wait until after you close on your mortgage. The lender will want to see that you have a good history with your employer.
5. Applying For More Credit
Not only should you check your credit before you apply for a home mortgage loan, but you should also be wary of applying for more credit.
Before your loan closes, the lender will likely pull your credit again. If you have applied for additional credit, you might be rejected at the last minute and your deal could fall through.
Once you have applied for a mortgage, hold off on applying for other credit.
Have your own tips for things for first time – or veteran homebuyers – to avoid? Tell us in the comments!