Over the past couple of years the economy has been in a tailspin. With double digit unemployment, people are having a hard time finding jobs, and not many people (beyond government workers) have been seeing their incomes increase. Because times are tough most people are having to be more creative in looking for places to trim the fat, create new side incomes and keep their head above water.
What if I were to tell you, however, that most people could easily give themselves a raise without having an increase in income? Here's how it can be done.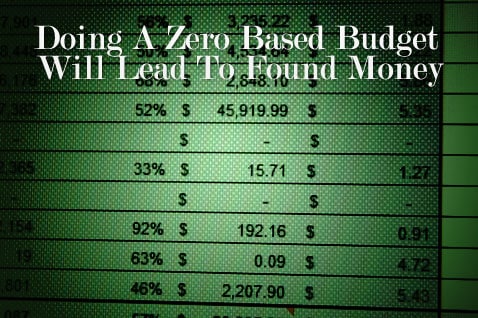 Zero Based Budgets
A couple of years back my wife and I took Financial Peace University, and as a result ended up doing a budget for our family for the first time in our 5 year marriage. Until then we hadn't really bothered to keep track of where the money was going because it seemed like we just didn't have enough to keep track of anyway. What we didn't realize was that because we weren't keeping track, money we could have been saving was instead just disappearing into the ether every month.
After we started doing the Dave Ramsey recommended zero based budget and a cash flow plan, however, we found that we were routinely had hundreds more in our bank account every month just because we were being conscious about our spending. It was like getting a raise!
So let's get started!
Write Down Your Income And Expenses
Figuring out what your current situation is should be the first step in coming up with a zero based budget. Sit down with pen and paper, and set about figuring out what your income and expenses are for the month.
Income: What money is coming into your bank account from your full time job, part time jobs and sideline income that you might have. Your regular income streams probably don't change that much from month to month, so this shouldn't be too hard. (Unless you have a sales job, own your own business or other different situations)
Expenses: Go through your monthly expenses and figure out what you're spending for necessary things like food, clothing, shelter, utilities, insurance and so on.
Less Frequent Expenses: You'll also want to look at your less frequent expenses that can be different from month to month. These can be things like entertainment, gas, property taxes, pet supplies.
Create A Plan To Allocate Every Dollar
After you have written down all of your monthly and infrequent income and expenses, you need to start allocating every dollar to a specific spending saving or giving category. This is called creating a cash flow plan.

For example, if you have 3000 dollars of income coming in for the month, you would allocate every penny of that 3000 dollars to one category or another. A pared down zero based budget might look like this:
$1000 for Housing expenses ($2000 left over)
$300 groceries ($1700 left over)
$200 car payment ($1500 left over)
$300 Utilities & Insurance ($1200 left over)
$200 Gas ($1000 left over)
$300 tithe ($700 left over)
$100 clothing ($600 left over)
$100 entertainment ($500 left over)
$200 savings account ($300 left over)
$200 mutual fund ($100 left over)
$100 Donation ($0 left over)
At our house, the money for tithe comes out first. Next, the money for monthly or irregular expenses gets allocated. If you have money left over when you're done with those expenses, money gets allocated to a saving, investment or giving category.
When the month is done you have allocated every dollar, and reduced the total to zero. No money goes unaccounted for.
When you start allocating your incoming funds to specific categories every month, and don't go over those spending limits set forth in your budget, the result is that you'll end up having more money left for saving, investing and giving every month. My wife and I found we were able to find almost $500-600 per month extra just by doing a budget and not overspending on our allotted categories. You can do the same, so why not start?
The Zero Based Budget: Review
The steps to follow when setting up your own zero based budget include:
Figure out all your income sources and write down a figure for total net income.
Write down and allocate for all giving and saving categories. Come up with a total for giving and saving.
Figure out a dollar figure for total expenses, both fixed regular monthly and irregular expenses.
Subtract total expenses and giving/saving from total net income. You should come up with zero as the final tally. If the total isn't zero, allocate the remaining funds to a saving or giving category.
Have you ever done a zero based budget? Did it lead to decreased spending and increased available funds in your accounts? Tell us your thoughts in the comments.