For the past 9 months my wife and I have been experiencing a bit of a roller coaster when it comes to her pregnancy.
From the start it was a rocky pregnancy. We found out she was pregnant when we visited the emergency room for an unrelated illness. My wife was experiencing some abdominal pain and discomfort, and one of the first things they wanted to rule out as a cause was a pregnancy.
Imagine our surprise when they came back a couple of hours later to tell us that we were in fact pregnant.
But it didn't stop there.
Not only did they tell us that we were pregnant, but they broke the news to us that we were having twins.
But wait, there's more!
On top of that, they broke the news to us that they felt there was a good chance that our twins were conjoined.
Those 24 hours where we found out all those things were exciting, and then terrifying.
My wife's pain ended up being due to another problem that led to a 4 day stay in the hospital, and during that time we ended up finding out that we were NOT in fact having conjoined twins, or even twins at all. We had a single pregnancy. While it was a high risk pregnancy, the baby seemed to be fine.
Having The Baby At Last
Over the next months my wife had a hard pregnancy with bouts of nausea, daily blood thinner injections, and countless doctor's appointments due to the fact that she's in what they call a high risk pregnancy. She was a trooper.
Through it all we stayed the course and prayed for a healthy baby. Last week our beautiful little baby girl Kenzie arrived. Here she is contemplating just how much she loves eating, pooping and napping.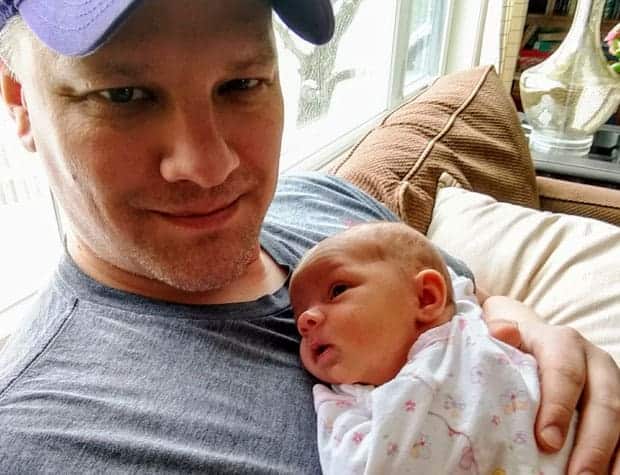 Now that she's finally here, there's been a bit of a rush as we try to remember everything that we have to do in the coming days and weeks.
In this post I hope to put together a list of things you need to remember to do when you've just had a baby as well – and hopefully you won't have to scramble as much as we have in the past week.
Baby Tasks – While Still At The Hospital
There are a few tasks that you'll need to take care of while you're still at the hospital with your baby. Some of the most important include:
Complete the birth certificate and Social Security paperwork: The hospital you deliver at will often offer you the birth certificate and Social Security paperwork while you're recovering in your room. For us we got it the day of delivery in the recovery room, and we were able to fill it out and turn it in to our nurse the next day. If you don't turn it in they'll often remind you to fill it out. If you don't receive anything, it would be a good idea to ask about it.
Choose a pediatrician for your baby: While you should have chosen a clinic to take your child to before you get to the hospital, often while you're at the hospital they'll ask you to specify which pediatrician's office will be handling your baby's care. The one you specify will be checking in on your baby while you're at the hospital, performing any circumcisions or other care, and then following up with you later. When we were in the hospital they brought out a list of the most common choices and we chose our existing one from the list.
Take advantage of the hospital nursery: When you first have the baby you'll be tempted to have the baby with you all the time. While it's good to have the bonding time, don't be afraid to take advantage of the hospital nursery, especially during the night, where they can take care of your baby while you try to get some sleep. They'll change the diapers, rock your baby to sleep and bring the baby in when it needs to be fed. Get some shut eye while you still can!
Baby Tasks – When You First Get Home
There are quite a few things you need to think about doing to make sure you're covered when it comes to the new baby. From health insurance to buying baby essentials, here are a few things to consider:
Make sure you have all the baby essentials: For us we needed to go through and make sure we had all of the day to day baby essentials. Right off the bat that meant making sure we had enough baby formula, bottles, bottle liners, diapers, wipes and more. There are a ton of expenses to expect when having a baby, but make sure when you get home you have those essentials. For us that meant a quick trip to our local target to stock up.
Add baby to your health insurance: For most health insurance plans you have 30-60 days from the birth date to add your child to your existing health insurance policy. This is one of those things that you should put near the top of your list as your baby is likely going to be having multiple doctor appointments within the first month or two of life. If you don't have insurance, that can get expensive!
Make plans for child care: If you're planning on not having a stay at home parent, you'll need to look into getting child care for your little one. Even if one parent will stay at home, it can be good to have emergency backup care providers on a short-list in case you need some help, even if that just means grandparents.
Make sure your emergency fund is full funded: This is something you should probably have started months ago, but if not, start saving an emergency fund post-haste. Having kids can get expensive, you'll definitely need it. For us a fully funded emergency fund is 6-12 months of expenses saved.
Plan your meals ahead: If you can plan ahead for your family's meals, having a meal plan can be super helpful. Make and freeze some meals ahead of time for easy prep later. If you have family and friends that want to help out, you can setup a meal calendar on a site like Meal Train where people can sign up to bring you a meal on a certain date while finding out what your likes, dislikes and allergies might be.
Baby Tasks – In The First Few Weeks
After you've been home for a few weeks there are other important tasks that need to be taken care of, if they haven't been taken care of already. Here are a few:
Look into disability insurance: If you don't have disability insurance, you might want to think about getting it, especially if you're the main provider. What would your family do if you had a long term disability and weren't able to work?
Make sure you have enough term life insurance: If you were to die unexpectedly, would your family be able to pay for the essentials? Unless you're independently wealthy, term life insurance is a good idea to protect your family.
Make (or update) your family budget: If you haven't already made a family budget, this would be a good time to take that on. If you've already got one, it's time to make some updates. You'll be spending more on food, health care, baby goods and more. Use a software like Tiller Money or YNAB to make it easier.
Think about creating an estate plan: Create a will, power of attorney, living will, and it's important to talk with your spouse about what will happen to the kids in the event that both of you die unexepectedly. Who will be a guardian for your children?
Start A 529 college savings account: Many parents will want to start a 529 college savings plan for their child, to help with education costs down the road. The earlier you start the better! Here's a look at some key things to remember about 529 plans.
Keep focused on your other goals: While it can be easy to only focus on the baby after he or she arrives, it is important to make sure you stay focused on the bigger picture, and on your personal and family goals as well. Don't forget to take time for your spouse, to keep saving for your retirement, to plan for non-baby related expenses. Stay focused. Adding a baby to the picture is big, but it isn't the only thing going on in your lives.
Do Your Best And Enjoy Your Baby
Having a baby can be a stressful time, there are so many things to worry about and so much of it is out of your control.
If you plan ahead, however, you can quickly and easily take the steps you need to ensure the baby's arrival is as stress free as possible.
Do your best, don't stress the rest and enjoy the time with your newborn!
Are there other things you would add to this list? What things do you think need to happen right away when baby is born?