A couple of years ago I wrote a post on this site called Ways To Watch TV Without Paying An Arm And A Leg For Cable Or Satellite where I talked about a variety of ways that you can find free or cheap TV, movie and other entertainment content online – while not spending an obscene amount on a monthly cable or satellite TV bill.
In the article I gave an inside look at the setup we have used at our house that gave us pretty much all the entertainment options that we would ever need.
While our setup still works, it's been a while since I wrote the post so today I thought I would write another post and do an update.
I'm going to look at some of the new ways you can access free or affordable video content online, examine some of the new features of the software that we're using, and talk about some of the new devices that will work in helping you to cut the cord. So without further ado, let's look at ways to get free or cheap tv and movie content.

Why Do People Want Alternatives To Cable And Satellite TV?
Why is it that there is such a huge demand for alternatives to paying a monthly cable or satellite TV bill? For one main reason – it's expensive. Not only is it expensive, but the companies have a myriad of ways to rope you into long term deals where incentives run out, and you end up paying crazy amounts of money every month. It's not uncommon to be paying $100+/month. I think premium TV is starting to feel the pinch, however. Because of lower subscriber numbers they're beginning to try and find ways to offer cheaper alternative plans.
While subscribers to fiber-optic service and satellite saw last year's average monthly bills jump 15% and 12%, respectively, research firm Centris found that cable subscribers are now paying 1% less,an average of $69.70. (It's also cheaper than the average $76.80 for satellite and $99.67 for fiber-optic.) Experts say it's the start of a shift as cable companies introduce new, lower-cost plans with a more limited selection of channels to grab market share from other pay-TV providers — and keep budget-conscious customers from cutting the cord altogether.
The introduction of more and better streaming video services like Netflix, Hulu and Amazon Instant has shown the premium TV providers that they can't ignore budget conscious consumers anymore. They have to come up with some cheaper alternatives.
The thing is, even their "cheaper alternatives" really aren't that cheap when you compare them to our plan, and they often leave out popular channels that many people want.
How Our Home Entertainment System Is Setup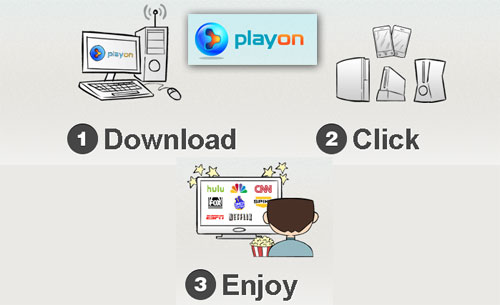 Because we wanted to have an alternative, we setup our own home entertainment system that didn't include cable TV. It basically involves a combination of our PC, our big screen TV, a networked media device, and a software called PlayOn installed on our desktop PC. Here's everything we use, and what they cost:
TV: We have a 50″ TV in our basement entertainment area. We use this as our main TV watching area. Most people already have a TV, so this shouldn't be an extra cost.
Networked Media Device: We have an Xbox 360 at our house, although any DLNA compliant networked media device should work. Things like Playstation 3, Nintendo Wii, Roku, Google TV, Android and Apple devices should all be compatible for this setup. If you already have one of these it won't cost you any extra to buy it. Otherwise devices like the Roku are very affordable – around the $100 mark. We found a second Xbox 360 for $50 on Ebay as well. A ton of free and paid video streaming services work natively with the Xbox 360.
PlayOn Video Streaming Software: This software is one of the keys to our setup. It can be found at Playon.TV and allows you to stream online video from popular services like Hulu.com, Netflix, Amazon Instant and others straight to your TV through a networked media device. The software costs: one time fee of $39.99 (on sale), or for $69.99 and you get a Roku LT media device included. You can get a Roku HD for $79.99. There is a 14 day free trial on the software. That's less than the cost of one month of satellite TV!
PlayLater Online DVR Software: The folks that brought us PlayOn have now released a DVR software of sorts that works in conjunction with streaming services to record all of your favorite online streaming shows. It also includes features like being able to skip past commercials. Just queue up shows you want to record, and they'll be saved, just like a DVR with your cable TV service.The software costs either a one time fee of $49.99 (on sale now, normally $79.99) or an annual fee of $19.99.
Streaming Video Sites: Video streaming services like Hulu, Netflix, Amazon Instant have been gaining traction the last few years. Now they're easier than ever to watch as they're all supported via the PlayOn and PlayLater software! The software also supports plugins, so other channels are being added constantly including CBS.com, Youtube, Comedy Central, HGTV, ESPN the Food Network, NBA/NFL content, and more. Some services may require an extra subscription fee to watch, however, like MLB.tv.
That's the basic setup we use at our house. A desktop PC that's always on that streams video content via PlayOn to our 2 TVs with networked media devices (we have two Xbox 360s), along with our Android phones and tablet. We can also use PlayLater to record shows to watch later – especially helpful for services like Hulu that only leave certain episodes on their free service for a short time.
If you want, you can of course also just connect a laptop to your TV to watch a lot of these services, but having something like Playon just makes it easier to have everything all in one convenient package, instead of having to bookmark 10 different sites and manage different logins.
Other Options For Home Video Setups
There are other good options for setting up a home video experience that's more affordable than cable TV. Here are a few – chime in with your own in the comments!
Free And Cheap Video Streaming Services To Use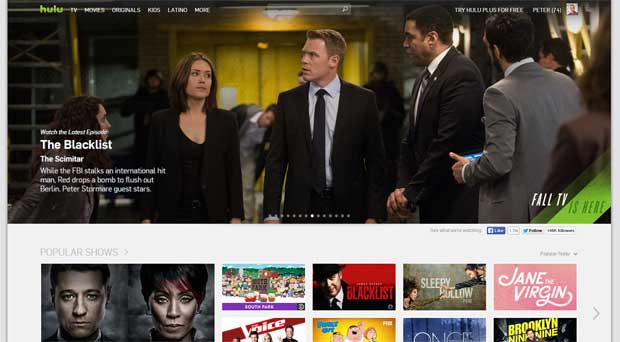 So now that we have our video setup all set to go, we need to figure out what streaming services to use. Here are a few of our favorites:
While those are the main services we use and stream to our TVs, we also sometimes use the following, although quite a bit less:
TV Network Websites: PBS, ABC, NBC, CBS and FOX all have good full episode streaming options available which we usually watch via PlayOn. I read somewhere that of the top 100 shows, I believe 80+ of them are available for free through the networks.
Vudu.com: Video rental and purchase.
CinemaNow.com
Sports: If you need to get your sports fix, you may need to pay for a premium membership to the league of your choice's online video streaming. Some may not have live game viewing due to blackout restrictions.
Other Cheap Video Content Options
Beyond just online streaming video services, there are quite a few decent options for getting physical movies and TV shows. Some of these options might be even better for those who don't watch a lot of TV or movies.
Free Over-The-Air HDTV: If you have a TV with a HDTV tuner and an antenna, you will have access to a ton of great free HD content via the big broadcast networks. Quite honestly my wife could survive on this alone usually as most of her favorite shows are on those stations. We use the Mohu Leaf 50 digital HDTV antenna.
Redbox: You can rent a movie at your local Redbox location for about $1.20 per night plus tax. If you only watch movies infrequently, this is a good option. Redbox is also supposed to be coming out with a streaming option soon.
The Library: Many local libraries have a surprisingly big movie collection, and getting a library card is free.
Your Friends: We have friends that are movie buffs, and who have pretty much every movie ever released. We sometimes will borrow a movie or two from them. Again -free.
Conclusion
When it comes right down to it cutting the cord and finding free, cheap or affordable video entertainment online really isn't that difficult. While there may be some higher initial start-up costs if you don't have any of the equipment, in the long run you're usually going to be saving hundreds of dollars over cable or satellite TV.
The one caveat is that you need to actually sit down and figure out how much you're spending on your "affordable" non-cable TV option, as you could easily end up spending more that way than if you had just stayed with cable.
At our house we already had most of the equipment, and we only spent money on the PlayOn and PlayLater software ($99) , on Netflix and on Amazon Prime ($79). In total that comes out to about $273.88 the first year, and then $174.88/year in subsequent years. That's much cheaper than if we had paid $65/month or $780/year for cable like we have in the past. Even if you add in a few more rentals or premium season pass purchases for your favorite shows, it still comes out cheaper.
What is your setup for watching tv at home for free, or cheaper than you could using satellite or cable TV? Do you use options we didn't mention here? Tell us in the comments.