My wife and I have been using Netflix for almost 3 years now, and for the most part we love it.  When we started subscribing to Netflix we weren't paying for any premium TV packages, but we still wanted to have plenty of entertainment options available to us.  Netflix was a part of our reduced cost TV watching plan.
We're both movie lovers, and if we have some down time, we love to just pop in a movie and watch.  On average we will usually watch 1-2 movies a week.  Or at least I think we do.
Within the past couple of weeks I've discovered a site (that apparently has been around for a while) that allows you to see if you've been getting the most out of your Netflix account.  It tells you how much Netflix costs per movie – and will tell you just how many movies you've been watching. But before we get to that, let's look at how Netflix is priced.
How Much Does Netflix Cost?
At our house we have found Netflix to be a great value, with all of it's movie and TV watching options that it has available.  They have a variety of packages that you can sign up for.  Depending upon which one you sign up for, you can get anything from limited 1-2 DVD/month deal or a streaming only movie watching package, to one that allows up to 3 DVDs at a time. DVD and streaming plans as of 3/2014.
Limited 1 DVD at a time, 2 per month: $4.99
Streaming video only – 2 screens at a time: $7.99
Streaming video only – 4 screens at a time: $11.99
1 DVD at a time: $7.99
2 DVD at a time: $11.99
3 DVD at a time: $15.99
For us we found the best value to be the 1 DVD at a time plan + streaming video package that cost $15.98.   While we wouldn't mind doing the streaming only package for only $7.99, it currently is a bit limited in it's selection of new releases and bigger films – although some of the original shows are great.

MY LATEST VIDEOS
Something else to keep in mind – you can now get a 1 month free trial and try the service out for free!
Figuring Out Per Movie Cost For Netflix?
If you want to figure out if you're getting the most out of your Netflix account, how can you figure out what kind of cost you're paying for the rentals?   As mentioned above I discovered a cool site called FeedFliks that will give you all kinds of statistics about your account – and help you to figure out if you've maximized your return on your monthly fee (or maybe if you're watching too many movies and TV shows!).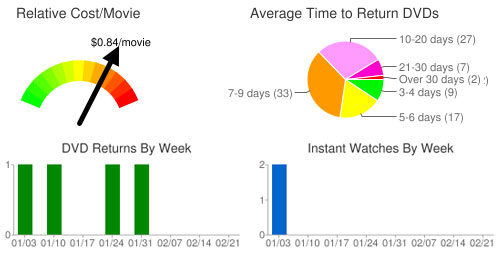 To figure out what kind of a return you're getting you just go to FeedFliks and link your Netflix account with their site.  Once you've logged in they'll pull all of your DVD and streaming video watching habits, and give you some numbers that you can use to calculate your return.  Above are some of the graphs that we were shown once we signed in.  Among the things we found based on our last  6 months of viewing behavior:
We watch on average 7.6 movies per month.
Our cost based on the DVDs we've watched is $3.17 per DVD.
When instant watch streaming is taken into account, we're paying $1.17 per movie.
We're still paying more per movie than 81% of people who use FeedFliks – so there's room for improvement.
We're keeping each Netflix movie for quite a long time – 9 days.  We may want to try and watch those DVDs faster.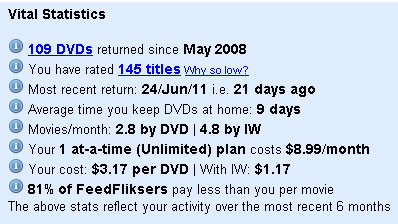 Based upon your viewing behavior, FeedFliks will also give you recommendations on how to improve your return on your entertainment dollars – and tell you where you're doing well already.
It will tell you if you're holding onto your movies longer than other users.
Tell you if movies in your DVD queue are available for instant watching.
Tell you if movies in your instant watch queue are expiring.
You can sign up for alerts to remind you to watch or return DVD movies.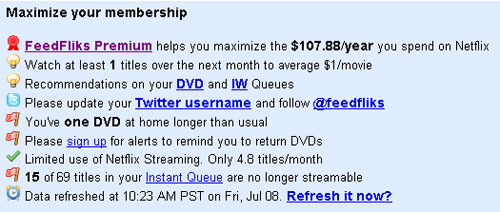 FeedFliks also has a premium service for $8.99/year that will allow you to do more with your account including sync with your Netflix account more often, manage your queues, get email and twitter alerts and more.  For me I'm not going to sign up right now as I think I get enough information just by using the service every once in a while for free.
Put Your Netflix Membership On Hold
If you've found that maybe you're not currently getting the  most out of your Netflix account (perhaps you're busy – or going on vacation), you can suspend your Netflix account for 7 to 90 days at a time.  Just go to [Main Page->Your Account -> Put membership on hold].
There are no charges for the time your membership is on hold. You have to return the movies you have and you can't watch online/streaming, but everything else is the same – and you can save some money if you know you wont' be watching much.  Something to consider.
Other Video Streaming Sites To Think About
There are several other streaming video services to consider – and possibly get a better value with.
Amazon Video On Demand:  Amazon just launched a video streaming service, and the best part is it's free for all Amazon Prime members.  So if you're already a member of Amazon Prime's unlimited free or reduced price shipping on the site, you'll get the video streaming service for free. The cost?  $79/year for Amazon Prime, and the video streaming service is free.  Caveat: Amazon's service offers only a quarter of the number of movies and shows available on Netflix, with a lot of overlap according to some sources.  Consider pairing their streaming service with the Playon setup I've written about before.  (Note: Free student and Amazon Mom Prime accounts do not get free streaming)
BlockBuster On Demand:  Blockbuster also has streaming video plans available.  Similar plans for 1 DVD and streaming cost $11.99/month, or 2 DVD for $14.99/month, so not much cost savings here.
Redbox Kiosks & Streaming: Redbox offers kiosks in various retail locations where you can rent movies for only $1 a night.  We love Redbox, and when we want to get a movie right away, we usually head to the Redbox at the corner gas station.  Now there are reports that Redbox will be taking on Netflix soon with their own streaming video service. Rumored plans would charge $4/month and would include 4 free kiosk rentals and unlimited streaming.  While it hasn't launched yet, we'll be excited to see this if and when it comes to fruition as it sounds to be competitively priced. You're essentially getting the streaming for free after the 4 kiosk rentals.
Are You Getting Your Best Value?
So the question now is, are you getting your money's worth when using Netflix?  At what point and at what cost do you consider it a good value?  For us I think having anywhere from a $1-2 per movie cost for Netflix means we're getting a good value.
While our cost per movie is pretty high if you only figure in DVDs at $3.17 per movie, when you also take into account instant watch movies we are paying a paltry $1.17 per movie cost.   That's not half bad, and about what we would pay even for a movie at the local Redbox.
What is your cost for your Netflix account, and are you getting your money's worth?  Are you considering subscribing to Netflix or another video streaming service?   At what cost would you consider the service worthwhile?  Tell us about it in the comments.
Get a 1 month no obligation free trial with Netflix