Over the past few years we've been on a constant search to find ways to cut costs on our regular recurring monthly bills.  Among those bills we've tried to cut is the cost for our home phone, along with our mobile phones.
After searching around and testing out a couple of products, we settled on Ooma for our home phones. We get our landline phone like my wife wants, but with more features and significantly less cost. In our case the cost was about $4.50/month in taxes and 911 service charges. Not bad when our original landline cost us in excess of $43/month! Thus far almost 2 years in we've saved around $700!
After settling on Ooma we've been looking around for suitable alternatives for our mobile phone service.  While we knew we wanted to be with a no contract pre-paid cell service, settling on one took us a while.  We were with Virgin Mobile for the longest time, and for some people I think it may still be a decent option.  For us, however, we found that going with Republic Wireless and their hybrid calling technology was a more affordable option.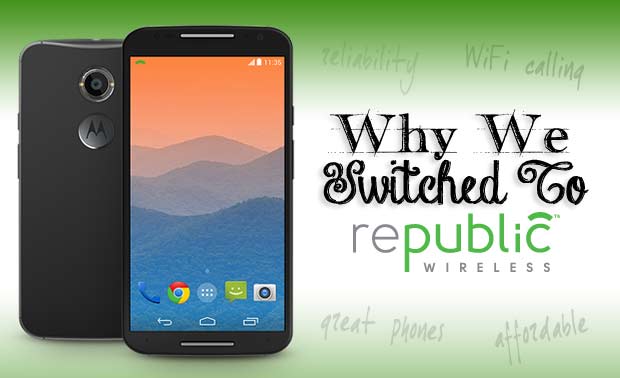 This past month and a half we've been giving the cell service with Republic Wireless a try. After testing the service and being impressed, we ended up porting our existing cell phone numbers over to the service a week or so ago. Now we're signed up for the long term!

MY LATEST VIDEOS
So let's look at why we fell in love with Republic, and why we're going all in.
Signing Up For Service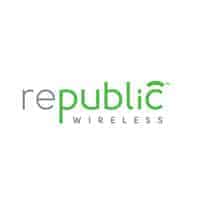 I originally heard about Republic Wireless a couple of years ago, but at the time it was still a beta service, with the hiccups that go along with being a new service, with new technology.  I read a bunch of stories about how their WiFi calling technology was still in it's infancy, and how it was a good idea, but not ready for prime time.
Fast forward to the fall of 2014, and I started hearing about Republic Wireless again after they were a sponsor at FinCon14 in New Orleans. The reviews I read were much more positive this time around, and I touched base with a few bloggers who were using them – like J. Money at BudgetsAreSexy.com – and they had nothing but good things to say.
After deciding Republic might be a decent option for our family I reached out to the folks at Republic, and they were kind enough to provide me with a review phone so that I could write about my impressions of the service.  After testing out the phone for a couple of weeks my wife decided she also wanted a new phone (her phone was 3-4 years old at this point and starting to slow down), so I ended up buying a second phone for her to use.
So we ended up with two phones, both of them the first generation Motorola Moto X, which at the time was their best available phone.  You can check out the entire review on the review page here.
Here's a quick unboxing video I did at the time:
Service Options
When signing up for service, the first thing we noticed was that the cost for service was lower than most other services we had checked.  The reason? According to Republic Wireless they're able to make mobile calling more affordable by making phone calls over WiFi when it's available.  It's their so called "Hybrid Calling technology".  Making phone calls over WiFi is more affordable than making cell calls, so by offloading some of the calling onto WiFi, in theory you're saving money.
According to J.D. Power the average monthly cell phone bill as of 2013 is $79 per month, while the average family plan is about $149.
I had reservations at first about their WiFi calling technology, concerned that the call quality wouldn't be very good, or that there would be problems with WiFi to cell handoff if I began a call on WiFi but left the area while on the call.  In practice I found the call quality to be excellent, and the WiFi to cell call handoffs weren't even noticeable.  They were seamless.
UPDATE: Republic calling plans have been updated. Check out the updated Republic Refund Calling Plans here.
Here are all of the plans we found with Republic Wireless.
$5/month WiFi only plan:
$10/month WiFi + Cell (talk & text only) plan:
$25/month WiFi + Cell (talk, text and 3G data) plan:
$40/month WiFi + Cell (talk, text, 3G and 4G data) plan: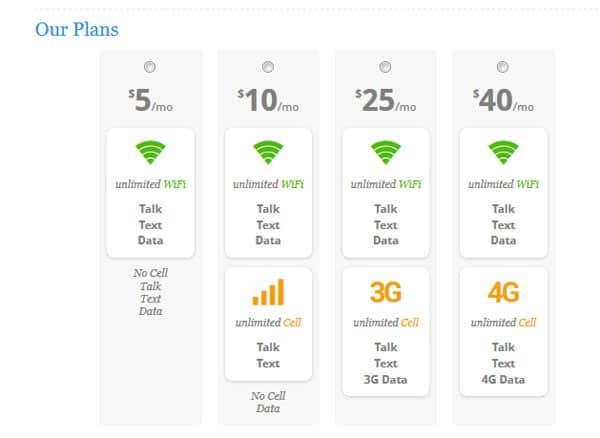 At our house we took advantage of the $25/month plan for my wife because she wanted to have some mobile data available, without having to mess with a mobile hotspot or finding a Starbucks with free WiFi.
For me, I always travel with my FreedomPop mobile hotspot anyway (that gives me 1GB of free mobile data every month), so I went with the $10/month plan that gives you some flexibility with cell service and texting, but no mobile data.  If I need mobile data I just fire up the mobile hotspot and I'm good to go!
All in we're paying $25/month for my wife, and $10/month for me, so $35/month plus taxes every month.  Previously with Virgin Mobile pre-paid phones we were paying $35/month for my wife, and about $10/month for me, so about $45/month plus taxes.  So in essence we're paying less in monthly charges now, but we're getting more functionality and service because we have two high end smartphones versus a smartphone and a flip phone. Can't beat that!
Available Phones – New Phones Available This Month!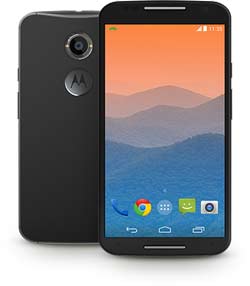 There are currently 4 phones available on the Republic Wireless service, with the newest one being released just last week.
The Moto X 2nd Generation phone was released on December 10th, and it's the newer upgraded version of the Moto X with a larger screen, better camera and updated software. We currently have the 1st generation Moto X, but I wouldn't mind an upgrade!
Moto X 2nd Gen – $399:  Android™ KitKat® 4.4.4,  3G/4G LTE capable, 5.2″ AMOLED Full HD, 16GB memory, 2GB Ram
Moto X 1st Gen – $299: Android™ KitKat® 4.4.2, 3G/4G LTE capable, 4.7″ Super AMOLED screen, 16GB memory, 2GB Ram
Moto G – $149-$179: Android™ KitKat® 4.4.2, 3G capable, 4.5″ LCD HD Display, 8GB/16GB memory, 1GB Ram
Moto E  – $99: Android™ KitKat® 4.4.4, 3G capable, 4.3″ Edge-to-Edge HD Display, 4GB memory, 1GB Ram
There's a phone for every budget and every need with Republic. There's a starter phone at $99 for people who mainly make phone calls and occasionally want to check email on the go. Then there are the higher end Moto X phones for the power user.
All 4 phones are well reviewed phones that I'm sure will work well for most people. Just remember – if you want 4G data you'll need one  of the Moto X phones as the Moto G and Moto E aren't 4G LTE capable.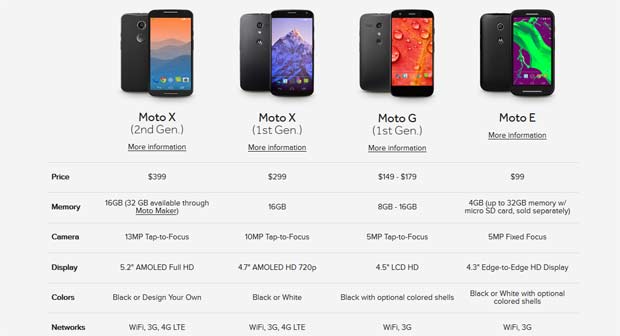 Porting Your Existing Number To Republic Wireless
Once we'd been using the service for about a month, my wife and I decided that we were happy with Republic, and decided to go all in and port our existing cell numbers over to Republic from Virgin Mobile.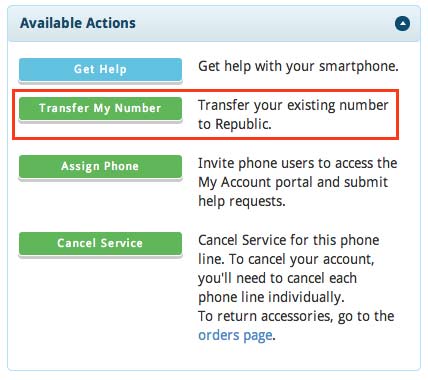 Porting Your Number
The process of porting our numbers couldn't have been easier.
First, we gathered all of our account information about our account with our previous provider. That included the phone number, our account number (which we had to call Virgin to get), as well as pin number, billing number, account owner's name and billing address.
Next, we logged into our account on the Republic Wireless site and clicked on the "transfer my existing phone number" link in the "My Account" page.  That took us to a page where we clicked on the "Transfer My Number" button to start the process (see to the right).
Next it asks you for the number you want to transfer to Republic, and it will check it to make sure it's transfer eligible.
If your number is eligible to transfer it will then ask you for your account information for the old provider. You'll enter your account number, pin, billing phone, account owner's name and billing address.
Submit and you're done!
We ported both of our phone numbers via the site, and within 24 hours our numbers were transferred. Easy.
There was no extra cost to us for transferring the number, which was also a plus.  I've signed up for services before that charge $30-40 or more to transfer an existing number!
Why We've Ported Our Cell Numbers To Republic
We've been with Republic Wireless now for just over a month. We were extremely satisfied with the service, and we just got done porting our numbers to make the switch final. Here's why:
1. Service downsides that I had read about before trying them out, seem to have been rectified:
WiFi calling worked really well: WiFi calling technology doesn't always work like you might expect. I've seen it done elsewhere where it can have significant call quality problems. With Republic, it just worked.
WiFi to cell handoffs not as bad as I had originally feared: One thing people had complained about in the past was that handoffs from WiFi to cell towers would cause dropped calls, poor quality calls, and huge delays as the call switched over.  My experience, however, has been that the handoff is now seamless. The most I have noticed was a brief hiccup where the call was handed off. I've experienced no dropped calls or quality issues. It has been seamless and reliable.
Short code support: One issue that a lot of people had with the service was that it didn't have any support for short codes (where you can send short texts to a 5 digit number to receive coupons, discounts, flight updates, etc).  As of October 2014, however, this is no longer an issue. Short codes are now fully supported. +1 for Republic continuing to improve their service.
2. We'll be paying less every month:
By switching to Republic Wireless we're going to be saving almost about $10/month over our previous pre-paid service with Virgin Mobile. Not only that, but instead of having one smartphone and one flip phone like we did previously, we now have two smartphones! If we were to have two smartphones with data at Virgin it would cost us $70/month at least, if not more! With Republic it's only $35/month!
Other Helpful Tips And Tricks For Republic Wireless
There are some helpful tips and tricks I've learned from the Republic Wireless community forums that have made the service work even better for me.  I thought I'd share a couple of those here in case others have already jumped on with Republic (or if you're planning on jumping in soon!)
Use A WiFi Auto-Login App: With Republic Wireless the service works the best when you are able to make WiFi calls at the abundance of free WiFi hotspots at local Starbucks, McDonalds and a variety of other spots.  This is especially true if you're using the WiFi only $5/month plan.  The problem is that at a lot of those spots you'll have to agree to terms of service and sometimes fill out a form before you can use the WiFi. Other users on the Republic forums suggested using an auto-login app, so that you only ever have to login to WiFi for any hotspot once. After you've done it one time, you'll never have to do it again.  I use an app called WiFi Web Login that works well, but costs like $1.99 after the trial I believe. I used it and it worked well at several hospital hotspots this past month. I can't tell you how much of a headache it saved me not having to login to the hospital WiFi every couple of hours. There is also one that will log you in automatically at all Starbucks and McDonald's locations called Starbucks WiFi Auto Login.
Use Offline Navigation Without Mobile Data: One of the few reasons I ever use mobile data on my phone is to use the GPS navigation with Google Maps while I'm driving around. I'm paying for the $10 plan that has no mobile data on my phone, so that means I can't use navigation unless I turn on my mobile hotspot. That's not that big a deal, but I did find a way around it. There is a free navigation app from Nokia that allows you to navigate without using mobile data. Instead you download maps to your phone beforehand for the area you're driving in. I've used it for a couple of weeks now using the downloaded Minnesota maps, and it works great! It's called HERE: Offline maps and navigation.
So there you go, a couple of ways you can use apps to save even more on your Republic costs!
Make The Switch Too!
After some initial hesitation we jumped in with Republic Wireless and haven't looked back. We've been extremely happy with the service, the call quality and the extremely affordable cost – we'll end up saving over $120 the first year! I highly recommend others check Republic out as well!
Interested in checking out the service?  Click through to the link below.
Find Your Next Smartphone With Republic Wireless Here
Other Republic Content
Interested in learning some more? Here is some of the other recent content we've written about Republic, and saving on your mobile costs.
Disclosure: links on this page are affiliate links and we may receive a referral fee if you purchase through our links.