As my wife and I go through the Dave Ramsey's 7 Baby Steps, we're finally completing step 3, building 3-6 months of expenses (although we decided to save closer to a year of expenses), and we're now entering step 4 where you are to invest 15% into Roth IRAs and other pre-tax retirement accounts.
While I know some people have questioned the mathematical soundness of Dave's plans, they have worked well for us, and we're not exactly Dave Ramsey snobs.
We know when to take his advice, and other times tailor his advice to fit our needs.
For example, I think some of his assumptions when it comes to investing (12% returns?) won't probably pan out, but his basic advice of investing at least 15-20% of your income is sound.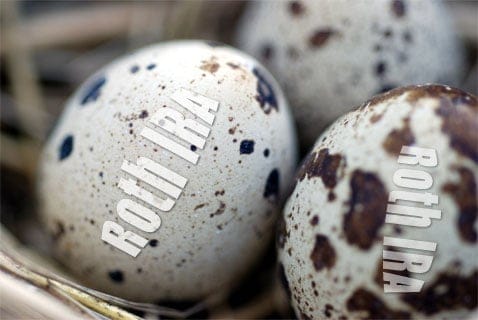 Investing In A Roth IRA
The first step that we'll be taking is to invest in a Roth IRA.
Most people will suggest that you invest in a 401k first if the company you work for offers a match on your contributions. Why not – it's an immediate 100% return!
While my company offers a 401k, they are not offering any matching contributions to our account.
Because of that we'll be skipping the 401k for now, and moving over to the Roth IRA account that will give us tax free earnings. After we max out our Roth IRAs we'll most likely be investing back into my 401k up until the maximum.
Where To Get An IRA Account?
So where should you get an account? There are a ton of options out there when it comes to investing. Below I've put together a table of some of the best options available for starting your own retirement account whether it's an IRA, Roth IRA or if you want to just trade stocks.
Each company in the table below has fees, trade commissions and annual fees listed if I was able to find them. If you know of others, or see mistakes, please let me know. Some of the links below may be affiliate links. Included below are both discount brokerages and mutual fund companies.
If you like to be hands off, a robo-advisor might be a good option:
Who Do Other Blogger Experts Use?
Mike with ObliviousInvestor.com invests with Vanguard because he believes that some of the other companies have a conflict of interest and put investors interests second.
Vanguard has a unique ownership structure such that the company is actually owned by the people who invest in their funds. (That is, the clients are also the owners.) As a result, the conflict of interests described above is eliminated entirely. Unlike every other fund company, Vanguard is owned by its clients.Vanguard has consistently been the lowest cost fund provider throughout the last three decades. Vanguard's funds repeatedly dominate the competition in their respective asset classes.
Jim of WalletHacks.com has accounts with Ally Invest, and likes them because of the good customer service and low fees, but mentions that it really doesn't matter which one you choose.
it doesn't matter which broker you pick. It is more important that you start contributing towards your retirement as soon as possible because each year you wait is another year you lose out on gains. Some will charge you $15 a trade, some will charge you $5, but those all pale in comparison to how much you lose if you let that decision paralyze you.
Phil at PTMoney.com opened his first Roth IRA a while back and also chose Vanguard because of their low fees, and because of recommendations from others.
Vanguard is highly regarded amongst most personal finance experts, bloggers, and CFPs as the best place to invest in an IRA or taxable account. When I spoke with Kiplinger and NAPFA back in January, they suggested Vanguard.
Kyle at amateurassetallocator.com has Vanguard listed as his best mutual fund company.
Vanguard appears on almost every list of top mutual fund companies. It is my personal favorite fund company and is where I hold virtually all of my mutual fund assets outside of my company-sponsored 401k. When I leave, I will undoubtedly roll over my 401k to an IRA with Vanguard, just like I did last time. Why do I like Vanguard so much? It's cheap. Not only does it offer a wide variety of index funds to choose from, but even their excellent actively-managed funds are dirt-cheap compared to the competition.
So if you're looking for opinions from a lot of the folks in the blogosphere it sounds like a lot of folks prefer Vanguard because of their low cost, good choice of index funds, and good performance, partly due to their low fees. I do have to say, however, that I appreciate Jim's advice that the choice of fund company isn't as important as getting started on investing as early as you can. Start now!
Conclusion
Personally I'm leaning towards opening an account for myself and my wife with Vanguard as pretty much everywhere I turn people are recommending them. Add to that their low fees, and fund options, it sounds like it should be a good choice. I'll be continuing to explore my options in posts over the coming weeks.
As with anything I'd recommend that you do your own research to understand the different companies, research fees and investing options, and make sure you're making an informed decision.
What mutual fund company or discount brokerage do you use? How do you like it? Do you have other recommendations for places to open an account? Tell us your thoughts in the comments!