I've written about quite a few online brokerages over the past few years and most of them have been pretty straight forward brokerages where you buy stocks, and pay a commission.
There have been a couple that have a different twist, for example Betterment.com, where you pay a low management fee and basically are investing in a diversified index portfolio with little or no involvement beyond choosing an allocation of stocks/bonds.
Motif Investing also has a bit of a twist, and when I heard about it this past month, at first I thought the idea sounded a little bit gimmicky.
They basically allow you to invest in baskets of stocks surrounding an theme or idea – what they call a "motif". You can buy into a motif like the "Caffeine Fix" motif, which invests in things like soft drink, coffee and tea companies. Or you can invest in a motif like the "Seven Deadly Sins" that invests in so called "sin stocks", companies that make alcohol, tobacco, gambling and related vice stocks. You choose a theme, and you invest in up to 30 stocks in that area.
While the idea of the themes or motifs may feel a bit gimmicky at first, like it did for me, there are ways that you can use a motif to buy stocks to create a nice dividend portfolio or other bundle of stocks, and save yourself a bundle on expense ratios you may have traditionally had with ETFs.
You can even customize motifs if they aren't setup how you'd like, and you only pay a $4.95 commission for stocks added to your motif. Using Motif Investing can be a great way to save on commissions and fees.
Let's take a deeper look in this Motif Investing review.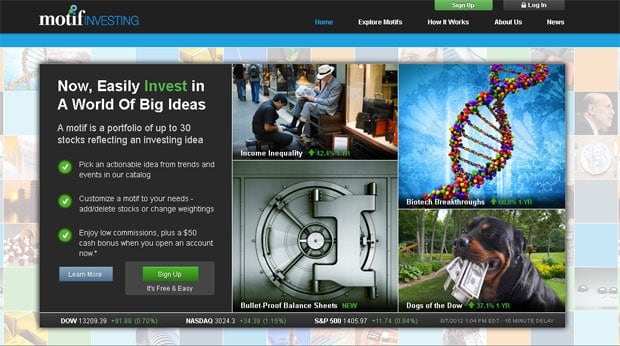 Motif Investing Background
Motif Investing is a startup company only having launched a few years ago in June 2012. As mentioned above, the idea behind the company is to allow investors to create their own investing strategy and to buy diversified bundles of stocks surrounding certain ideas or "motifs", all for a low fee of less than $10.
You could say it's similar to investing in index funds or ETFs, without the expense ratios.
From the LATimes.com:
It might sound like a gimmick but the San Mateo-based Motif has some heavy hitters behind it. Former Securities and Exchange Commission chairman Arthur Levitt is advising the board, and former Bank of America wealth-management honcho Sally Krawcheck signed on to be a director.

Hardeep Walia, a former Microsoft executive, launched the firm as a way to give customers the ability to customize their own investment strategy. The idea is similar to buying an exchange-traded fund or an index fund.

He said investors "need a simple and intuitive way to act on their own investment ideas and create diversified portfolios they can understand." The company charges a little less than $10 for each transaction.

Motif is also the latest company to marry social networking and investing. Customers can use Facebook to create a network of fellow investors, turning the system into a modern-day version of an investing club.
Themed and Diversified Investing
Once again, the basic idea behind Motif Investing is investing in themes or motifs of up to 30 stocks, while saving money on fees because you're only paying one $9.95 fee per motif of stocks. You can even customize the percentages of certain stocks in your motif, or add new stocks for a low fee of only $4.95 per trade.
While I probably wouldn't ever invest in motifs that feel more gimmicky, like the motif that invests in companies with the most likes on Facebook, I can see how it might be a useful tool for those looking to create certain types of investing baskets.
For example, someone trying to create a portfolio of dividend stocks. You can choose one of the motifs that are similar to an ETF or fund that you want to buy, and then customize it how you see fit. For example, want a portfolio of stocks similar to an ETF of dividend funds? You can buy a motif like the "Bullet-Proof Balance Sheets" motif, customize it to your liking, and then you have your own low cost portfolio of dividend stocks – with no expense ratio.
Trading Alerts
Once you've bought a Motif, you can also setup trading alerts on your portfolio.
Trading alerts are a new feature, and essentially they allow you to be notified if your account increases or decreases by a certain dollar amount or percentage. It can also notify you if your total positions in the account reach a certain dollar value.
I have the trading alerts setup in my account to notify me if my motif decreases in value by 10% or if it increases by 35%. That way I can stay on top of the investing strategy that I've implemented in my short term investing account. So if the trigger for one of my alerts gets tripped, I'll get an email and a text to my phone to alert me to take action.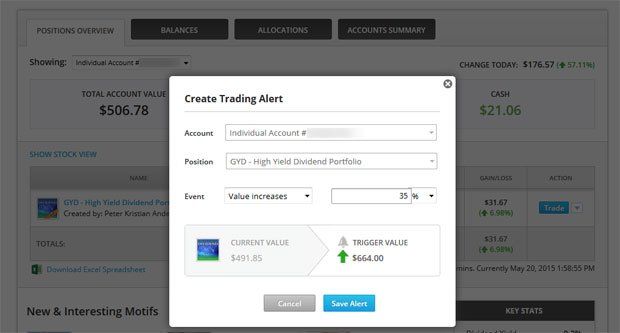 Fees And Minimums
Motif Investing is similar to ETFs in that it allows you to do real-time market trades. The fees associated with the account are minimal. Here's the breakdown of fees associated with the account.
$9.95 per motif trade, no minimum trade requirement.
$250 minimum per motif (bundle of up to 30 stocks)
$4.95 per stock trade to customize stocks in a motif.
No maintenance fees.
No inactivity fees.
There is no account minimum. To invest in a motif, you can start with as little as $250 (plus trade commissions). To trade on margin, you'll need a minimum balance of $2,000.
Here's a look at how Motif Investing stacks up against some other popular brokerages for stock trade fees:
Conclusion
Motif Investing, while it felt a little like a gimmick at first, does seem to offer an intriguing new way to basically create your own ETFs, without the associated fees. Buy a motif that is close to what you're looking for, modify it a bit if needed, and you're set to go! Where else can you get up to 30 stocks in one purchase for only a $9.95 fee?
When you open an account with $2000 (and fulfill the requirements), you'll get a $150 account bonus.
Open An Account With Motif Investing And Get A $150 Bonus