A few weeks ago I wrote a review of Motif Investing, a startup company that is essentially a brokerage account similar to what you see with a ton of other brokerages, but with a twist.
Motif Investing allows you to invest in bundles of stocks (called motifs) that all have to do with a certain theme or idea, things like the "caffeine fix" motif (companies related to beverages) or "seven deadly sins" motif (tobacco, alcohol and related companies). When you buy a motif you're able to buy bundles of stocks similar to what you might get in an ETF, but without the expense ratios. All you pay is a $9.95 fee per motif you purchase, with a minimum of $250 per motif.
Essentially Motif Investing can be a great way to buy a diversified set of stock holdings at a lower cost. You can create a nice dividend portfolio or other bundle of stocks without the added costs.
At first I thought that Motif Investing sounded a bit gimmicky with their catchy motifs, like the motif for companies with the most facebook likes, however, after a bit more research I believe the site can be a great tool for those looking to save on commissions and fees.
Starting this month and going through at least December of 2014 Motif Investing is also now offering a $150 bonus for new investors, so right away you'll be making an easy return on your money!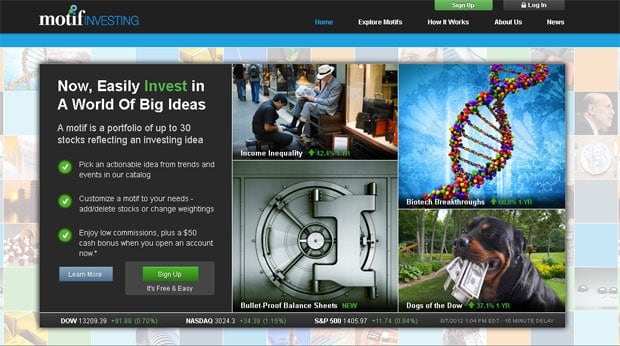 Let's take a deeper look Motif Investing, as well as their $150 bonus offer.
$150 New Account Bonus
As of now running through December 31st, 2014 people who open new accounts at Motif Investing will be eligible to receive a $150 bonus. Here are the details about what you need to do to get your bonus.
Fund your account with $2,000.
Funds must be deposited within 10 calendar days of creating the account.
Leave the money in your account for 45 calendar days.
Your new account bonus will be determined by how many $9.95 motif trades you make (individual stock trades not included). If you make at least 1 motif trade you'll get a $50 bonus. Three trades receives $75. Make five or more motif trades and you'll receive a $150 bonus. The cash bonus will be credited to the account within 30 calendar days after the end of the 45-calendar-day period. That's it. Piece of cake and you'll get a quick 7.5% return on your invested money!
$150 Bonus When You Open A New Account With $2000
Motif Investing – Startup With A New Idea
Motif Investing was only launched back in June of 2012, so they're still a relatively new company. They were founded on the idea of allowing investors to create their own investing strategies, and allowing investors to create and buy diversified bundles of stocks – for a low fee – similar to investing in an ETF or index fund, but without the expense ratios.
Here's a quick rundown of how investing in Motifs works:
Themed Investing: Like An ETF Without Expense Ratio
Motif Investing is all about investing in themes or motifs, which can include up to 30 stocks. The great part is that you can save money on fees because you're only paying one $9.95 fee for each group of stocks. You can even customize the percentages of certain stocks in your motif, or add new stocks to your motif for a fee of $4.95 per trade. That is as low or lower than most other brokers.
Here's an example of how you might want to use Motif Investing. You could use it to create a portfolio of dividend stocks. Buy a motif that is similar to an ETF dividend fund of your choosing, and then customize it if you want. For example, you could buy a motif like the "Bullet-Proof Balance Sheets" motif for $9.95, customize it with a couple of other solid dividend stocks for $4.95 each additional stock, and then you have your own low cost portfolio of dividend stocks. The upside is that it comes with no expense ratio.
Motif Investing Fees
Motif Investing has minimal fees associated with an account. Here they are.
$9.95 per motif trade, no minimum trade requirement.
$250 minimum per motif (bundle of up to 30 stocks)
$4.95 per stock trade to customize stocks in a motif.
No maintenance fees.
No inactivity fees.
There is no account minimum. To invest in a motif, you can start with as little as $250 (plus trade commissions). To trade on margin, you'll need a minimum balance of $2,000. You can get up to a $150 bonus through the end of December 2014 if you meet the requirements laid out above.
Here's a look at how Motif Investing stacks up against some other popular brokerages for stock trade fees:
Sign Up And Get Your $150 Bonus!
I really like the idea behind Motif Investing, and how it can be used to create your own ETF-like bundles of stocks, all while only paying a one time $9.95 fee and avoiding expense ratios. Not only that, but buying individual stocks to add to your motifs is still low cost at only $4.95 per trade.
The low costs are great, but add to that the fact that now you can get a $150 new account bonus when you open an account with at least $2000 before December 31st, 2014, and you've got a solid new brokerage offering. Definitely worth checking out.
Get A $150 Bonus With A New Motif Investing Account