When I was little, I used to want to go back to the pioneer days of Little House on the Prairie. My fascination continued, and about 10 years ago, my husband and I took a trip to visit places Laura Ingalls Wilder used to live. (Isn't he a great guy to agree to that kind of vacation?) One look at the replica sod house and one step into the dampness of that "home" was all I needed to decide that pioneer days were not all that.
Still, there are plenty of tasks and hobbies that our older relatives used to partake in that we can do to save money, all while enjoying our modern conveniences such as air conditioning, indoor plumbing, heat, and refrigeration, to name a few.
Here are some of my favorite old time ways to save money:
Grow a Garden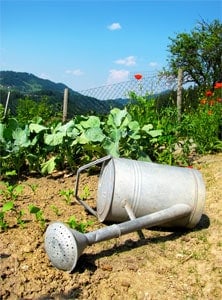 Food prices are soaring thanks to the drought in the Midwest and much of the country this summer. You may have noticed your grocery bill rising sharply these last few weeks. One of the many ways to combat high food costs is to grow some of your own food. You don't have to spend hours and hours in your garden or grow a garden capable of producing 2,000 pounds of food to see money saving results. Even having a few container plants on your patio can save you money.
We joined a community garden this summer and had our own little 6 x 4 foot plot. True, our zucchini and cucumbers were destroyed by beetles, but our one little cherry tomato plant has already given us over 400 tomatoes! We have also had good luck harvesting hot peppers and green and red peppers. I spend maybe 1.5 to 3 hours a week on the garden, picking produce, weeding and watering, but I find it relaxing, and I am energized whenever I see a new plant growing.
Cook Your Own Food
We are busy, busy, busy, and many of us seem to have forgotten how to cook our own meals in this age of fast food, take out, and frozen meals. In days gone by, there was no choice but to cook your own food. There weren't restaurants or grocery stores stocked with ready-made foods.
If you eat out frequently, start small and cut out one meal out a week. Gradually increase the number of meals you make at home until you make most of them that way.
Cooking at home doesn't have to be boring. Check out cookbooks from the library and try new recipes. Go to the farmer's market and try foods you have never had before. (Some of our favorites that we tried this year include garlic scapes and zucchini blossoms.) Also, make it easy on yourself. If you know that you won't get home until 6 or 7, put a meal in the slow cooker in the morning so you will come home to food all ready to eat.
Have a Designated Family Night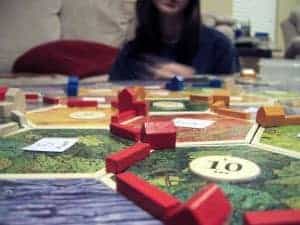 If you have read the Little House on the Prairie books, you know that nighttime was usually the time for free family entertainment. In Laura's family, Pa would play his fiddle and the girls would dance and sing. In Laura's husband, Almanzo's family, they would spend time talking, reading, or doing small chores like knitting.
We get used to thinking that we must spend money going to the amusement park, the movies or a restaurant as a family, but chances are a family game night or some other activity could be a fun way to spend time together, too.
These are just a few ways we can take a lesson from our older relatives and save some money around the home. Other ways might be to hang up your laundry (inside or out), to give up soda and instead drink tea or coffee (home brewed, of course), or to walk to a destination that is within walking distance rather than driving. Pick and choose the ones that work best for you; take time to slow down and enjoy a simpler life and save money while doing so.
What are your favorite old-fashioned ways to save money?