A week or two ago we put out a call asking for your help in the voting for the Plutus Awards, a personal finance blogging awards show put on by Luke over at Consumerism Commentary and others in the personal finance community.
The show had a live ceremony last night to announce the winners at the Financial Blogger Conference, a nice kickoff to a weekend of great personal finance and blogging content.
I wasn't able to attend this year unfortunately, but I was able to follow the awards ceremony last night thanks to Briana (@howsmarriedlife), who was live tweeting the event. You can check out the stream from last night by going to the hash tag on Twitter, #plutusawards.
After a rousing musical number from Kevin at Thousandaire, somewhere near the end of the show, the award for the "Best Religious Personal Finance Blog" came up, one where I was one of 5 finalists. Here's the announcement of the winner posted on Twitter by Briana.
I feel blessed to have been chosen by the readers and Plutus Awards committee as the winner of the "Best Religious Finance Blog" for 2012. Thanks everyone, I couldn't have done it without your help. Since I wasn't in Denver to accept my trophy, I gave a remote acceptance speech via Twitter. Here it is: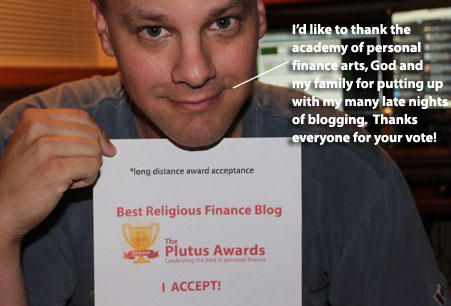 I couldn't not participate in the ceremony, right?
There were 4 other great Christian personal finance blogs in the final 5, all of which you should definitely check out when you have a moment:
Great Posts This Week
There were a lot of great posts this week, I thought I'd highlight a few of my favorites here. I should note that a majority of them are from Minnesota personal finance bloggers. Go MN PF Blogs!
So there you have it, check out those great articles, and have a great weekend!