A few weeks ago I wrote a review of Motif Investing for the first time after reading a little bit about it on several other sites. The idea behind the site is an interesting one. Basically the site allows you to invest in ideas or themes, and in so doing save money on commissions because you're buying a whole basket of stocks for one $9.95 commission, instead of paying a commission when you buy each one.
While the idea of investing in themes does come off as sounding a little hokey at first, it can actually be a good way to create a good dividend portfolio, or to invest in a group of funds that you wanted to invest in anyway.
You can even customize their "motifs", or bundles of stocks in any way you want before you buy it, and still only pay a $9.95 commission when you buy it. You can also add more of a certain stock to your pre-existing motif for a $4.95 commission later on.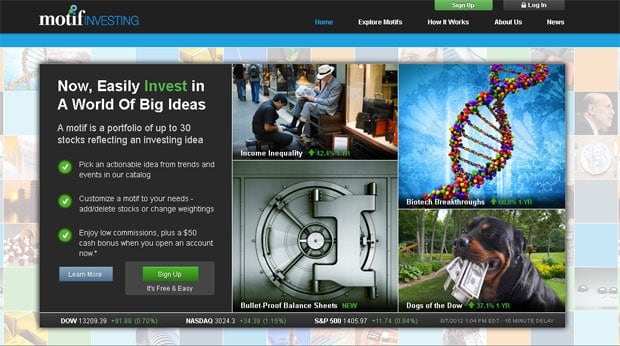 New Account Bonus Of $150 Extended
A short while after we reviewed Motif Investing for the first time, the company announced that they would be having a $150 bonus for new accounts for a limited time. Motif has now announced that their deal had been so successful that they're extending the offer to at least December of 2013.
So what do you have to do to get a $150 bonus if you sign up for a new account? Here are the details:
Add at least $2,000 to fund your account.
Deposit your funds within 10 calendar days of creating the account.
Leave the money in your account for 45 calendar days.
To get a bonus you'll need to make at least one motif trade (with a $9.95 commission), and the more trades you make the higher your bonus. Make at least 1 motif trade and you'll get a $50 bonus. Make two more for a total of 3 trades and you'll get $75. Make five or more motif trades and your bonus bumps up to $150. The cash bonus will be credited to the account within 30 calendar days after the end of the 45-calendar-day period. That's all you have to do, and you'll get a quick 7.5% return on your invested money!
Get A $150 Bonus When You Open A New Account
New Motifs: Socially Responsible Motif
One thing I like about Motif Investing is that they are constantly adding new motifs and themes that you can buy. When I wrote my original review of the site one of the motifs I highlighted was the "Sin Stocks" motif. I know that one probably wasn't one my audience would be interested in, but just recently they launched a new motif for people who want to avoid companies that have anything to do with those types of sin stocks. The new motif is called "Socially Responsible". From the site's motif page:

Socially responsible investing targets corporations who are advocates of the environment, consumer protection, human rights, and diversity while avoiding businesses involved in alcohol, tobacco, gambling, pornography, and weapons. It's an idea that has certainly taken hold: total dollars under socially responsible professional management grew to $3.07 trillion in 2010 from $639 billion in 1995, outpacing the growth of overall market assets by 120%. Inspired by ideas from the book Low Fee Socially Responsible Investing by Tom Nowak, the stocks in this motif were assembled using a combination of national indices that score companies on measures of social responsibility and political spending disclosures.
If you're looking to invest in companies that avoid sin stocks like alcohol, tobacco, gambling and pornography, investing in a motif like this might be a good start. Obviously you can then also filter out certain companies in the motif if they have values that don't fall in line with your beliefs, and add others into the mix before you buy your motif for a $9.95 commission.
Rundown Of Fees And Minimums
Fees are an important component when investing. Motif Investing's fees are comparable or lower than most other brokerages. They are definitely very competitive.
$9.95 per motif trade, no minimum trade requirement.
$250 minimum per motif (bundle of up to 30 stocks)
$4.95 per stock trade to customize stocks in a motif.
No maintenance fees.
No inactivity fees.
The minimums for an account are $1000 to open an account, and $250 minimum per motif.
So with Motif you could use the low fees in a motif to your advantage, using it to build a dividend portfolio for example. You could choose one of their dividend motifs, customize it with a couple of your own preferred stocks, remove one or two of theirs, lower the percentage of one of the other stocks, and then buy it all for one low commission of $9.95. Now you've got a nice dividend portfolio, without the expense ratio associated with ETFs.
Want to buy or sell more of one of the stocks later on? It's just a $4.95 stock commission for each stock you buy or sell. Want to buy more of your motif or sell your motif? $9.95 commission.
How does Motif Investing compare to other popular brokerages?:
Sign Up Now Before The Bonus Is Gone!
Motif Investing is a great new low cost way for people to invest in groups of stocks, and even customize their own baskets of stocks, without paying a stock commission for each purchase. It can be used as a great way to build a dividend portfolio or build your own ETF-like group of stocks, but without the expense ratios.
Motif Investing has extended their signup bonus for new accounts through 2013, but it may not be around forever. So if you were thinking about opening an account and giving it a try, jump in now while the bonus is still available.
Want a more in depth review of the site? Check out our full Motif Investing Review.
Sign Up For Your FREE Motif Investing Account And Get A $150 Bonus!