A few months ago I wrote about a new online broker called Motif Investing that had a bit of a different value proposition. They weren't your typical brokerage, where you buy individual stocks or other investments and pay an individual stock commission for each stock you buy. Instead they allow you to choose baskets of up to 30 stocks with different ideas or themes, they call them a "motif", and then buy them all with one low $9.95 commission.
The effect is that you can build a nice diversified set of stocks with a certain theme or idea, but you save money by only paying one low commission, instead of one for each of your stocks.
A short while later Motif Investing made their product even more valuable by allowing you to build and customize your own motif. So now you were able to create your own custom bundle of up to 30 stocks, which will allow you to create your own diversified dividend portfolio, or any other group of stocks based around whatever idea you want.
Now Motif Investing is taking it to the next level. Not only can you create your own custom motifs, or modify existing ones, you can also now make a little bit of money doing it! You can now get paid a royalty every time someone else buys the motif you created!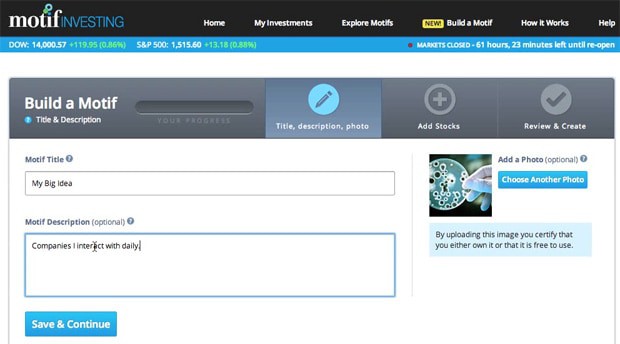 Motif Investing Creator Royalties Program
Motif Investing has been receiving a lot of positive press lately. They've recently been publicized on Fox Business and Bloomberg. In addition they also just won the "Best of Show" award at FinovateFall 2013 earlier this month. Finovate is a yearly event that showcases the best and the brightest innovations in finance and banking tech.

Motif Investing gave a demonstration of their "Build Your Own Motif" product, and was voted the best of show by the audience, being picked from a group of 70 companies. It was in their demonstration of their "Build Your Own Motif" product that they also introduced their plan for allowing users to monetize their motifs through their "creator royalties program".
Since Motif Investing launched the ability for users to build their own custom basket of stocks a while back, over 15,000 custom or built motifs have been created, and many are available for viewing in the Motif Investing online community catalog of motifs.
As of October 2013 Motif Investing will now allow customers to make money off of the custom motifs that they create. How will you make money from your motif?
You'll make money when…
Someone buys a motif that you've created
When someone buys a custom version of your motif
When someone re-balances your motif
In all those instances you would receive a royalty payment. Currently the royalty payment is set at $1.
Check out a couple of examples of motifs I created and added to the creator royalty program:
Long Term Dividend Stocks
GYD – High Yield Dividend Portfolio
To participate all you need is an approved and funded brokerage account (Open one here), IRA accounts are not eligible.
To earn royalties, all you have to do is build a custom motif in the site's "Build a Motif" section, and then add it to the creator royalties program via the "creator royalties" tab found in your "custom motifs" page. Every time someone purchases or rebalances a motif you've built, you will get $1. If someone sells the motif or trades single stocks within it, you won't get royalties for that.
Royalties will accrue throughout the current quarter, and then be paid into your account about 15 days after the quarter ends.
The Cost For Building And Buying A Motif Or Bundle Of Stocks
Regardless of the royalty program, buying stocks through Motif Investing is still one of the more affordable options out there.
If you plan on using Motif and creating your own custom baskets of stocks, what is the costs that you can expect to see? You can purchase as little as $250 in stocks when buying a motif, and for every motif it's going to be only a $9.95 commission.
$9.95 per motif trade.
$250 minimum per motif (bundle of up to 30 stocks).
Customize as much as you want before you buy. It's still $9.95 per motif trade. After you buy, it's $4.95 per stock trade in motifs you own
No maintenance fees.
No inactivity fees.
So how does this work if you were to buy your own custom motif, or a customized version of someone else's motif? It would cost $9.95 to buy that motif. You could add or remove stocks to the motif, or re-balance percentages of stocks before you buy it. You can purchase $250 in stocks, or $1 million. The cost will always be $9.95.
After you buy the motif, if you want to buy more of or sell only one stock in the motif, the commission for that would be $4.95. To buy or sell multiple stocks or more of the motif the commission tops out at $9.95.
There is no account minimum. To invest in a motif, you can start with as little as $250 (plus trade commissions). If you want to get the $150 bonus that they're offering, the minimum is $2000.
Conclusion
Motif Investing was already an attractive option for investors wanting to create their own investment portfolios similar to an ETF, but with more control and less cost. You can build your own custom ETF-like portfolio, but without the expense ratios. Now that you're able to make money on your custom created motifs, it's an even better proposition.
Open An Account With Motif Investing And Get A $150 Bonus