A few months ago I first learned of a company called Motif Investing and shortly thereafter wrote a review of the unique investing site. The idea behind the Motif is an interesting one. The site allows you to invest in stocks with common ideas or themes, and in so doing save money on commissions because you're buying a whole basket of stocks for one $9.95 commission, instead of paying a commission when you buy each one.
The idea of investing in themes did sound a bit like a marketing scheme at first, but since then I've been coming around to the idea. I think it can be a good way to create a good dividend portfolio, or to invest in a group of funds that you wanted to invest in anyway. Not only does it make buying those stocks cheaper since you're only paying one $9.95 commission for the whole motif – or bundle of stocks, but it's also very affordable to buy or sell shares of a stock you already own for only $4.95 per stock, and only $9.95 to re-balance or to add or sell as many stocks as you want in the motif later on.
A week or two ago Motif Investing made some changes to their service and announced that you would now be able to create your own motifs, in addition to being able to customize motifs that were already in your portfolio. So you no longer just have to buy motifs that are already available. You can now create your own bundles of stocks to buy at the $9.95 commission. Let's take a look.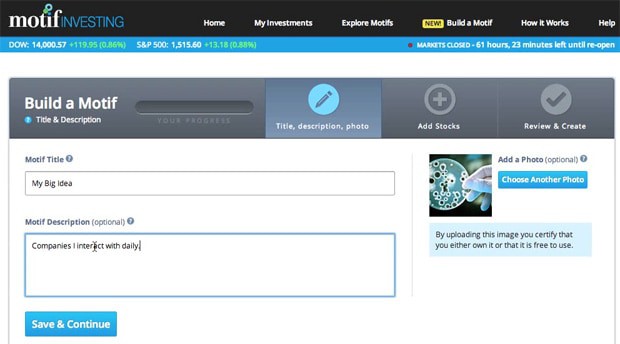 Customizing A Motif
First things first. The ability to customize an existing motif to your liking has been around for a few months now. This can come in handy say if you want to create your own motif of dividend stocks, but you don't see a couple of stocks that you'd like to have added to your motif in there. You can now add those stocks if you'd like.
Let's say that one of the pre-existing motifs has stocks A, B and C. You would like to also have Stocks D and E in the motif. Before you purchase the motif you can now add in stocks D and E without any added cost to the motif. Just click on the "Add Stocks" link from within the motif, and then either choose from a list of stocks related to that motif, or search for a stock not listed. Click to add the stocks to your motif, and then choose how much of the motif value you want that stock to comprise. When you're done you can just buy that new customized motif for the low $9.95 commission.
If before you buy you decide that you also want to remove one of the original motif stocks from the motif, stock B for example, you can do that as well before you buy at no added cost.
Want to take one of the stocks and have it comprise 30% of the motif value, you can do that before buying as well.
Whatever modifications you make to your motif, it will be that one low commission of $9.95.
If after you buy the motif you decide that you want to buy more of (or sell) just one of the stocks, let's say stock A, you can do that for the single stock commission of $4.95. Want to buy more of or sell more of multiple stocks in the motif? The commission tops out again at $9.95 for that transaction, a very cost effective way of buying and selling stocks within your motif.
Create Your Own Motif
You can now create your own bundles of stocks in Motif Investing, without having to choose one of their pre-made motifs. It's a simple process to create your own motif.
First, login to your account and click on the "build a motif" button in the header. It will bring you to a page where you'll need to give some basic details about the motif that you're creating. First, give the motif a name, upload a photo if you want and then give it a description.
Once you've named your motif and given it a description you'll want to add stocks to the motif. Search for the company names that you want to add to the motif. Once you add the stocks they will be added to segments in the motif. You can rename the segments if you'd like, and drag and drop the stocks to place them within different segments.
When you're done adding stocks you can then use the sliders to change the weighting of individual stocks in the motif. Once you're done adding stocks you can then preview a motif or share the motif with someone else if you want to get feedback.
When you're done editing your motif you can then click on the button to buy the motif for the one commission of $9.95. Here's a couple of motifs that I recently created and purchased in my account:
Here's a quick video walking through the process of creating your own motif.
Sign Up And Get An Account Bonus Of $150 Extended
A short while after we reviewed Motif Investing for the first time, the company announced that they would be having a $150 bonus for new accounts. Motif has since announced that their bonus offers were so successful that they're extending the offer for now, through the end of 2013.
So what do you have to do to get a $150 bonus if you sign up for a new account? Here are the details:
Add at least $2,000 to fund your account.
Deposit your funds within 10 calendar days of creating the account.
Leave the money in your account for 45 calendar days.
To get a bonus you'll need to make at least one motif trade (with a $9.95 commission), and the more trades you make the higher your bonus. Make at least 1 motif trade and you'll get a $50 bonus. Make two more for a total of 3 trades and you'll get $75. Make five or more motif trades and your bonus bumps up to $150.
The cash bonus will be credited to the account within 30 calendar days after the end of the 45-calendar-day period. That's all you have to do, and you'll get a quick 7.5% return on your invested money!
Get A $150 Bonus When You Open A New Account
Motif Investing Fees And Minimums
In order to make sure your returns are as high as possible fees should be an important consideration when investing. Motif Investing's has fees that are very competitive, in line or lower than most other brokerages.
$9.95 per motif trade, no minimum trade requirement.
$250 minimum per motif (bundle of up to 30 stocks)
$4.95 per stock trade to customize stocks in a motif.
$9.95 to make multiple stock trades within a motif.
No maintenance fees.
No inactivity fees.
You need $1000 to open an account ($2000 if you want the bonus!), and you'll need to invest a least a $250 minimum per motif.
Buying single stocks to add to a motif later on is just $4.95. Adding more of a motif, making multiple changes in a motif or buying a new motif would be $9.95.
Sign Up, Get Your Bonus And Start Customizing Your Motif!
With the ability to be able to customize existing motifs, or with the latest development – being able to create your own motifs – Motif Investing is now an even more attractive option for investors. Not only are their fees low, but the options for customization are endless. Check out a more in depth review of Motif Investing.
Sign Up For Your FREE Motif Investing Account And Get A $150 Bonus!