How should student loan borrowers approach their repayment plan?
Ah, the question of the decade. With the average national student loan debt reaching upwards of $26,000, it's certainly a question that deserves some serious consideration.
Student loan debt is what might be considered a 'superglue' kind of debt. It's tenacious, and it sticks to you. Immune even to bankruptcy, student loan simply doesn't go away. And even one late student loan payment can have a negative effect on your future finances. Impacting millions of students in the U.S., it's clear that student loan debt is a problem, but it's not always clear how to deal with it effectively.
So with such (potentially) long-lasting debt, how exactly should someone approach their student loan repayment?
With a long-term plan.
When you know what's happening with your debt, and plan out the actions that will help you to take control of your repayment – it's a powerful and sustaining motivator. And beyond understanding how you can repay debt on a monthly basis via payments, it's also important to understand what's happening long-term so you can ensure you're on the right path.
Here are a few tips to keep in mind as you structure your repayment:
Decide What You Want and Define Your Goal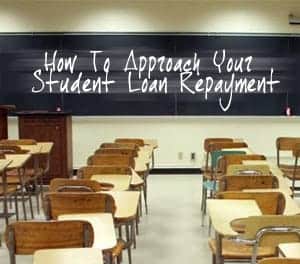 Being in repayment for the long-term requires knowing what you're going to want long-term. That entails mapping out your goals and timelines. Do you want to pay off your loans sooner and more aggressively? Or would you prefer to follow a more moderate plan as you continue to invest?
There are tons of stories about people paying off $60,000 of debt in a year but that that doesn't mean it's the right plan of attack for you. Though debt-free is the ideal, it's important to plan out what impact your student loan payment plan will have on your other long-term goals. Student loans are a part of your life, they don't have to take over the basics, or divert from funds that cover basics. That's why it's important to punch in the numbers and look at the long term results.
Research Repayment Options
Without choosing an alternative repayment plan, you'll automatically be assigned the standard repayment plan. While this works fine for some people, many people find the monthly payments to be beyond what they might be able to handle financially – especially straight out of college.
Fortunately, there are alternatives. IBR, PAYE, ICR – beyond acronyms those are all options that can offer flexibility in your repayment plan for Federal Loans. Though similar to one another, they were created to encompass a range of financial needs, and each plan has small differences to accommodate unique circumstances
Income-Based Repayment Plan (IBR) – Your monthly payments will be calculated according to your discretionary income.
The Pay As You Earn Plan (PAYE) – Depending on your current financial standing your monthly payments will be adjusted accordingly to reflect current earnings and payments will change as your income changes.
The Income Contingent Plan (ICR) – This plan is only available for federal direct loans, and it looks at yearly earnings, and family size to determine your monthly payments.
If you expect to increase your earnings over your career, you can apply for the Graduated Repayment Plan. Monthly payment amounts are increased over time (usually 2 years) and can be useful for those with a more predictable growth in earnings.
You can learn more about all the repayment options for Federal loans at FinAid.org
Private loans are exempted from these specific repayment plans, but you can contact your private lender to learn more about what options you might qualify for.
Refinance If It Makes Sense
If you have higher interest rate loans, it may make sense to consolidate and refinance your student loans.
Look for a reputable company like to help you through the process of lowering your rates. Here are a few that I know others have had good success with:
Open, Understand, and Keep Your Statements
When your debt number seems too high to handle it's tempting to leave statements unopened. But as already mentioned, student loan debt sticks with you. Ignoring it won't make it go away. The more clarity you have on your debt, the more insight and perspective you can add to your repayment plan.
Statements will include the details of your repayment, and clarify how your payments are impacting your overall balance. They should also provide a breakdown of your accrued interest. Statements are great indicators of what's actually happening with your account and your repayment. That often results in empowerment and added momentum towards your repayments.
Understand Minimum Payments vs. Interest Payments
Sometimes making only minimum payments can have you spinning wheels on your debt repayment. Without a clear view of where your payments are actually going, it can be difficult to know if your minimum payments are impacting your principal or are just merely paying the interest. Take a look at what your minimum payments are accomplishing. If you have expendable income, you can speed up the process of your repayment, and lower the principal and subsequently the interest. It's important to understand how student loan interest works so you don't get caught off guard by interest charges.
Make Repayment Easy and Habitual
If making payments is a time-consuming or irritating process then it will be difficult to accept it as part of your life. Streamline your payment process, and set up a routine that's easy to follow. Essentially, anything that makes the process of repayment easier in the future will help you to stick to your plan.
That can mean keeping all forms or files together and making sure that they're easily accessible. Or compiling a list of phone numbers or contact info can also be helpful if you need to get in touch with your lender. Automatic payments are also great, but make sure you check in regularly to make sure that they're going through, or aren't coming out of a low balance account.
Take Advantage of Any Tax Breaks or Forgiveness Plans
Come tax time, you could get a break on your student loans. Interest paid can be considered eligible for a return. With some limitations and restrictions, many who pay interest on their student loans can benefit from the break. When filing for taxes, make sure you fill out the required from (last year it was the 1098-E form). And be aware of these two powerful forgiveness programs that could save you thousands if you qualify:
Public Service Student Loan Forgiveness Program: The Public Service Loan Forgiveness Program (PSLF) allows eligible candidates working in the public service industry to limit repayment to 120 timely payments over the span of 10 years. After meeting the requirements, the remaining sum will be forgiven and is not considered taxable income.
Teacher Loan Forgiveness: If you're a teacher you'll also be eligible for a special loan forgiveness program. Though the restrictions are strict, you can have up to $17,500.00 forgiven after teaching at qualifying schools for 5 full years.
Anything that can save money or make a positive impact on your finances is worth the effort. Some of the repayment plans or forgiveness programs have a long list of rules and requirements but the ultimate payoff is absolutely worth it.
The long timeline for paying off student debt – or any debt – can feel defeating and frustrating. But being guided by a plan can at least lighten the stress of not knowing where you stand or where the end of the road is. Student loan debt is something you have to keep your eye on, but it's not one that has to take over your life.