If you listen to Suze Orman, you repeatedly hear her advice not to co-sign a loan for someone, ever.
Co-signing a loan can be a dangerous practice. If the other person stops paying, you are on the hook for the payment.
If you help your girlfriend buy a car by co-signing and she leaves you and takes the car and stops making payments, guess what, you need to keep paying if you don't want your credit affected.
Co-signing for friends and relatives can often lead to the end of a relationship.
Most argue that it isn't worth the financial or personal risk to co-sign.
Co-Signing for Private Student Loans: A Different Issue?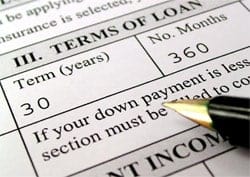 One gray area is cosigning private student loans for your child to attend college.
Sometimes these loans make it possible for the child to attend the school of his choice, and it can be hard to say no. While you may think that your child will pay back the loans, you need to realize you will be making the payments if your child cannot, whether he is not making payments because he is irresponsible or because he does not make enough money or can't find a job.
A Hidden Risk of Co-Signing for Private Student Loans
That may be a risk you are willing to take, but did you know that if you co-sign a private school loan for your child and your child dies, you are still responsible for the payments?
This revelation came to light recently thanks to Ella Edwards, a woman who cosigned a private student loan for her son, Jermaine, to attend college. When he died at age 24, the 61 year old seamstress was still held accountable for the payments on his $10,000 private student loan. However, his two federal loans were dismissed just a few months after his death.
Many will argue that this is an inherent risk of co-signing. You may be responsible for payment, even if you gain nothing from the loan. The rules are the rules, they say.
While co-signing a loan is taking a risk, if the recipient of the loan is no longer alive, should his mother have to pay? There is no tangible object left for the loan. Her son is no longer here to use his education and increase his salary. She has nothing left; if she cosigned for a car and her child died, she would still have the car to sell to help her pay off the loan.
Is The System Broken?
Many say that our student loan system no longer works. Students leave college saddled with debt that they cannot pay, or if they can, they cannot pay it off for 10 to 25 years without significant sacrifice. The salaries these recent graduates can earn do not keep pace with the soaring price of a college education. Some even argue whether it is worth it to attend college.
Now, with the revelation of Ella Edwards' struggle to pay her deceased child's student loans, we see one more way that the student loan system seems to be broken. Did Ms. Edwards know that she would have to pay this loan if her child died?
The chance of a college graduate dying before he is able to pay his student loans is not that great. Couldn't the loan company show some compassion and forgive the $10,000 loan of a deceased student? Isn't that the least that can be done for a grieving mother? Is the pursuit of profit so great that it is impossible to forgive a loan for a diseased person?
What do you think? Should Ella Edwards be responsible for her deceased son's student loan payment, or should the loan be forgiven?