The holiday season is upon us! The air here in Minnesota is starting to get a chill, and this weekend we had our first snow. Nothing major, only 16″ or so as of last night!
The radio station that plays Christmas music is on full rotation now, playing the holiday hits 24/7. I'm starting to get in the holiday spirit!
The last couple of years I wrote and expanded upon a popular post on this site, detailing 100 frugal and creative gifts you can give on Christmas. But what could be better than a frugal Christmas like that? How about a FREE Christmas!
We're Giving Away $600 For The Holidays!
Time to enter to win one of the three great prizes below, and get your Christmas paid for this year! It's easy and free!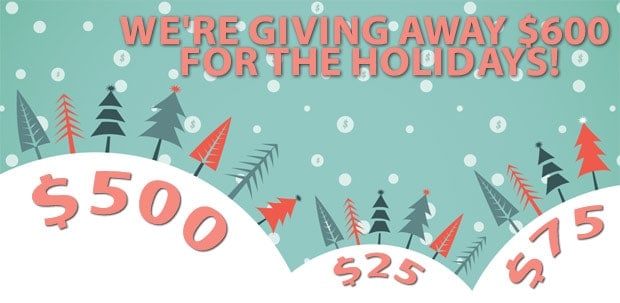 Enter Our Happy Holidays Giveaway To Win Some Money!
*** Contest Begins Today December 10th, 2012 ***
Now that the holidays are fast approaching, we wanted to give a couple gifts to you, our loyal readers.
Bible Money Matters has teamed up with Know Your Bank and several other Personal Finance blogs to give away $600 in prizes! Here are your contest partners:

KnowYourBank.com and the rest of the contest partners are giving away a first place prize of $500 along with other cash prizes as part of our happy holiday giveaway promotion.
All you have to do to enter is review your bank, and you'll be automatically entered to win!
$600 in Total Prizes!
Here are the prizes you'll have a chance of winning:
1st Place Winner: wins a $500 AMEX Prepaid Card.
2nd Place Winner: receives $75 AMEX Prepaid Card!
3rd Place Winner: receives $25 AMEX Prepaid Card
How To Enter
Use the Rafflecopter form on this page to get started after you read the contest rules below.
On Know Your Bank site first please login using Facebook or other method, then review your bank (takes 30 seconds). You should see a confirmation code to enter the giveaway.
After doing your review and entering your code, you can earn additional chances to win by liking our partners on Facebook!
Invite friends. When they signup you'll get an additional entry!
Giveaway Rules
Enter the giveaway using the online form below.
You don't need to complete every option, but the more you do, the greater your chance of winning!
Entries will be double-checked, so you can only win the prize if you've actually done everything you received entry points for.
You can perform each entry type ONLY ONCE.
Leave your email in the email field so we can contact you if you win (or make sure that your Facebook is correct).
If you already follow/like one of the other blogs, these entries still count, so still sign up!
The giveaway ends on December 21st, the Friday before Christmas, at 11:59 PM EST
Good luck, and happy holidays!
Leave us a comment and tell us what you'd buy with the gift card if you win!