It is no secret that many Americans graduate from college mired in debt.
Nearly 66% of college students graduate with student loan debt averaging $25,250 per student according to the Project on Student Loan Debt.
Student loan debt is only one of the many economic problems confronting young college graduates, however.
The Project on Student Loan Debt further states:
"In the current economic climate, recent college graduates who borrowed for their education face particular challenges in paying back their student loans. The unemployment rate for young college graduates rose from 8.7 percent in 2009 to 9.1 percent in 2010, the highest annual rate on record."
At $25,250 average debt, the recent graduate is looking at a $290 payment monthly, which seems manageable, but unfortunately, $25,250 is just an average. Many students owe much more than that. My cousin attended law school for 1.5 years before deciding a law degree was not for him; he walked away with $65,000 in student loan debt and a monthly payment of $780. He is currently living at home and has a serious girlfriend, but any plans for an engagement are on hold while he chips away at his debt. He is one of many student loan holders who have put off marriage and home ownership because of the amount of their debt.
The student loan problem has permeated the news, and Obama recently announced a student loan relief plan. What does this plan mean for college students? There are two main features to his plan: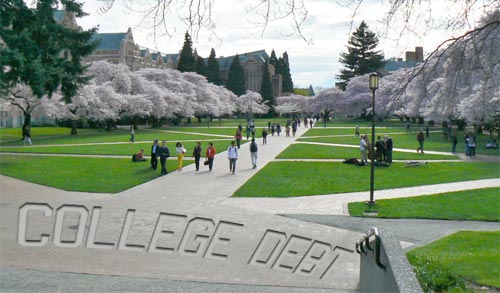 Changes to the Income Contingent Repayment Plan
When choosing a repayment plan, students are typically allowed to choose between four repayment options—standard, extended, graduated and income contingent. Currently, under the Income Contingent Repayment plan, students are responsible for paying 15% of their monthly discretionary income to student loan repayment. If, after 25 years the loans are still not paid off, the loans are forgiven.
Beginning in 2014, the income contingent repayment plan would change to a payment of 10% of a loan holder's monthly discretionary income and loan forgiveness after 20 years. Congress has already approved this, but under Obama's new plan, this would be pushed forward and take effect in 2012. In addition, if a loan holder is unemployed and has no income, they would not be required to pay during that time. This will hopefully reduce the default rate, which currently hovers at 8.8% (based on 2010 data).
Incentive to Consolidate Loans
Typically, a graduate leaves college with a myriad of loans from different sources and with different interest rates. If the student attempts to pay the minimum payment on each of the loans, the required payments may quickly become overwhelming. To make the repayment more manageable, students may want to consolidate so they will just be paying one payment monthly. To offer loan holders an incentive to do this, Obama is offering a .5% reduction in interest rates when loans are consolidated.
What It Means To Loan Holders
While these changes do offer incentives to make loan repayment more manageable, it is important to note they will most likely help new student loan holders as the Income Contingent changes will only apply to those who take out student loans beginning in 2012. In addition, many older loan holders have already consolidated their loans, which can only be done once, so they will not benefit from the .5% interest rate reduction.
Student loans are not currently discharge-able in bankruptcy, so if a borrower defaults, they can face having their wages garnished as well as their tax returns. In addition, their credit score will be ruined. While Obama's changes offer some student loan relief for new borrowers and will hopefully help them avoid default, older borrowers must continue to carry the burden of their debt with little relief in sight.