The old saying, "Tis better to give than to receive" is perfect for the Christmas season, but that sentiment seems to be falling out of favor as retailers push commercialism on us earlier and earlier (starting as early as September). Even Thanksgiving was encroached upon with Black Friday beginning on Thanksgiving Day at 8 p.m.
At its heart, Christmas is a holiday to celebrate the birth of Jesus Christ and to be generous and giving to others, as Jesus was. It is also a holiday to spend time with family and friends as well as to bring joy to children. Christmas is one of the holidays that children enjoy most, and it doesn't have to be because of all of the presents.
This holiday season, there are several ways to teach children the reason for the season and to help others, especially other children like themselves.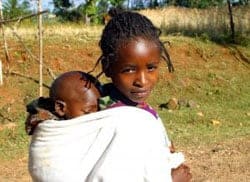 Here are some organizations that work to help needy children:
1. World Vision.
World Vision offers several ways to give. You can choose from a select few of their gifts that include necklaces, coffee sets and other items. A portion of your chosen item is given for donation. You can also choose to make a one time donation. You can choose your donation based on the price level that you can afford such as $18 for bed nets for a family to protect them from malaria or $16 to buy a family a rabbit, both to create a business growing and selling rabbits and to use some as food.
World Vision gives you the opportunity to provide donations to international children as well as children from the United States. (Right now they have a special donation drive for children affected by Hurricane Sandy.) You can also choose to sponsor a child for $35 a month. You'll learn about the child and his homeland, and you will also be able to correspond with him. This is a wonderful way to not only give, but to also teach your children about how other children live in other parts of the world.
2. Compassion.
Compassion operates on some of the same premises as World Vision. You can choose your donation amount based on how much you have to donate or what you would like your money to be used for such as seeds to help a family grow food.
Compassion also offers people the chance to fund mother/child centers that assist mothers with prenatal care as well as care after the child is born. Sponsorship for these programs generally run $20 per month, and you can choose the country you are interested in.
Just like World Vision, you can choose to sponsor a child for $38 a month. In return, your money is used to support their basic needs. In addition, they then have the opportunity to learn about Jesus Christ.
3. Child Fund.
Child Fund operates in 31 countries and helps over 17 million children. The heart of the organization is child sponsorships. Sponsorship for a child runs $28 a month, and you will get regular updates on how your child is doing. You are also welcome to write your sponsored child and send pictures as well as visit, if you are able to make the trip.
Just like the other organizations, you can make specific gifts such as a mosquito tent for $11 or milk for one month for 30 children in India for $64.
If you would really like to get your children involved, sponsorship is a wonderful way to develop a connection. My son is now old enough (8) that this Christmas we are going to sponsor a child who is his age and gender in another country. We want to encourage a giving spirit and teach him how other children live in other parts of the world.
Remember, when you are choosing an organization to give to, donate forget to look at how much of your funds actually are used for the children. World Vision states 86% of funds generated are given to the children, and Compassion and Child Fund both give 80%. (The other percent is used for administrative costs.)
Have you sponsored a child before? Which organization would you recommend?